Description
"Behavioral Health & You"

Presented by: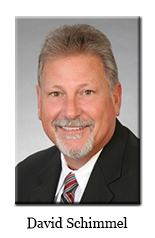 Chief Executive Officer, David Lawrence Center
M.S., Clinical Psychology
January 3, 2014
Note New Location: Grill Room at Moorings Park
Designated parking will be located in front of the Moorings Park Clubhouse.
David C. Schimmel came to Collier County in 1984 as the Assistant Director of David Lawrence Center before being appointed to Chief Executive Officer in 1989. He has a Master's Degree in Clinical Psychology, is certified as a Mental Health Administrator and is licensed as a Mental Health Counselor. He has been working in the field of community mental health for more than 35 years.
As CEO, Dave provides leadership and management expertise to the staff at the direction and discretion of the Board of Directors. The Board of Directors of David Lawrence Center sets the policy and the course for the Center each year and then monitors its progress. Throughout his career, Dave has taken an active leadership role in local, national and statewide organizations to ensure the affordability and availability of mental health and substance abuse services. He is the current Past President for Southwest Florida Behavioral Healthcare Network. He served as the Chairman for Action for Behavioral Health, is a current board member, past Secretary and past Chairman for Florida Council for Community Mental Health, is the past President of Associates in Behavioral Healthcare and is the past Chairman of the Board for Osprey Healthcare.
Dave, a strong community advocate, has served locally on the Board of Directors of the Greater Naples Area Chamber of Commerce, Edison College Advisory Board, is a graduate of Leadership Collier, and is past President of Naples North Rotary.
Dave is a member of the Association of Mental Health Administrators, National Council for Mental Health and Mental Health Corporations of America. Dave has been recognized nationally for his work in the mental health field having received the 2006 Piepenbrink Award for Excellence in Behavioral Healthcare Management, the Fellow Award for unique and significant contributions to the Florida Council for Community Mental Health and its mission in 2005, and the Special Contributions Award from the Florida Council for Community Mental Health in 1992.
Organizer of January 3 Luncheon - David Schimmel