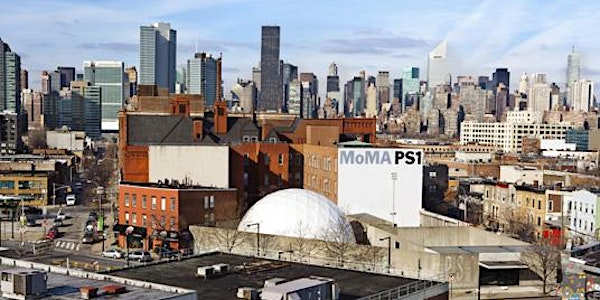 January 28, 2017 NYC REIC Meeting
When and where
Location
MoMA PS1 dome 22-25 Jackson Ave. at 46th Ave. LIC, NY 11101
Description
It's our first All-Member Meeting of 2017, and time to make important decisions about our cooperative!
On the agenda: Update from your Steering Committee on where we stand in achieving the aims of the REIC, with a review of our adopted Bylaws, and a presentation on a potential first collaboration project by Nat Roe, Executive Director, Flux Factory, LIC.
We also hope to have an update on design work for the REIC profile, and look forward to your feedback!
Please do register here to assure smooth entry when you arrive.

Come add your voice to the conversation!
The NYC REIC aims to make long-term, stabilizing, and transformative investments for the benefit of our member­-owners ​and our communities. If you haven't joined yet, you can do so by coming early, between 3 and 3:30, or staying late, between 5:30 and 6. (We must leave the space at 6.)

**FAQs**
What is the NYC Real Estate Investment Cooperative?
Please read http://nycreic.com/about or watch http://nycreic.com/1-minute
How do I join the NYCREIC?
Please come early (3-3:30) or stay late (5:30-6). We will take new member fees ($10) at these times. For more about joining, please see: http://nycreic.com/join
Is it too late to get involved in a workgroup?
Not at all! Please go to http://nycreic.com/meet for facilitators' contact information and meeting days and times.
What if I can't make it and I want to join?
At this time, you can join by downloading a member form and mailing it in with a check for $10 and attending the next General Meeting. See http://nycreic.com/join for more information.
What can/can't I bring to the event?
Food and drink are not allowed in the space.
Will childcare be provided?
Unfortunately, we do not believe that we will be able to offer childcare. Please stay tuned for more information.
Will translators be available?
At this time, we cannot provide translation. If you are a translator, or can donate toward this cause, please let us know! info@nycreic.com
I want to help set up, translate, provide childcare, staff tables, or clean up.
Great! Please email steering@nycreic.com with "JAN MEETING HELP" in the subject heading.
Is the space wheelchair accesssible?
Yes.
Can I make a donation?
Yes. Fiscal Sponsorship for the incubation period of NYC REIC is provided by Spaceworks NYC, a 501(c)(3) not-for-profit organization. Please write it out to "NYC Real Estate Investment Cooperative" and "NYC Real Estate Investment Cooperative" and mail it to Spaceworks at 540 President St Unit 2E Brooklyn, NY 11215. As an early-phase initiative, we are seeking planning grants, support for a white paper, and money to cover operating expenses. As stated above, the NYC REIC itself will be incorporated as a for-profit organization for investments by 2017. Please see http://nycreic.com/about for more information.
Where can I contact the organizer with any questions?
Please email info@nycreic.com