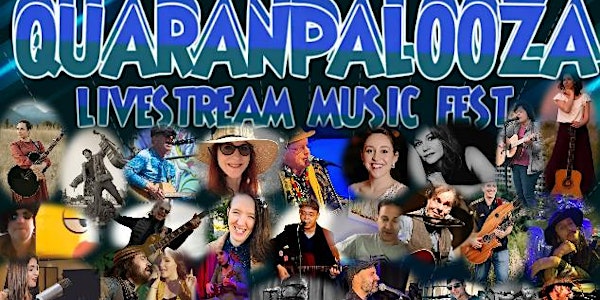 January 2023 QuaranPalooza Livestream Music Fest
Get a $15 ticket and join us in the zoom + we'll donate 25% of ticket sales to Bay Area Cancer Connections!
Refund Policy
Contact the organizer to request a refund.
Eventbrite's fee is nonrefundable.
About this event
QuaranPalooza: Playing For A Cause
Hi Friends!
We're excited to bring you the multi-performer, multi-genre livestreaming music festival extravaganza we call QuaranPalooza. This is number 33, and we have 32 fantastic performers + 11 hours of live music for ya, Saturday 1/28 11:30AM - 10:30PM PDT, with performers from Taiwan, Canada, NYC, Portland, Connecticut, Nashville, North Carolina, Austin, NY and plenty of talent from right here in The Bay Area!
Your ticket gets you onto The Zoom + into the party!!
Get a ticket and join us in The Zoom, and we'll donate 25% of ticket sales to Bay Area Cancer Connections! We have a goal of raising and donating $100, you can help make that happen by getting a ticket or can donate after clicking the tickets button.
Please get a ticket and join us in the Zoom!
The show will feature:
11:30-11:45 Angie Goeke
11:50-12:05 Cello Joe
12:10-12:25 Bill Rhyne
12:30-12:45 Craig Greenberg
12:50-1:10 Ant Fujinaga
1:15-1:30 Kerrie Stelly
1:35-1:50 Andrew Kasab
1:55-2:15 Bert Lee
2:20-2:40 Madison Mueller
2:45-3 Sunny
3:05-3:20 Amber Ikeman
3:25-3:40 Clay Hawkins
3:45-4 Nikki Nash
4:05-4:15 Alice Osborn
4:20-4:35 Aharon Wheels Bolsta
4:40-4:55 Morgan Cochneuer
5-5:10 J. Leigh Stone
5:15-5:25 David Jesitus
5:30-5:45 Wilson Wong
5:50-6:05 Mjoy
6:10-6:20 John Rybak
6:25-6:40 Kevin Radley
6:45-7 Siena Christie
7:05-7:20 Noah Lehrman
7:25-7:50 David Gans
7:55-8:10 Mandy Paige Bayless
8:15-8:30 Katherine Park
8:35-8:50 Frances Ancheta Becker
8:55-9:10 Anna Karney
9:15-9:30 Lisa Graciano
9:35-9:55 The Genie
10-10:30 DB Walker
A $15 ticket gets you into the fest and onto The Zoom with us + we donate 25% of ticket sales to Bay Area Cancer Connections!
Event Page -> https://www.facebook.com/events/904453640908146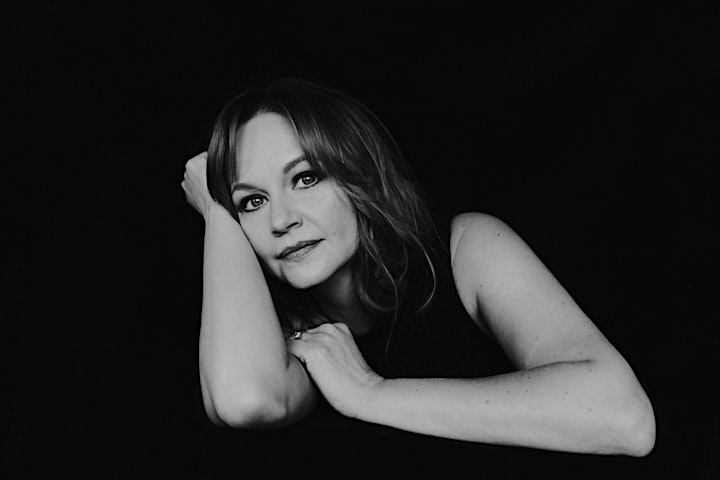 Singer-Songwriter Angie Goeke is a compelling storyteller and multifaceted artist with a forte for the cinematic. Her narrative, emotionally-complex lyrics, drawn from a wealth of real-life experience, explore the many different sides of life and love. Goeke's songs fuse elements of classic Americana, folk, bluegrass and jazz, showcasing her haunting vocal style and unique knack for crafting intricate melodies.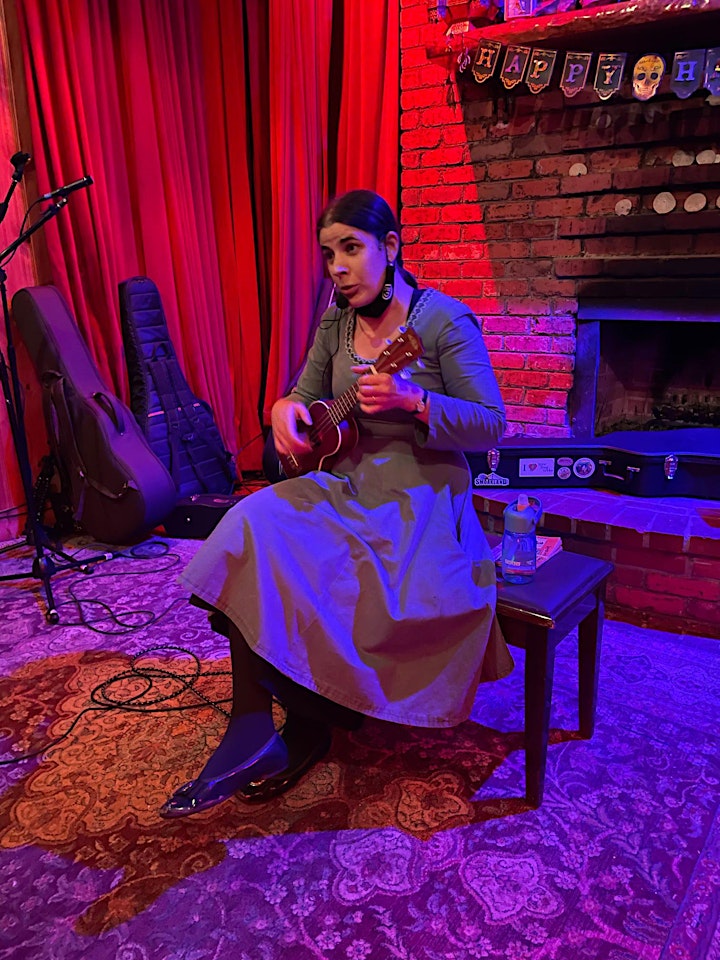 Ants Fujinaga is half Scots and half Italian. She invents and plays tragicomic songs (on the ukulele, shamisen or occasionally piano) replete with scientific and literary references, Balkan, Renaissance and Celtic elements, unusual rhythms (e.g. 5, 7, 9, 11, 13) and ornate vocals, tackling topics from social awkwardness, noisy neighbours, heterotrophic moral panic and human reproduction to toad rescue, nocturnal chronotypes, annoying morning road work and the starch apocalypse.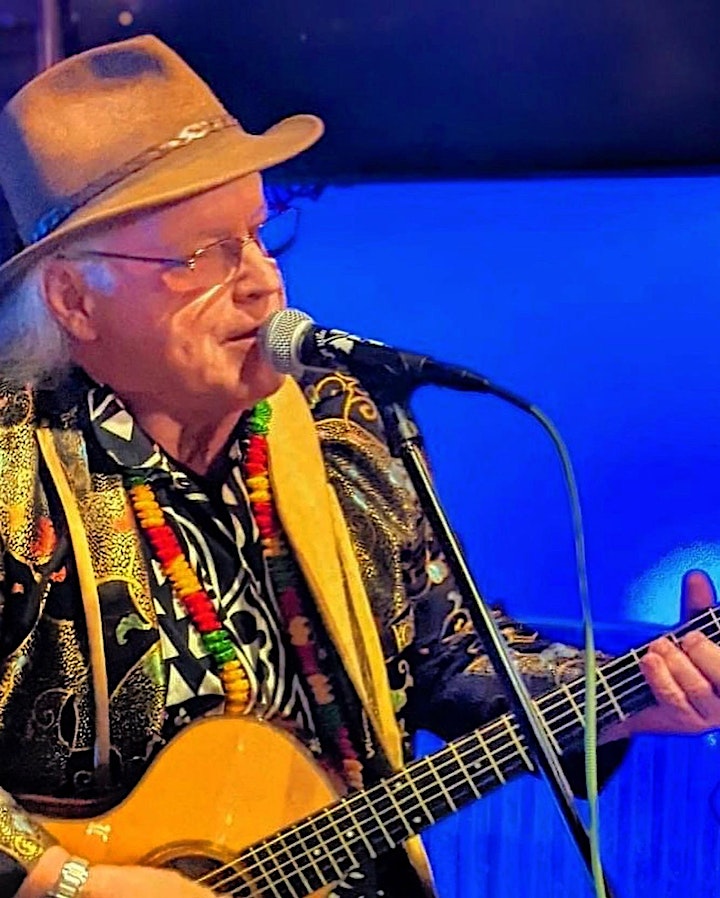 Bill Rhyne is singer/songwriter who has performed in Kansas, California, Hawaii, Japan, China, Vietnam, and France. He performs original songs as well as a variety of styles, such as jazz, country, blues, rock, and Hawaiian music. His music is available on internet sites.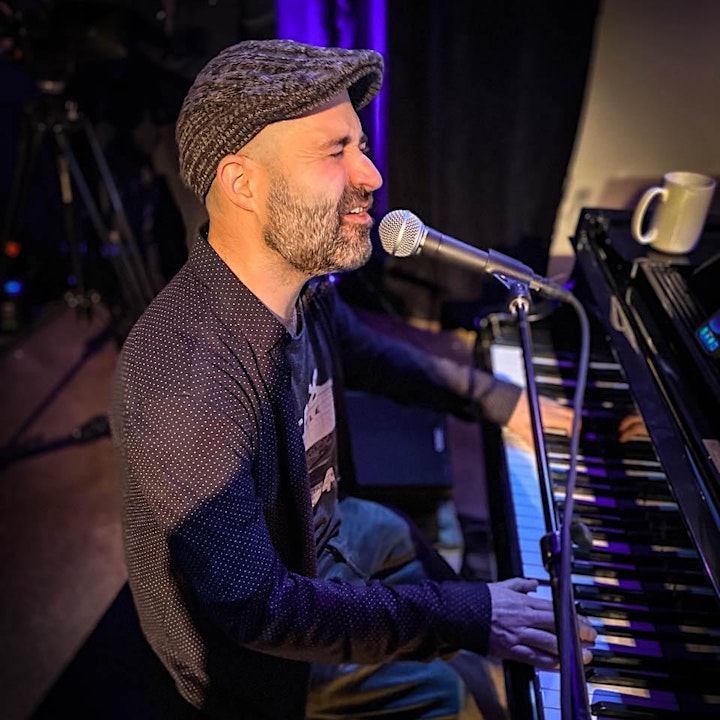 Craig Greenberg has been hailed as NYC's most acclaimed post-millennial piano man. Over the past 15 years, the native New Yorker has been a staple on the city's music scene, capturing and building on the spirited ivory traditions of greats like Billy Joel, Ben Folds and Randy Newman with sparkling, soulful new musical twists, a larger than life personality and his insightful, dramatic sense of storytelling.
Craig has independently released 4 albums (his most recent full length Phantom Life released in Dec 2020), and has performed upwards of 1000 shows, since his start playing in bars while living in Chile, and later Spain, in the early 2000s. His songs have received praise in American Songwriter, the Huffington Post, Relix Magazine, and have been played on radio stations all around the country and internationally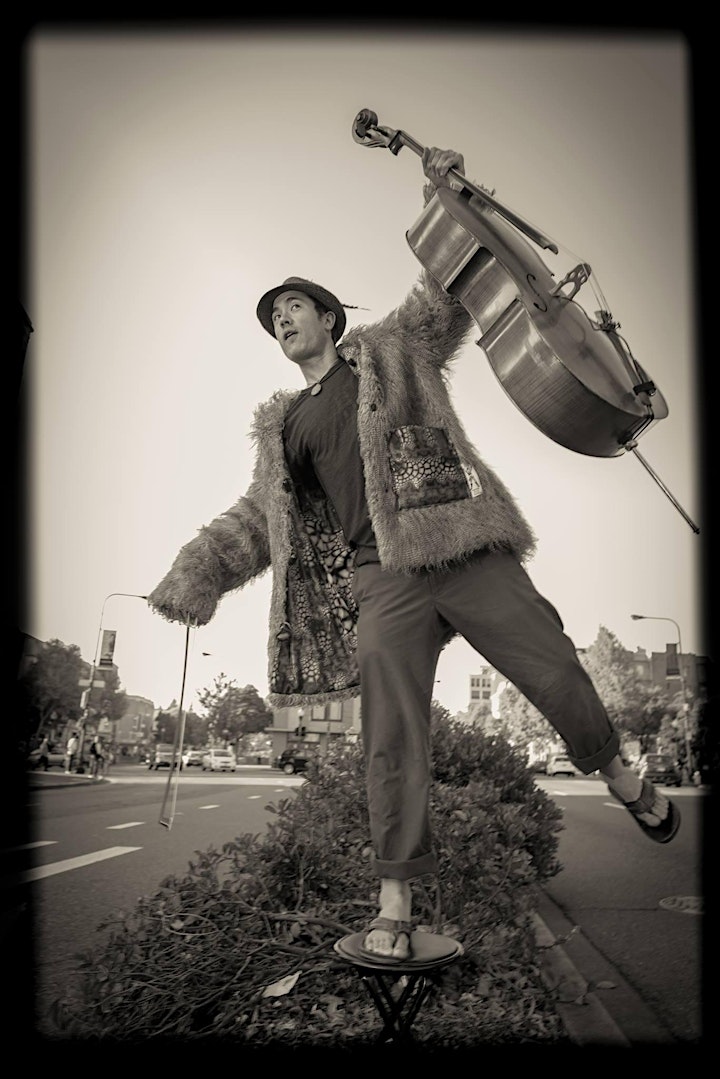 Joey Chang aka CelloJoe is an anomaly in the world of cellists.
Cello + beatboxing + vocals + live looping = Cello Joe
Cello Joe plays the cello while beatboxing, looping, and singing. It's Classical Hip Hop. He creates fat beats with a cello and his mouth and he does it live!
His lyrics weave together sustainability, environmental justice, and social awareness. They entertain, inspire, and make you wonder.
By beatboxing, throatsinging, singing, plucking and bowing the cello, CelloJoe can mimic many styles of music from dubstep to folk to rock to classical to hip hop.
CelloJoe is the world's first long distance musical bike touring cellist.
He has ridden his bike over 10,000 miles in the US, Canada, Mexico, Europe and Australia.
Joey auditioned in Berklee College of Music's World Scholarship Tour in 2000. He was awarded a scholarship and attended Berklee from 2002-2006 and has since performed all over the world including: USA, Mexico, Canada, Singapore, Thailand, Cambodia, the United Kingdom, Belgium, Holland, Germany, Czech Republic, Austria, Hungary, Slovenia, France, and Spain. Some of the festivals Joey has performed at include: Burning Man, Lightning in a Bottle, Festival de Liege (Belgium), Singapore Fringe Festival, FUSION (Germany), Rock for People (Czech Republic), Sziget (Hungary), Oregon Country Fair, Symbiosis (CA, USA), Shambala (BC, Canada), RainDance Camp Out, Sanctuary (Strategik SF,) San Francisco Bicycle Music Festival (BMF), BMFs in Portland, Seattle, Vancouver BC, London, Berlin, Prague, Vienna, Marseilles, Toulouse, Barcelona, Sheepdawg Human Calendar Festival (Maui), ArtsWells (BC, Canada), Mystic Garden Party (OR, USA), EarthDance (CA, USA), Starwood (NY), FireDance (CA) and many other places.
He has played with Joan Baez, Bryonn Bain, the Cello Madness Congress, Justin Ancheta Band, Gabe Dominguez & SHAKE YOUR PEACE!, Paul Freeman aka Fossil Fool, The Ginger Ninjas, StitchCraft, Amanda Mora, Shamanic Sound Ceremony, John Henry's Farm, Amae Love, Clay Chollar, Nicoluminous, Random Rab, Mr. Rogers, Boy Lion, Erma Kyriakos, Rushad Eggleston, the cellist from Tornado Rider, Edan, an internationally acclaimed MC and producer, Roxanne Young, a member of Cirque du Soleil and Barrage, Greg Liszt of The Deadly Gentlemen, and many other notable musicians. As cellist for the band Incus, he toured nationally and played at over forty venues and festivals all over the country. He went on tour with the El Camino Youth Symphony in Europe twice: once to Italy and Austria and once to England and Scotland. He has recorded on many artist's CDs including Andi Starr, Callow, Alohi, Concept 6, Rebecca Loebe, Pablo Picker and others.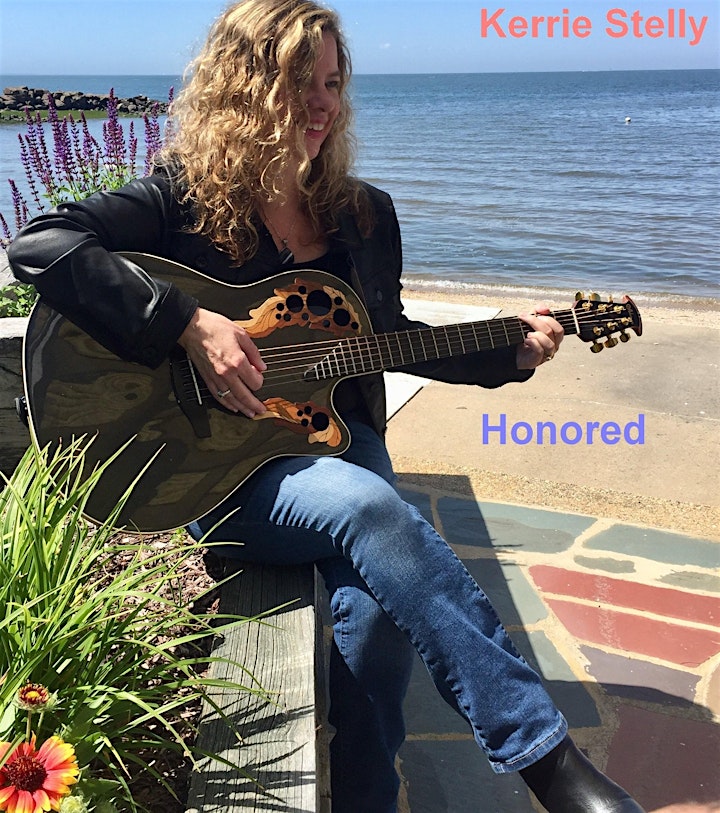 Kerrie has been co-writing songs with her good friend, Carrie Johnson, since 2017. She recorded my first EP in Nashville titled 'Honored' in June, 2021. She has played numerous open mics and recently played originals at the Farmington Valley Acoustic Festival at Winding Trails in Farmington, CT. Please give 'Honored' a listen on Spotify and all streaming platforms. Please also follow Kerrie on Instagram @ kerriestellymusic.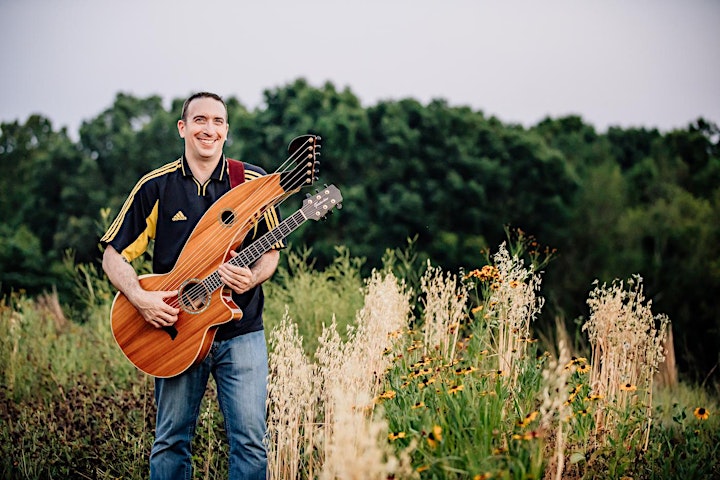 Not your ordinary acoustic guitarist. No loops. No electronic trickery.
Andrew Kasab is a guitarist, harp guitarist and singer-songwriter. He is known for energetic performances, using traditional and contemporary techniques, arrangements of modern and older works across a wide spectrum of styles for the guitar and harp guitar and has been performing for over 30 years.
Long an important fixture on the New York songwriter's scene, Bert Lee is known for his work with the iconic Central Park Sheiks, and as a soloist. Described as a multi-stylist, his command of folk, jazz, country and pop song writing, as well as his commissioned ventures into theatrical music work, have earned him a an international following. He lives in Brooklyn New York with his wife Josephine.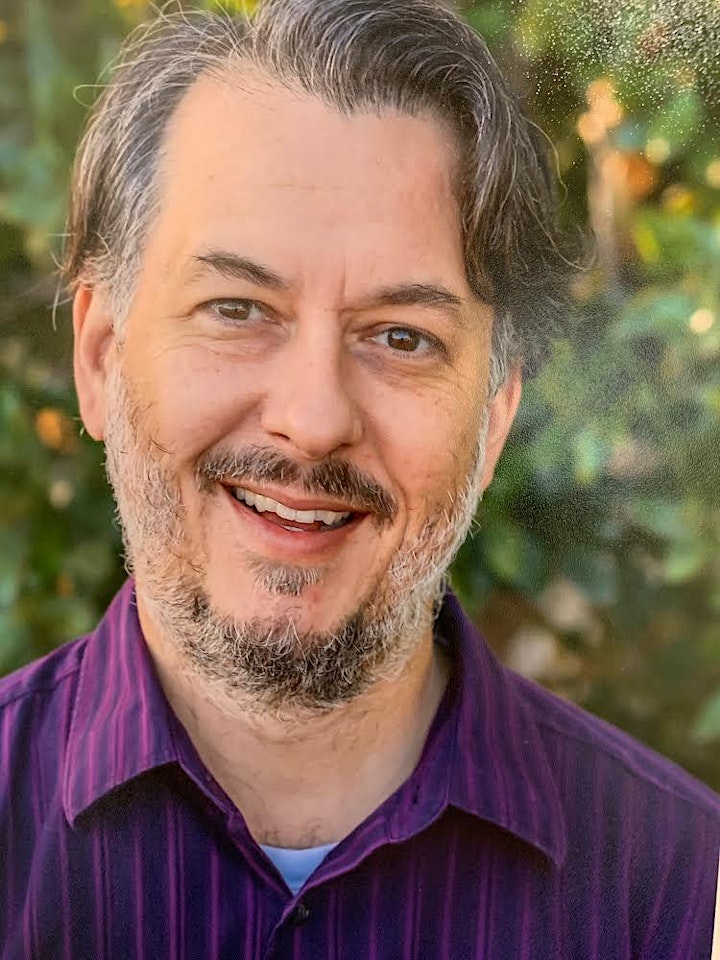 Morgan plays a variety of old time music on fiddle, guitar and mandolin. His unique blend of styles range from jug band to jazz. He also sings, dances, plays kazoo, washboard, limberjack, jug and more. He performs regularly at Farmers Markets, schools, street corners, private events and does concerts at bookstores with his book "The ABC's of Jug Band Music." He is often joined by his son Langton who also loves to sing and perform. Morgan also teaches family music classes with In Harmony Music.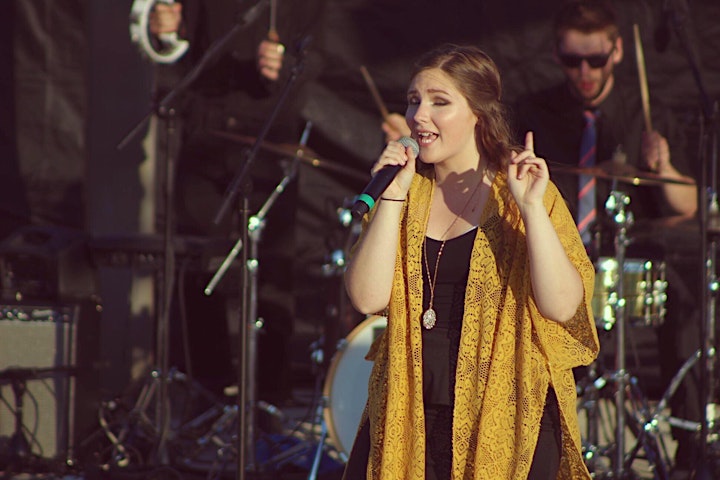 It seems as though young singer-songwriter Madison Mueller is giving her fans more good news about her music career. Her unique sound and style has captured the hearts of those that have been watching her grow online over the past 5 years, as well as those that catch her live shows, up-close and personal. Her singles are being played on radio stations all around the world, and have won her several independent music awards over the past three years. Through her on stage presence and the way she connects to her audience, Madison is a force to be reckoned with!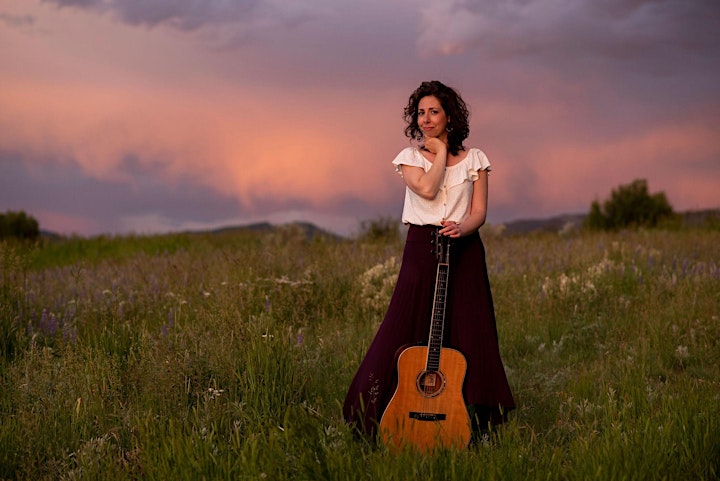 Amber Ikeman delivers empowering, heart-melting folk/pop. Called "a storyteller who embraces emotional tales" (Jolene: The Country Music Blog), Amber leaves audiences "deeply moved…she tugs at your soul like not many artists can" (Analucia Lopezrevoredo, Moishe House San Francisco). Images from the deserts and mountains she's hiked or driven through as a nomad give a living backdrop to her lyrics of resilience, self-discovery, body acceptance, mental health, and women's issues. Amber has toured all over the U.S. and Canada, and her third album will be released in early 2023.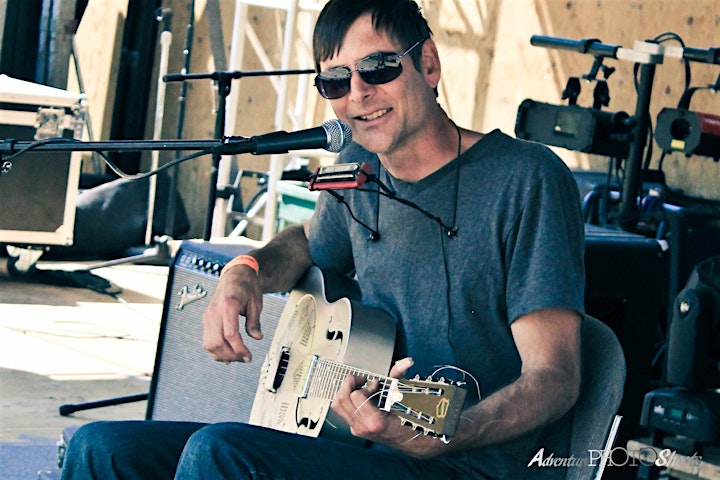 Late Night Boot Stomping Road Music From the Heart. Finger style slide guitar from a solar powered studio in the hills of Northern CA.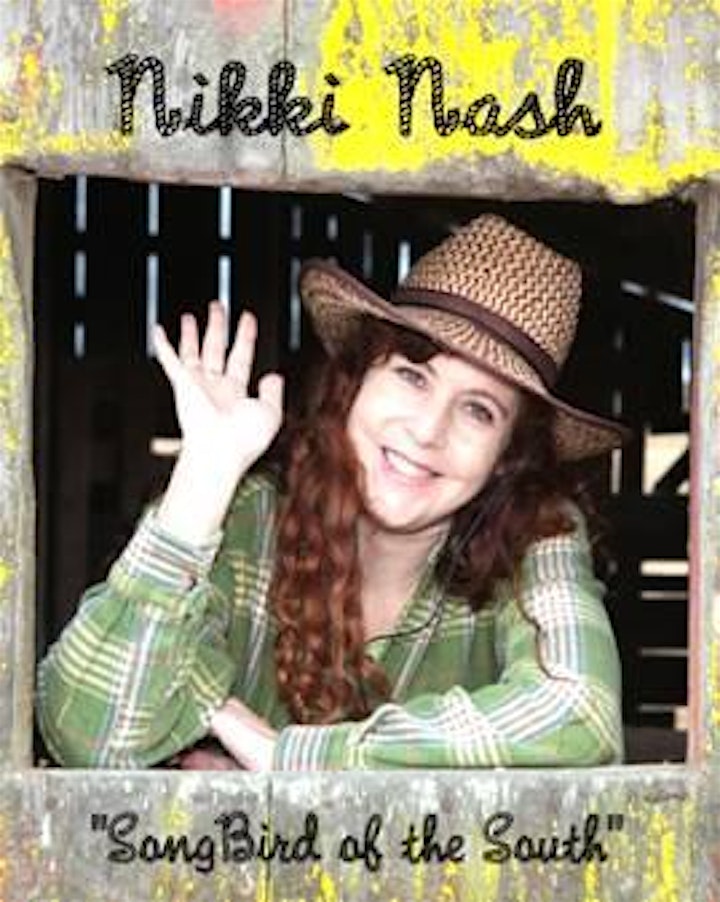 Nikki Nash has charted TOP 10 with 2 singles and TOP 25 with 2 more!
Her CD STICKY CASH went #2 IMN, #2 e-Music, and stayed TOP 10 for 4 months!
Her song ROOM FOR ME was #1 on WOMEN OF SUBSTANCE RADIO for 2012 and 2014
Nikki Nash is Authentic Down Home Bouncy Feel Good Ol' Time Music done in a fresh new way!
Knee Slapping Toe Tapping Foot Stomping Fun!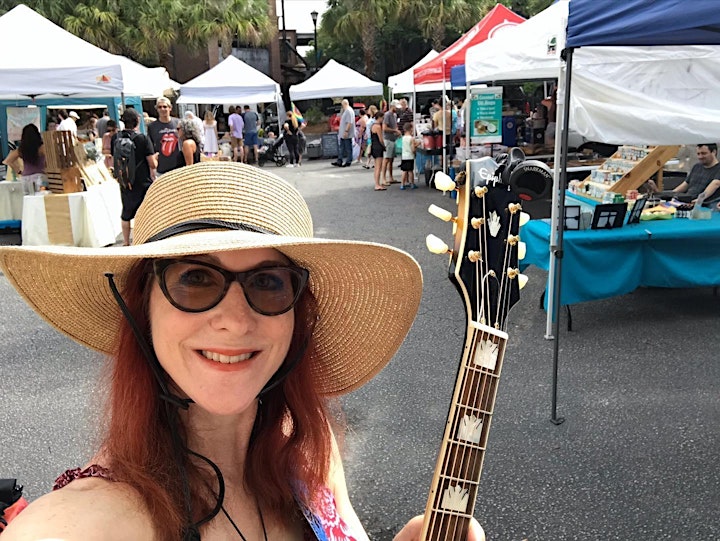 Based in Raleigh, Alice Osborn performs her niche-folk, neo-folk Americana from coast to coast anchored by driving tempos, poignant lyrics, and powerful vocals. Alice's acoustic originals are influenced by Celtic, bluegrass, and folk, and diverse artists such as Richard Marx, Natalie Merchant, and John Prine. She frequently returns to the themes of home, country, and identity and is currently recording her next album, Skirts in the Snow: Beyond the Donner Party. Besides acoustic guitar, Alice also plays and teaches fiddle and banjo.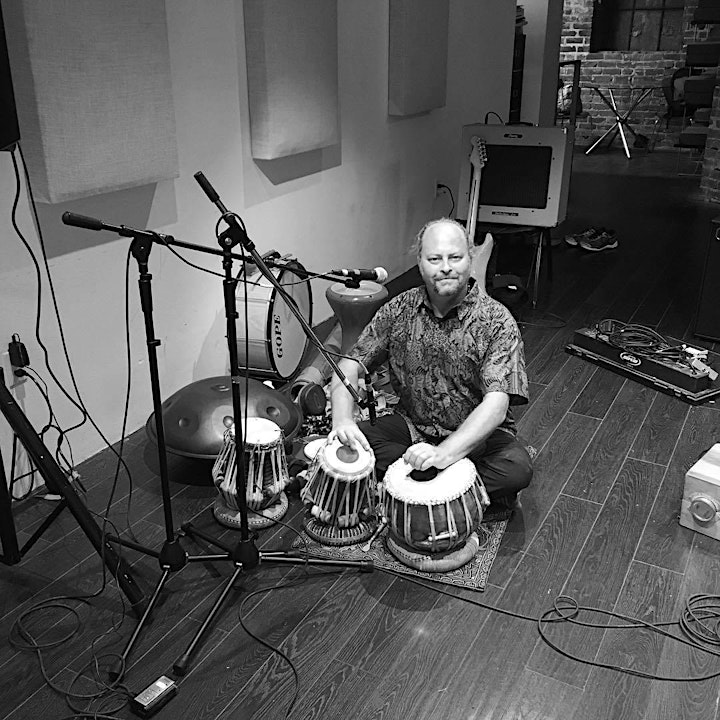 First I break down how North Indian tabla works & a little bit about the tradition; then I loop live performance of tabla with jaw harps, kalimba and poetry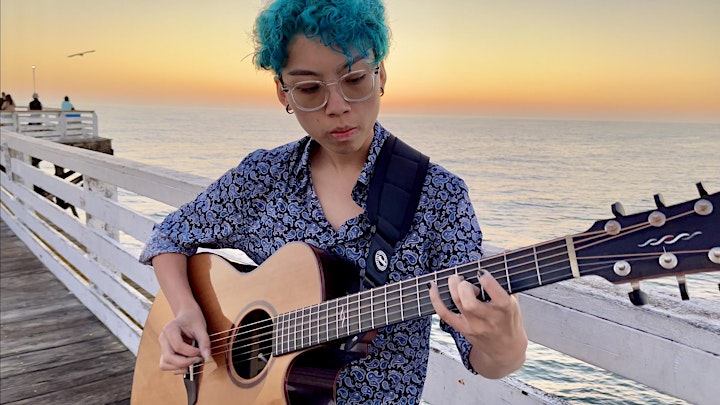 Kat Gallardo, known by her stage name "katgrüvs," is a modern acoustic fingerstyle guitarist based in Davis. A self-taught artist with a solid sense of time and rhythm, she discovers new ways to nurture her passion for percussive fingerstyle guitar arrangement and composition. The name "katgrüvs" captures her innate feel for "grüv" and pocket, a trait steeped in years of playing in jazz, funk, and rock ensembles. A graduate from the University of California, Davis in Mechanical Engineering, she aspires to marry her lifelong passion for music with creative engineering. Her debut album, "The Creator," is available now on all digital music platforms and CD format.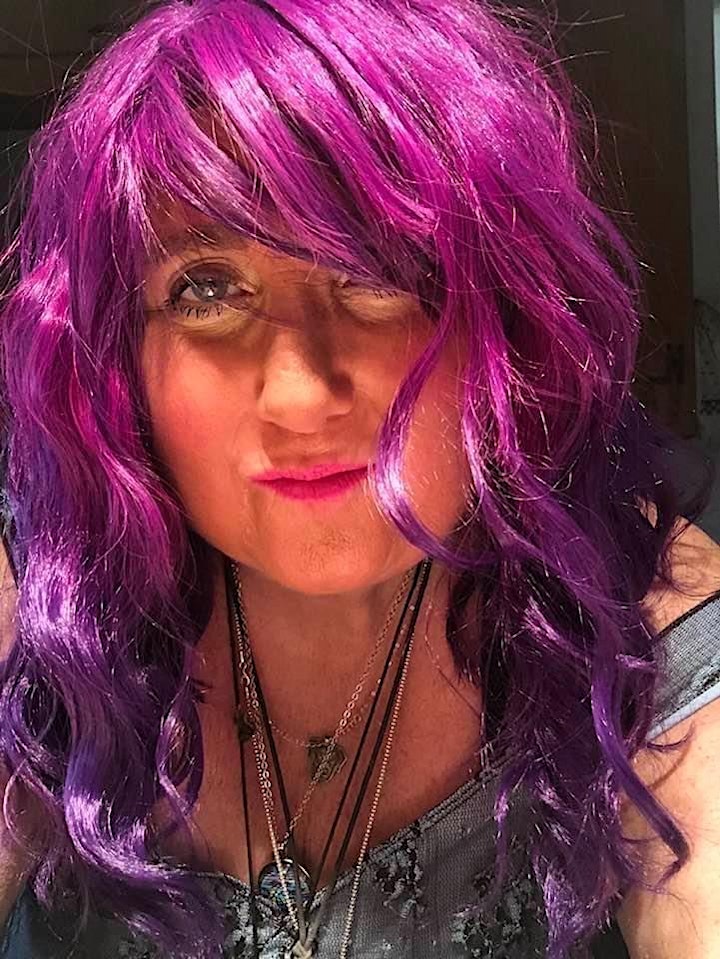 When you realize rocker girl, J. Leigh Stone is playing guitar upside down w/inverted chords, and it's your first clue that the CA transplant from NYC doesn't just sound cool, she's the real deal! A catalog of over 200 songs, splitting genres from rock to pop, to alt to power pop; to country, blues, & zydeco allows J. Leigh free reign to sing & rock any 1 of her 4 guitars by her own set of rules, getting us up on our feet, making us all happy to go along for the ride!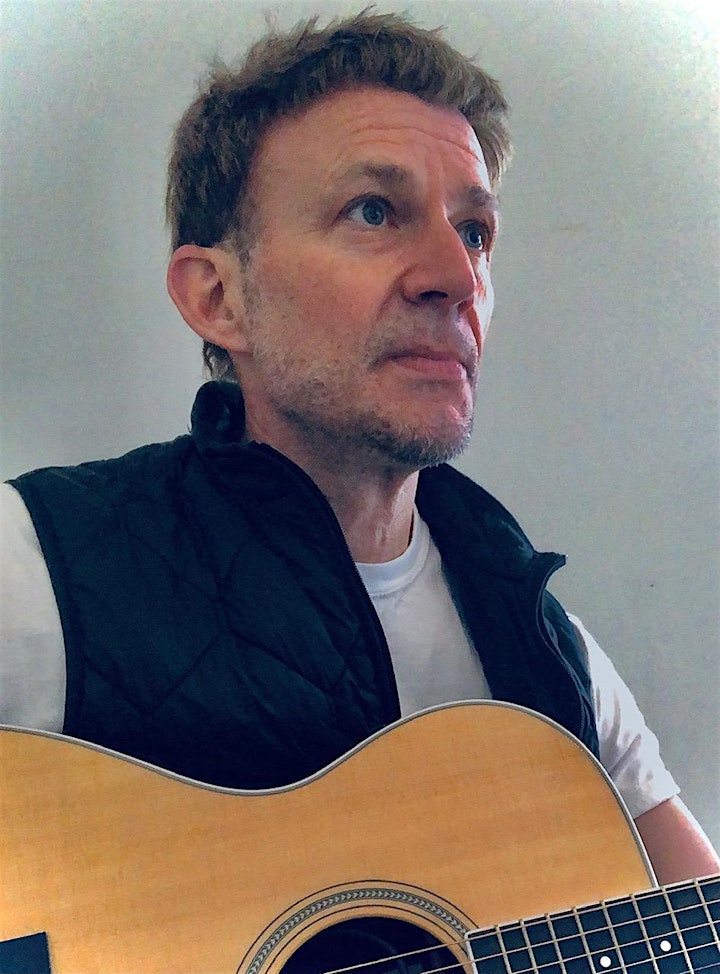 David Jesitus is a singer/songwriter who plays with San Francisco's El Gato Dice. When electric, it's shoegaze indie pop. When it's acoustic, it's sweet melancholic alt-Americana. The pandemic has delayed David's fourth album, but look for that in winter 2021.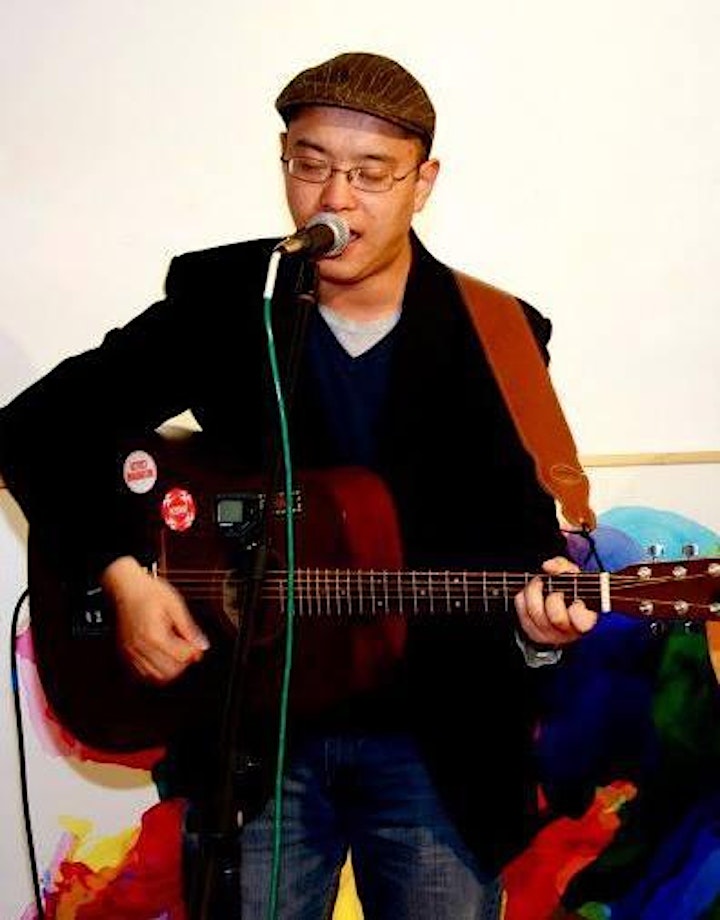 Wilson Wong is a singer songwriter and frontman of the Bay Area band Wilson Wong and the Dudes. His influences include Jakob Dylan, Tom Petty, Johnny Cash, Noel Gallagher, and a bit of Johnny Marr. Along with his group, they have performed at places like Bazaar Cafe, Hotel Utah, Fireside Lounge, and Smalltown Society. Their latest Transitions" EP is now available to listen on streaming platforms.
MJoy is a singer songwriter from the Bay Area. Influences span across all genres but the heart of her sound is a pop-rock concoction. When she's not being a starving artist, she's educating herself on how to earn more, and get the positive messages in her songs out there to the rest of us🙌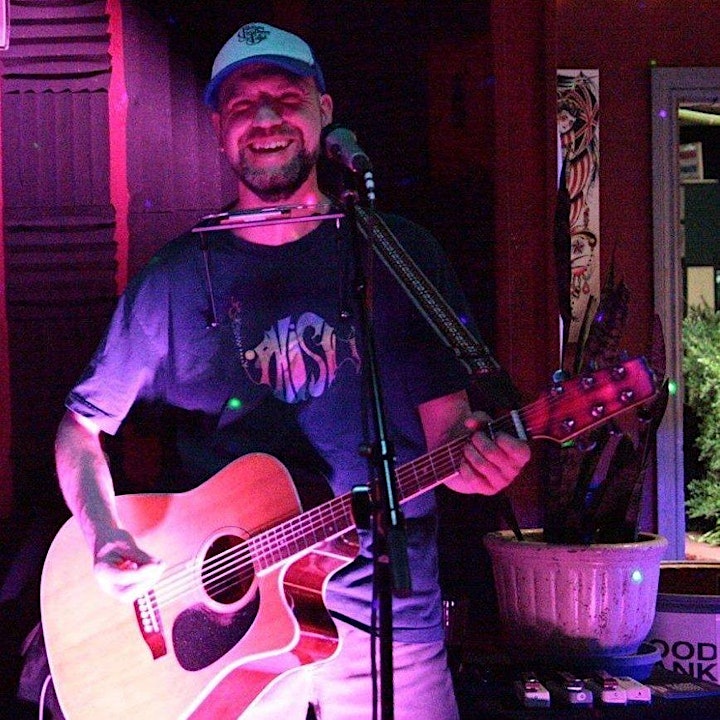 John is an established professional musical performer and plays acoustic shows around the San Francisco area. Hailing from blues + jazz saturated upstate NY city of Rochester. Roots running deep, he was captivated by the intensity and emotion of monumental east and west coast blues, rock and jazz improvisers of the past and more recent modern Jam Band, Groove and Indie Rock acts. John picked up the harmonica at 14, influenced by harmonica playing Grandfather + Uncle, and by other famous Harmonica greats. He spent hours emulating and playing along with friends and recordings. In 2003 when during a major life changing summer John decided to pack his life into his jeep and trek cross-country and relocated to the SF Bay Area. John now plays acoustic shows around The SF Area (+ back home in Rochester every month) with a rotating cast of accompanists that consist of fiddle, hand percussion, and upright bass. "Deeply rooted and well-versed in American roots music and early southern blues John + Friends will take you on a musical road trip across the country with feel-good songs of substance and integrity". www.youtube.com/user/MrJohnrybak for video + https://www.facebook.com/johnrybakmusic on Facebook.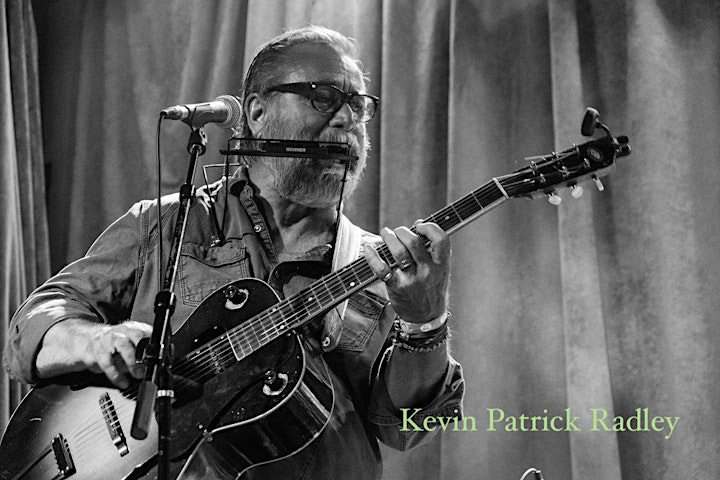 Kevin Patrick Radley is a singer songwriter from Vallejo, Ca. He draws his musical influences from the American musical landscape of blues, country, soul and the occasional country holler. His songs explore time honored themes of love, loss and redemption and performed in the spirit of the juke joint jam.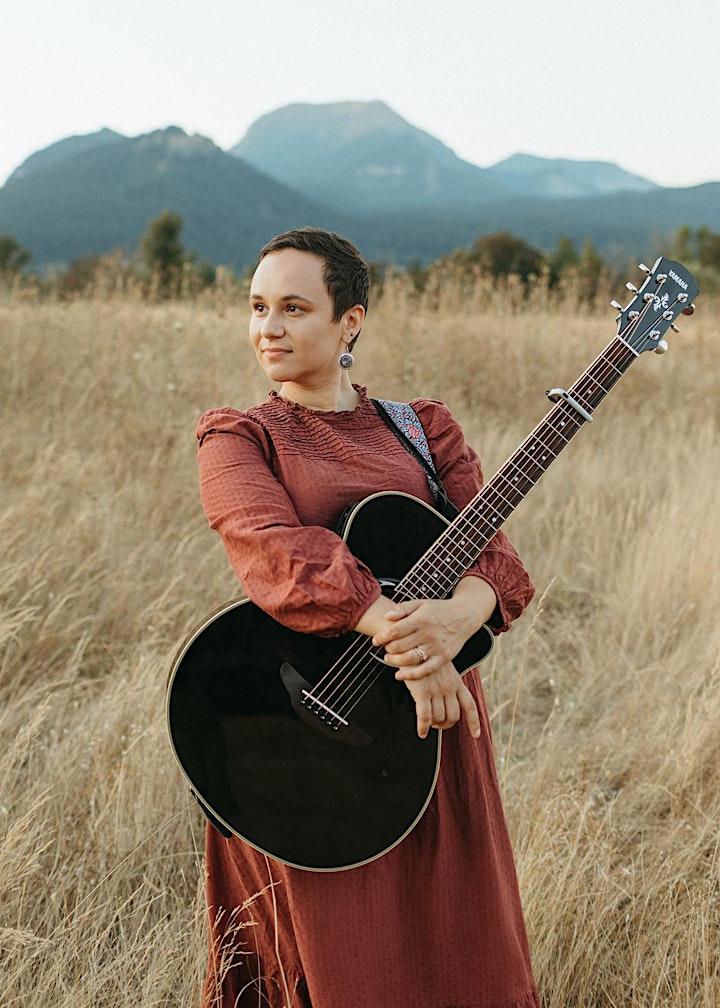 Siena Christie is a modern folk singer-storyteller. Her unaffected, crystal-clear voice pairs hauntingly with her sweeping melodies and richly detailed lyrics about life, love, and impermanence. This year, Siena was a finalist in both the Kerrville Grassy Hill New Folk competition and the Rocky Mountain Folks Fest Songwriter Showcase. She was also chosen as the winner of "Best Overall Song" in Portland's Folk Festival's 2022 songwriting contest. Siena splits her time between Hood River and Portland, Oregon.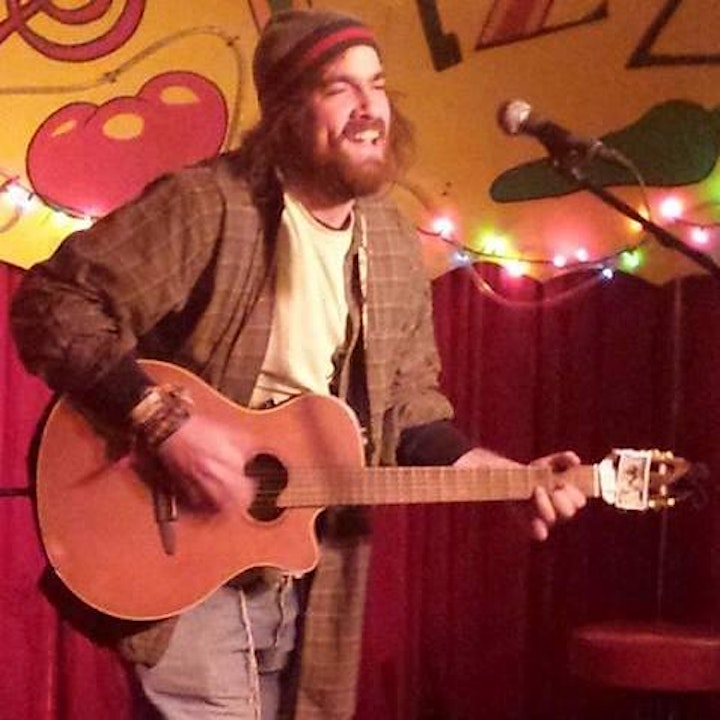 Noah Lehrman / 李文 is a New York City based extistential singer/songwriter and drummer/percussionist.
Noah's love songs, at once evocative and hook-filled, work to reconcile the paradox of unity and duality of self and other through intelligent, incisive lyrics wrapped in catchy, danceable tunes with a sense of romance and humor.
He regularly performs live with members of Phil Lesh & Friends, RatDog, JGB, moe., Dark Star Orchestra, Particle, Gratefully Yours, Skeleton Keys, and international music legends including the late Babtunde Olatunji, Shlomo Carlebach, and Niles Rodgers.
Noah and his music have been featured in press ranging from Relix to The Economist magazines.
Noah is currently recording his debut solo album produced by GrammyⓇ -winner C. Lanzbom (Pete Seeger, Deadgrass, Soulfarm) and due out next year.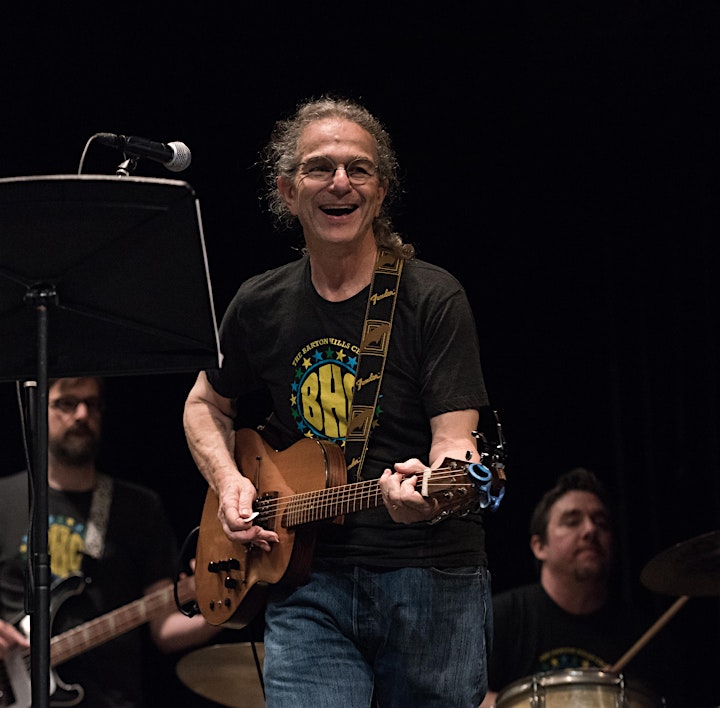 After you've seen a David Gans show or heard one of his records, you're likely to ask yourself, "Where's this guy been? Why haven't I heard of him before?" The answer to both questions is that you weren't looking in the right place, but don't worry, it's not like it was obvious.
The thing is, Gans started out as a musician in 1970, playing guitar and writing songs and performing both as a soloist and as a member of various bands around the Bay Area. So were a lot of other people, so don't feel bad about missing him back then, either.
"I've learned a lot from the Grateful Dead," he notes. "They made some truly great songs, and their performances had a narrative structure that used their own songs and the songs of others to tell a story that each listener heard in his own way. I have discovered over time that this is true of my performances as well; I write songs, and choose covers, that further my own narrative, which I am discovering as it unfolds."
After a long hibernation, his singing, songwriting, and guitar playing have emerged to make him a singular artist with his own strong identity. He's David Gans, and you ought to hear him.
Miss Mandy is a music teacher and musical theatre nerd residing in the San Francisco East Bay Area. She loves music theory and teaching singers how to play piano!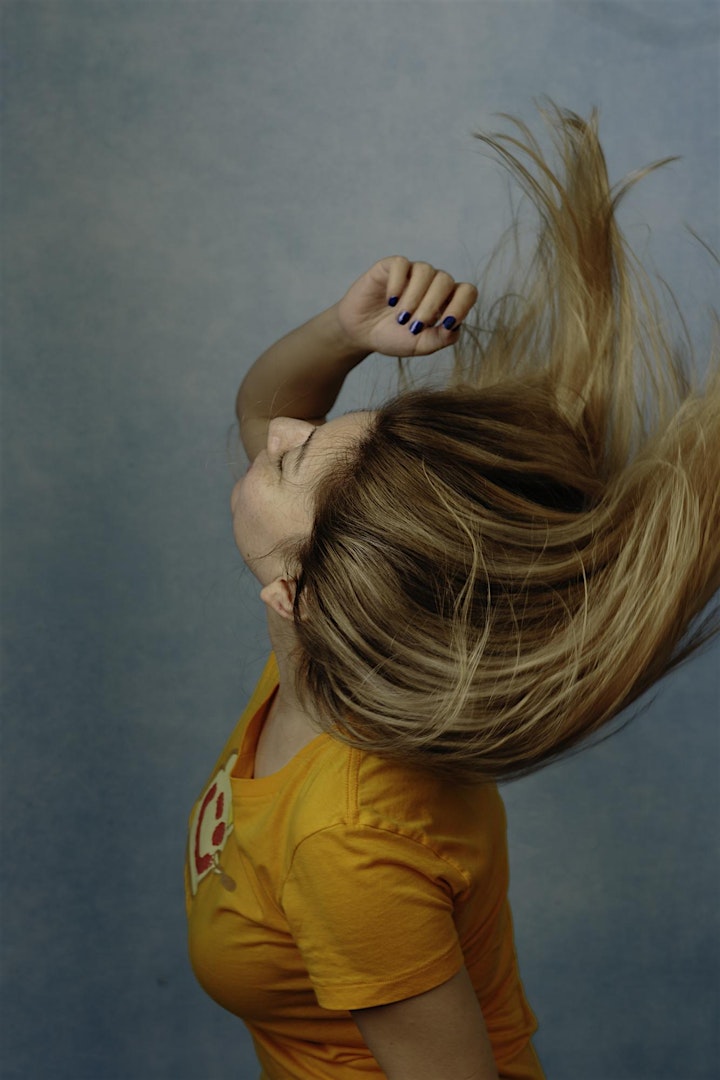 Think oranges apples and sunshine and a road of yesses. Katherine Park has a voice like an angel riding the wish of all seasons, moods and moments, traditionally left to poets, painters, to dreamers and lovers. Think Alison Goldfrapp and Will Gregory of Goldfrapp, meets the silky tones of Marilyn McCoo from the Fifth Dimension. - Jerry Thompson (Lifoti Magazine)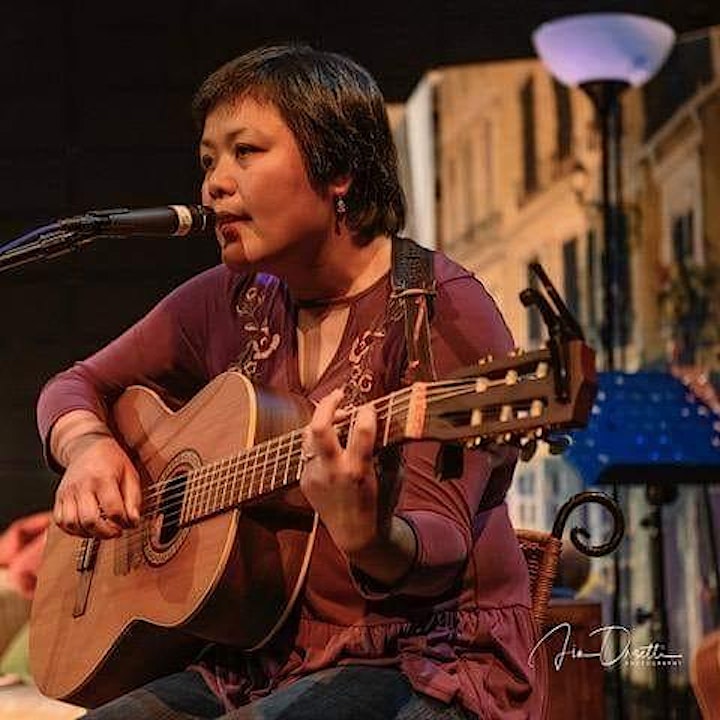 Frances Ancheta is a Filipina American singer/songwriter, musician, and San Francisco Bay Area native. Her musical style can be described as thoughtful and eclectic indie folk/pop/rock with multi-cultural influences. Frances has released 3 albums and had radio airplay in the US, Canada, England, and Spain. A creative arts therapist and cancer survivor, Frances values and appreciates music's ability to heal and connect people from all walks of life.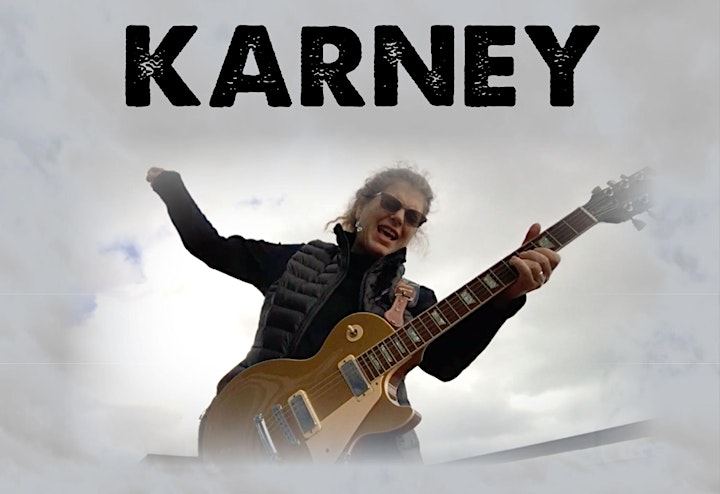 Throughout her storied music career, Anna Karney has performed across the country and released an incredible catalog of chart topping, critically acclaimed singles, EPs, and albums. Keeping her mind on social justice and positive messages, Karney's lyrical content offers a sardonic, straightforward approach to many of the issues facing people today. She encourages listeners to not get discouraged and to keep moving towards a kinder, inclusive, happier world. Karney's latest EP 'Gonna Be Beautiful' has stayed on the Radio Indie Alliance top 20 chart since July 2022. She is planning a new release Spring of 2023.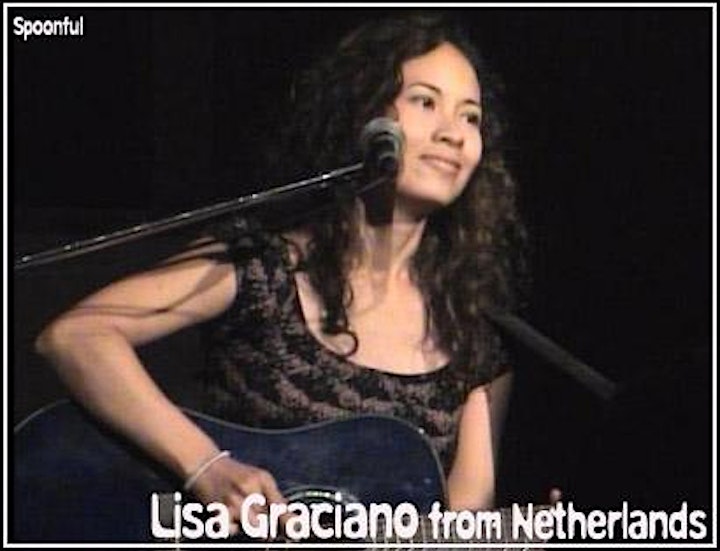 Lisa Graciano is an SF Bay Area performer and songwriter who has had formal training in classical music in Singapore, was part of the alternative music scene in Manila, and spent years as a musician in the folk, jazz and blues music circuit in Amsterdam, where she recorded two albums.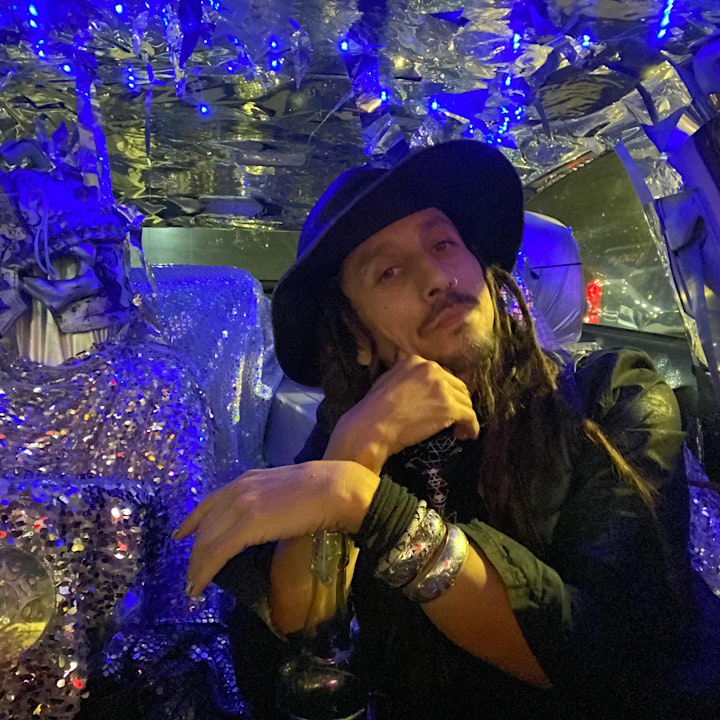 jinnwav is a synth/vocal project by San Francisco-based guitarist and live-looping innovator The Genie. After almost two-decades of refining his unique looping style and interpreting songs by iconic artists such as Radiohead, Bjork, Portishead, Sade, The Cure, Pink Floyd, etc., he has added vocals via Korg vocoder to create an intensely powerful performance blending all of his styles and influences.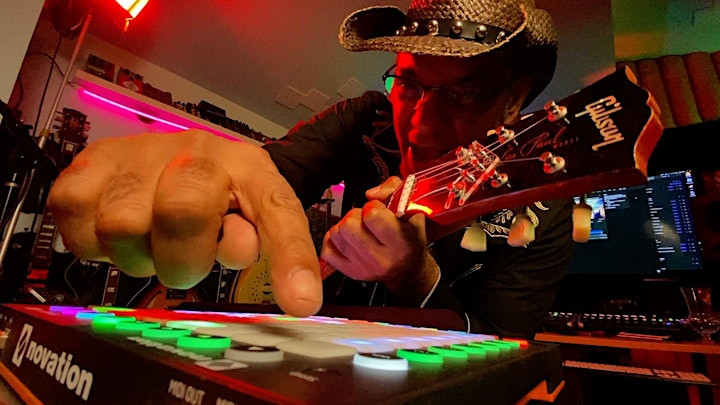 D.B. Walker plays Rock, Blues and Jam music with far-flung influences ranging from Muddy Waters to The Grateful Dead, The Cure, Nine Inch Nails and Tool. Using the latest tools to create solo performances that are sure to surprise and delight.