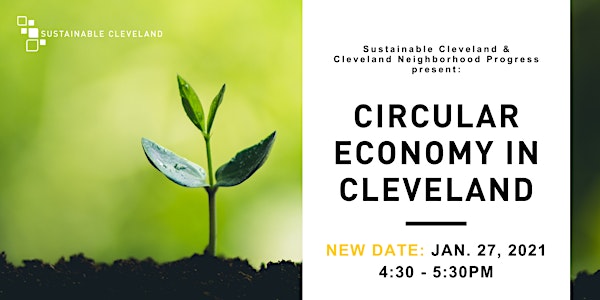 January 2021 Virtual Meeting: Circular Economy in Cleveland
Circular Economy in Cleveland: Advancing Health, Equity, and Climate in the Great Lakes
About this event
******EVENT HAS BEEN POSTPONED TO JAN. 27th******
Join us for the Sustainable Cleveland January 2021 Virtual Meeting on January 27th at 4:30pm. This meeting will be co-hosted with Cleveland Neighborhood Progress, and will focus on the launch of Circular Cleveland, an initiative that will build on collaborations to create circular economy* strategies in Cleveland, including ways you can get involved.
Late last year, Cleveland Neighborhood Progress was awarded a grant from the Robert Wood Johnson Foundation to launch Circular Cleveland in partnership with the City of Cleveland and Neighborhood Connections.
During our January meeting we will introduce the concept of a circular economy and provide details about the two phases of the grant to be implemented over the next two years. We will also provide national and international examples of the circular economy as well as examples in Cleveland of the circular economy already in practice.
Presenters:
*What is a Circular Economy?
Our current economic model is linear and can be summarized as Take, Make, Waste. The circular economy reduces waste and pollution by designing it out so there is no waste, it keeps products and materials in use by reuse, repair, and regenerates nature with programs like composting, no-till farming and restoration. The circular economy also creates local wealth and opportunities.
For more information on the circular economy visit the Ellen MacArthur Foundation website who is a leading expert on the topic.