Event Information
Refund Policy
Contact the organizer to request a refund.
Eventbrite's fee is nonrefundable.
January 2021 QuaranPalooza Livestream Music Fest
About this Event
QuaranPalooza: Giving Thanks with Music
We're making music online to give thanks to all the first responders, essential workers and people working hard to get us through this pandemic.
Get a ticket and join us to help us raise money for Bay Area Cancer Connections.
The show will feature :
Cello Joe 4-4:15
Lisa Graciano 4:20-4:30
Frances Ancheta Becker 4:30-4:40
Dawn Ellerbeck 4:45-4:55
David Jesitus 5-5:10
Sariyah Idan 5:15-5:25
Liana Gabel 5:30-5:40
Syzygy 5:45-6:10
Az Samad 6:15-6:25
John Rybak 6:30-6:40
Katie Knipp 6:45-7:05
Rick Hardin 7:10-7:30
David Gans 7:35 -7:55
The Puffball Collective 8-8:30
We'll all be doing 10-30 minute sets with some live Zoom interaction/Q & A between performances.
$15 tickets will be available for purchase if you'd like to support your local artists and also join the Zoom with audio and video interaction. It will also be available to view for free if you'd like to just watch, and tips will also be welcome through paypal/venmo for performers.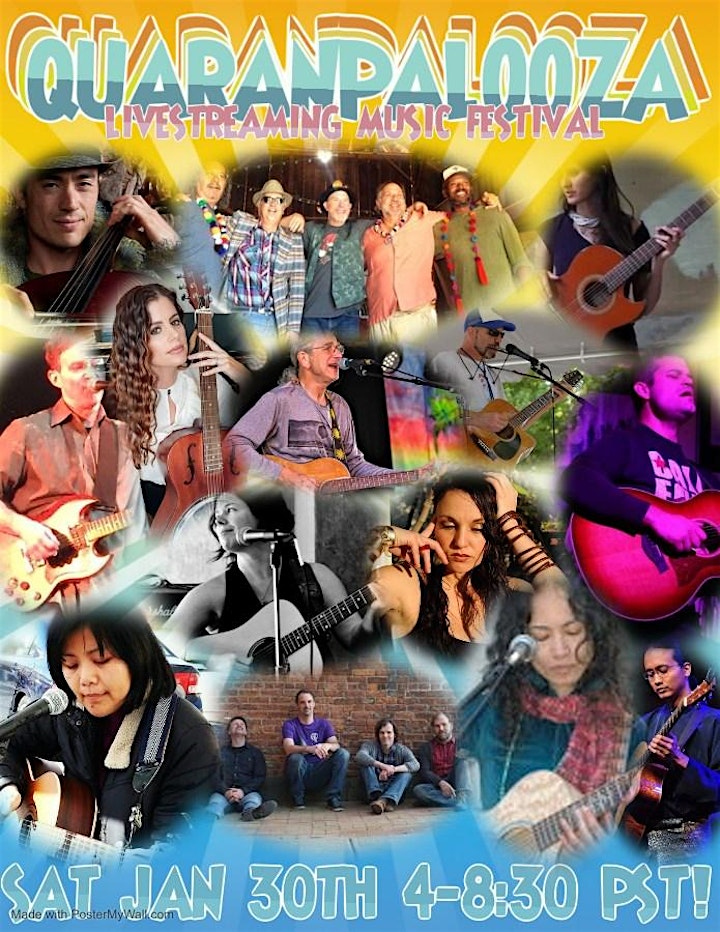 John Rybak
John is an established professional musical performer and plays acoustic shows around the San Francisco area. Hailing from blues + jazz saturated upstate NY city of Rochester. Roots running deep, he was captivated by the intensity and emotion of monumental east and west coast blues, rock and jazz improvisers of the past and more recent modern Jam Band, Groove and Indie Rock acts. Deeply rooted and well-versed in American roots music and early southern blues John will take you on a musical road trip across the country. paypal.me/johnrybak1 "https://www.facebook.com/johnrybakmusic
https://www.reverbnation.com/johnrybakfriends
https://www.youtube.com/user/MrJohnrybak
https://www.facebook.com/johnrybakmusic
https://www.reverbnation.com/johnrybakfriends
https://www.youtube.com/user/MrJohnrybak
https://www.youtube.com/watch?v=uzGvDfr_7cg
Lisa Graciano
Lisa Graciano had classical music training in Singapore, studied Balinese dance in Jakarta, fronted rock bands in Manila, joined Amsterdam's folk and blues circuit, and now performs her original songs acoustically and with Purnamasari. Lisa was recently featured on Voice of America's ""Dunia Kita" and KPFA's Music of the World.
Paypal: lisa.graciano@gmail.com
lisagraciano.com
https://youtu.be/MmURQiU5aqQ
lisagraciano.com
https://youtu.be/MmURQiU5aqQ
Frances Ancheta
Frances Ancheta is a Filipina American singer/songwriter and acoustic musician from San Francisco. Her musical style has been described by many as "thoughtful, eclectic acoustic folk and indie pop/rock". Frances has released three albums to date, most recently her first album in 8 1/2 years "Hidden Gems". Her music has garnered radio airplay in the US, Canada, UK, and Spain. As a creative arts therapist and cancer survivor, Frances definitely has experienced how music heals the soul, and she values music's ability to help people understand the world around them, to connect with others, and to heal. PayPal: franpancheta@yahoo.com
Website: https://www.francesanchetasongwriter.com
Facebook: www.facebook.com/francesanchetaSongwriter
Instagram: www.instagram.com/francesanchetaSongwriter
YouTube: https://www.youtube.com/channel/UC0GWXdVbJGya5Sz2XcyoHAw
Spotify: https://open.spotify.com/artist/4dKtDheKMLsJh4bgW5VtKd" https://youtu.be/8sF9uFERQ50
Dawn Ellerbeck-Roorda
Dawn Ellerbeck-Roorda is a singer/songwriter with deep roots in small-town Iowa. Raised by a coal-working dad and a choir-directing mom, she grew up listening to her parents' sweet harmonies at church and the occasional wedding. Her songs stir up memories of home and love gone wrong, with vocals that hint at her bluegrass folk heroines, Hazel Dickens, Emmylou Harris, and Gillian Welch.
Venmo: @Dawn-Roorda | PayPal: PayPal.me/dawnroorda Facebook.com/dawn.ellerbeckroorda
https://youtube.com/watch?v=dMhPZdCefjU
Facebook.com/dawn.ellerbeckroorda
David J/El Gato Dice
El Gato Dice is a critically acclaimed eclectic indie rock group formed in 2009, with three full length albums, a handful of new singles, and good college radio exposure. 2020 has cooled the waters for everyone, but singer David continues to hone down their brand of alternative americana (Radiohead, Wilco) piecing together a sweet collage of singles for a future "Quatro" full length release.
Venmo @David-Jesitus
paypal.me/elgatodice c
ash aop $elgatodice
www.elgatodice.com
facebook.com/elgatodice
https://www.youtube.com/watch?v=IlrtdILcrH0
Sariyah Idan
New York bred and Los Angeles based, Sariyah Idan is an internationally touring independent singer-songwriter and producer. Jazz and folk trained, hip-hop educated, and influenced by both Latinx sounds and her Jewish roots, Tinnitist praised her "ability to seamlessly combine a wide variety of disparate styles and sonics into a memorable sound all her own". Fusicology heralded her "powerful, soulful, spirited songs filled with stories of struggle, love and social justice". Her debut solo LP "Breaking Shadows" recorded in Berlin, Lisbon and Los Angeles, released in October 2019 and is available on all platforms.
Venmo: @sariyah-idan
CashApp: $sariyahidan
PayPal: sariyah.idan@gmail.com
Website: http://sariyahidan.com/
IG: http://instagram.com/sariyahidan
FB: http://facebook.com/sariyahworld
Twitter: https://twitter.com/sariyahidan
Bandcamp: https://sariyahidan.bandcamp.com/
SoundCloud: https://soundcloud.com/sariyah-idan
https://youtu.be/tb7PGGkk6zM
Liana Gabel
It's there in her sound: a striking amalgam of spectral vocal jazz, straight-to-the-gut Appalachian folk, urgent neo-soul, minimalist alternative pop, and experimental music. It's also present in her dancing, which, unusually for an alternative pop singer, is absolutely indispensable to the music she makes. As anybody who has seen one of her intimate – but exciting – concerts can tell you, Liana Gabel doesn't need a drummer to drive her songs. Her tap dancing keeps the beat as well as any percussionist could.
Venmo: @Liana-Gabel
PayPal:Lianagabel123@gmail.com
https://linktr.ee/Lianag
https://www.youtube.com/watch?v=eYh-5dkdoKw
Az Samad
Az Samad talked at TEDx, taught at Berklee & wrote a rap song for the upcoming video game, No Straight Roads. Az plays fingerstyle guitar, jazz & is an advocate for Malay Jazz, focusing on the music of Jimmy Boyle & P. Ramlee.
PayPal: azsamad2@gmail.com
https://instagram.com/azsamad
https://youtube.com/azsamad
https://twitter.com/azsamad
http://azsamadlessons.com/
http://azsamad.com/
https://gumroad.com/azsamadmusic
https://youtu.be/aoLywFS66Bk
Cello Joe
Joey Chang aka CelloJoe is an anomaly in the world of cellists.
Cello + beatboxing + vocals + live looping = Cello Joe
Cello Joe plays the cello while beatboxing, looping, and singing. It's Classical Hip Hop. He creates fat beats with a cello and his mouth and he does it live!
His lyrics weave together sustainability, environmental justice, and social awareness. They entertain, inspire, and make you wonder.
By beatboxing, throatsinging, singing, plucking and bowing the cello, CelloJoe can mimic many styles of music from dubstep to folk to rock to classical to hip hop.
CelloJoe is the world's first long distance musical bike touring cellist. 
He has ridden his bike over 10,000 miles in the US, Canada, Mexico, Europe and Australia.  " Tip Cello Joe: Venmo: @CelloJoe | Cash App: $CelloJoe | PayPal: CelloJoe@CelloJoe.com "CelloJoe.com 
CelloJoe.BandCamp.com 
Patreon.com/cellojoe/
SoundCloud.com/CelloJoe
bit.ly/cellojoespotify 
Instagram.com/cellojoe
FaceBook.com/CelloJoe 
YouTube.com/CelloJoe 
Vimeo.com/cellojoe 
Twitter.com/CelloJoe 
https://youtu.be/5w8n3jWLSA0
Katie Knipp
Billboard Blues charting artist Katie Knipp is on the brink of releasing her 6th album in the New Year with special guests Mick Martin and Keith Cotton, musical director for Joan Osborne. She has opened for countless legends like Robert Cray, The Doobie Brothers, Jimmie Vaughan, and many more. Winner of two Sacramento blues awards for best blues artist, here's Katie Knipp."
Venmo: @Katie-Knipp-108
Paypal: paypal.me/katieknipp
https://katieknipp.com/
https://katieknipp.bandcamp.com/
https://www.pandora.com/artist/katie-knipp/ARmdc9l55r353c6
https://open.spotify.com/artist/4vCs6xu8DoC1m1t2ODdS8w?si=V8He2Yg1QgCgJTI7POV_xw" https://youtu.be/1sOYGlQiTpA
Rick Hardin
Rick Hardin is an accomplished singer songwriter known for catchy soulful songs with encouraging messages.
Venmo: @rickhardin
paypal:@rickhardin
https://open.spotify.com/artist/4LmuP0p13Vb15gdCUImlNC?si=IBp7Y6z-SuqqL_ZUeT5l1Q&utm_source=copy-link
https://open.spotify.com/artist/1zMC2iaIDt0LZskZ6neSba?si=JRKgt2ATTheqXVHCMc0aWg&utm_source=copy-link
https://www.youtube.com/channel/UCZEz_gf9Ekk4Y4f64TCq4Rg
Rickhardinmusic.com
https://youtu.be/tj4IsHEnyoE
David Gans
Literate, improvisational folk-rock with looping. Original songs, Grateful Dead and other favorites reimagined...
https://paypal.me/dgans
https://gdhour.com/support
https://Venmo.com/David-Gans-9
http://dgans.com
https://youtu.be/Soy_4CznXxw
The Puffball Collective
The Puffball Collective(TPC)  !!!!!
Celebrate as community the power & healing of music & song with happy-feet-dance, spirit- lifting-revival , and unifying-revelry….The power of  TPC!!!
  Featuring members of the "Banana Slug String Band", "Slugs and Roses", the "Barrelmakers", instrumental funk project "Velour," Jim Lewin's Edge of the West , and a slew of talented local musicians, The PDC reaches into the back pocket of the great bands of the past such as Steely Dan, the Allman Brothers and the Grateful Dead, while at the same time creating their own sound and playing their own material.  Featuring twin guitars, organ, a rock-solid rhythm section, and sweet vocal harmonies , the Puffball Dance Collective crafts extended musical journeys that are sure to lift every one to new heights of collective dancing puffball consciousness.
Venmo: @Doug-Greenfield-4
https://thepuffballcollective.com
https://www.youtube.com/watch?v=EZ3ruLFb93I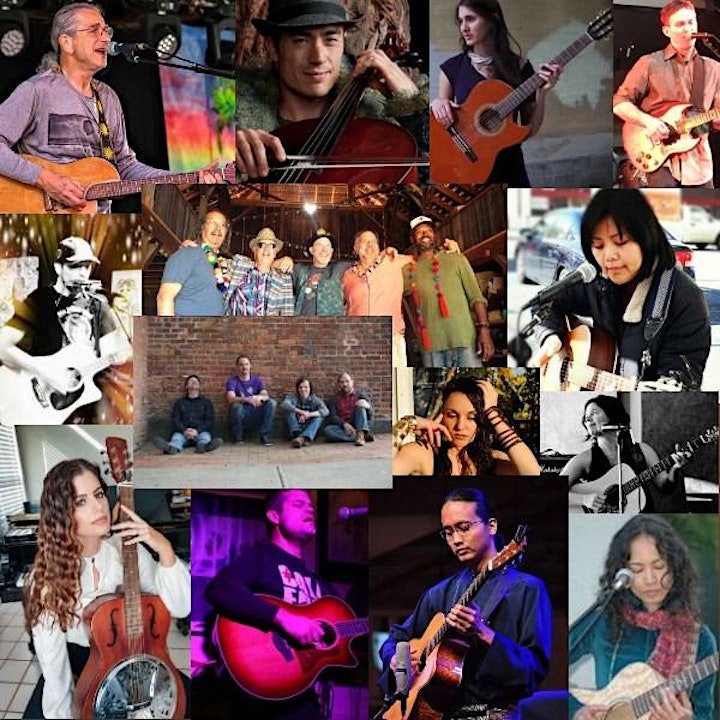 Date and Time
Location
Refund Policy
Contact the organizer to request a refund.
Eventbrite's fee is nonrefundable.