Description
January 2019 CBIG Meeting: Predicting Risk of Health Crisis
Meeting Date: Tuesday, January 8, 2019
5:30 pm: Dinner and mingling with fellow CBIG members
6:00 pm: Introductions
6:10 pm: Power BI Tips with Michele Hart
6:15 pm: Main Presentation with Kartik Niyogi
Topic: Predicting Risk of Health Crisis
Session Description: Cardinal Innovations is a payer organization that manages NC state's Medicaid fund. It operates primarily in behavior health space and its member profile includes members with severe mental health disorders (MH), substance use disorders (SUD), and intellectual & developmental disorders (IDD). The aim of the antipsychotic medication model is to identify members on an antipsychotic who are at a risk of crisis. The model takes into consideration behavior health (BH), physical health (PH), and pharmacy details to obtain a holistic view of a member. The BH includes data on members with schizophrenia, bipolar, other psychosis and substance use disorders. PH data includes physical disorders (e.g. nervous, circulatory, history of self-violence). The pharmacy data provides information on their antipsychotic medication adherence.
Initial descriptive statistics and factor analysis are performed to identify the right variables. Multiple predictive models like logistic regression, decision tree, random forest, and XGBoost model are employed to predict the risk of crisis among member population and correct model is chosen based on model performance. A risk score is assigned to each member based on the risk factors. Multiple stakeholders can now filter for members managed by their department to provide right care and thereby improve member outcome.
Presenter: Kartik Niyogi is data science & business analytics professional with a focus on healthcare analytics. He has more than eight years of experience with financial planning (FP&A), business analysis, and programming. In his current role as data scientist, Kartik engages with multiple stakeholders in understanding their business problems and translating them into analytic solutions. His healthcare analytics project involved improving member outcomes by developing a predictive model for identifying members at higher risk of mental health crisis or opioid use disorder. Other analytics projects revolved around improving business operations, such as text mining member progress notes and member forecasting for Finance. Kartik graduated from University of North Carolina Charlotte in Dec. 2017 with MS Data Science and Business Analytics.
Meeting Location: Microsoft Office, 8055 Microsoft Way, Charlotte, NC 28273. We're in the Multipurpose Room (MPR) in the left building - the 2nd door, farthest from the entrance.
---
Thanks to our sponsors for the continued support.
Gold CBIG Sponsors: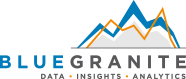 Silver CBIG Sponsors: