January 2018 - SOAR Leadership Learning Lab Program
Description

COHORT #5
SOAR Leadership Learning Lab Program
Shape Culture & Generate Results through the Power of Language
4-module Learning Lab Group Program:

Module 1: January 19, 2018
Module 2: February 16, 2018
Module 3: March 16, 2018
Module 4: April 20, 2918
SOAR Program Details: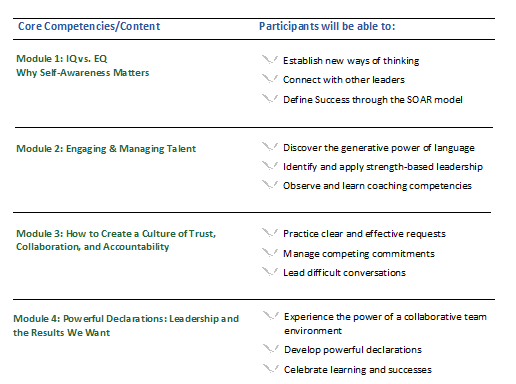 Program includes:
•
4 half-day interactive workshops
• 2 individual 45-minute coaching sessions
• 3x 50-minute group focus coaching calls
• Accountability partner between sessions
• Networking and learning with inspiring peers
• Bonus personalized Next Steps coaching
• Facts, Fantastic Learning, Fun, Food
All sessions take place in the Conference Center at 1420 Spring Hill Road in Tysons Corner.
Networking and breakfast begins at 8:00 a.m. Sessions run from 8:15 a.m. - 12:00 p.m.
Please contact us directly or visit our websites for additional information:
Friderike Butler, Principal, Butler Communication, is a successful serial entrepreneur, executive coach and emerging leadership consultant. Her company provides leadership development, emerging leader training, and team-building for small businesses, culturally-diverse groups and internationally active organizations.
A B.I.S. degree in Intercultural Management and Communication from George Mason University and a certificate in Leadership Coaching from Georgetown University's Institute for Transformational Leadership (ICF accredited at ACC level) inform and brighten Friderike's work and curiosity around culture, the power of words, and positive psychology.
Friderike Butler - www.ButlerCommunication.com - fbutler@butlercommunication.com - 703-599-9079