Description
Topic: Cyber Insurance Is it right for me?

Speaker: Rachel Karsey

Abstract: Over the past few years we have all seen the devastating effects of cyber breaches whether from a lost laptop harboring secret data or a Point of Sale compromise. This session will go over the basics of Cyber Insurance to mitigate impact including what to watch out for and actions to take.
Speaker Bio: Rachel joined USI Insurance Services as a Property and Casualty Consultant in May 2015. She is focused on providing the various risk management solutions to upper-middle to large market size accounts. Her primary responsibility is coordinate the relationship between USI's resources and her clients. She also is the founder of a LinkedIn group called Big Cyber, where she focuses on networking Cyber Security professionals with CFO's. The group was created to meet the needs of the financial professionals, who were struggling to grasp the cyber liability and security world.
Prior to joining USI, Rachel started in the insurance industry at Liberty Mutual, while attending college at Indiana University of South Bend, where she obtained a B.A. in History. After relocating to Houston, TX she continued her insurance career at The Harford where she adjusted Workers Compensation Claims for Large National Accounts. She then accepted a position as a Claims Consultant for Wells Fargo Insurance Services, where she established a rapport with her clients, and championed favorable claims outcomes on their behalf. She also began working on several cyber liability claims which were just starting to become more prevalent. She was then promoted to Southern Regional Marketing Manager for Safehold Special Risk, which is a subsidiary of Wells Fargo. While working on the MGA side of insurance she marketed 18 commercial package programs across the Southern United States. One of those programs was a cyber liability program that was marketed to majority of brokers across 13 states in the South. This experience gave her a very unique outlook on the industry as she met with countless professionals from all segments of the insurance spectrum. Rachel's varied insurance background in insurance has positioned her to provide a holistic viewpoint that her clients relate well to.
ISSA Lunch Sponsor: Cyberreason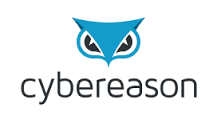 Founded by elite former military cybersecurity experts with deep experience in cyber-offense operations, the Cybereason platform mirrors the founders' expertise in managing some of world's most complex hacking operations. The Cybereason Detection and Response Platform leverages big data, behavioral analytics and machine learning to uncover, in real-time, complex cyber-attacks designed to evade traditional defenses. It automates the investigation process, connects isolated malicious events and visually presents a full malicious operation. The platform is available as an on-premise solution or a cloud-based service. Cybereason is privately held and headquartered in Boston with offices in London, Tel Aviv and Tokyo.

Sales Contact Info:
Ryan Hoag
ryan@cybereason.com
(832) 594-4001
Meeting Agenda:
11:15 a.m. Registration / Networking

11:30 a.m. Luncheon / Networking

11:45 a.m. Chapter Business Meeting

12:00 noon Keynote Presentation
Please Note: The South Texas ISSA Chapter may record (Video and or Audio and or Photograph) the monthly chapter meetings for 2016. We may record (Video and or Audio and or Photographs ) at this event as we believe it brings great value to our membership. While we are not planning, or anticipating, to record (Video and or Audio) the general audience, we are obligated to inform you that you may be recorded (Video and or Audio and or Photograph) during the course of the event. Therefor as a condition of attendance to the event, we require the following release and consent for use.
Effective as of May 12, 2016 and beyond CONSENT and RELEASE is being granted by the REGISTRANT(RECORDED PARTY) to South Texas ISSA (the RELEASED PARTY) to use Video and or Audio and or Photographic recordings taken during the South Texas ISSA Chapter Meetings. I confirm that the RECORDED PARTY is an adult and is fully authorized to agree to this Consent and Release. In exchange for access to the Chapter Meeting and payment as indicated in the fee structure, the REGISTRANT/RECORDED PARTY hereby grants consent to South Texas ISSA and or its agents (collectively, the RELEASED PARTY) and authorizes the use of any and all Video and or Audio and or Photographic recordings taken of me and any reproduction of them in any form in any media whatsoever and any derivative work based hereon throughout the world, for the use of documentation, publicity, promotion, and advertisement of the RELEASED PARTY events. The REGISTRANT/RECORDED PARTY also consents to the use of his/her own name or any fictitious name which may be employed in connection with the aforesaid Video and or Audio and or Photographic recordings. The REGISTRANT/RECORDED PARTY hereby releases any and all claims for Video and or Audio and or Photographic materials collected at this event for the sole use of documentation, publicity, promotion advertisement of the RELEASED PARTIES events. The REGISTRANT/RECORDED PARTY hereby waives any right that he/she may have to inspect and/or approve the documentation, publicity, promotion and advertisement materials that may be created from them. BY COMPLETING THE REGISTRATION, THE RECORDED PARTY WARRANTS THAT HE/SHE HAS READ THIS CONSENT AND RELEASE PRIOR TO THE COMPLETION OF THE REGISTRATION PROCESS, AND UNDERSTANDS IT, AND FREELY ENTERS INTO THIS CONSENT AND RELEASE.