Location
Janss Marketplace
275 North Moorpark Road
Thousand Oaks, CA 91360
Join us for a free Summer Concert near the Fountain with live music and familiar songs you can dance to or just sit back and enjoy.
About this event
Janss welcomes you back to free Summer Concerts with live music and familiar songs you can dance to or just sit back and enjoy. Chairs are provided and you can enjoy dine-in or takeout dinner at Janss food court and restaurants while you experience live music. Register here to be entered to win prizes from Wingstop, Sharky's, California Fish Grill, Greco's New York Pizzeria and other Janss merchants! Redeem your receipts to get a free tee shirt at the concerts: present $25 in receipts from any Janss Marketplace store or restaurant dated June 15 through July 27, 2022 and get a free Summer Concerts tee shirt (one per person; while supplies last).
Location: near the Fountain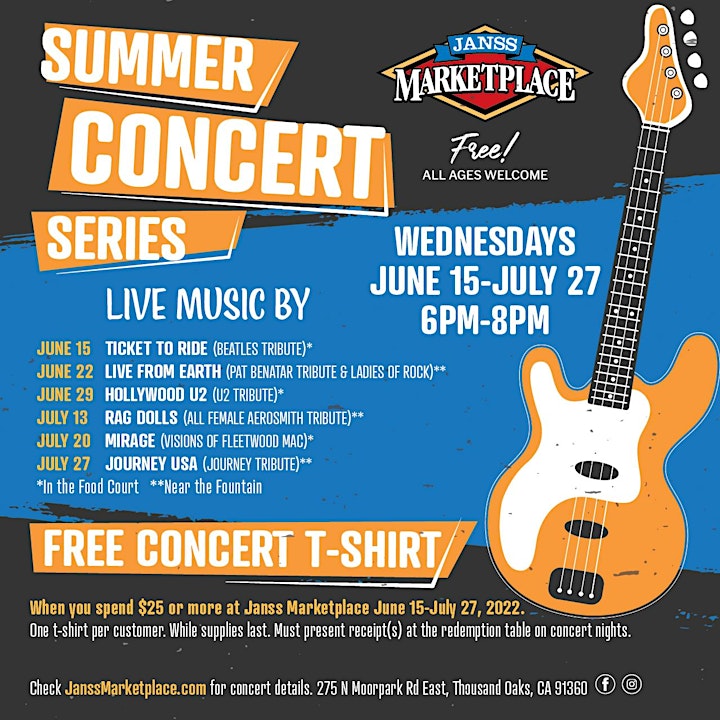 2022 Janss Summer Concerts FAQ
Q: HOW DO I CHECK IN AT THE EVENT?
A: Please note your reservation does not reserve a specific spot and seating is open. The purpose of the reservations is for your safety to maintain government guidance of limited number of guests at gatherings. By registering you will also receive weekly updates from Janss Marketplace.
Q: CAN WE EAT DURING THE CONCERT?
A: Absolutely! We recommend you arrive early, order from Janss restaurants ahead of the concert. You can enjoy dine-in or take-out from any of our restaurants including Buca di Beppo, Greco's New York Pizzeria, Panera Bread, Janchi Korean BBQ, Karma Indian Cuisine, Crazy King Kong Sushi, Lucky's Dog House, Ot Bistro, Sharky's, Sunset Terrace and Wingstop as well as refreshments from Cold Stone Creamery, Matcha and Starbucks.
Q: WHAT HEALTH SAFETY PRECAUTIONS SHOULD I TAKE?
A: We will be observing all current state, county and CDC guidelines for COVID-19 safety. Currently facial masks are not required. However, if you are unsure, please wear a mask especially when navigating common areas and maintain social distancing as available.
Q: WILL RESTROOMS BE AVAILABLE?
A: Yes. Restrooms are located between Sunset Terrace and the Post Office.