Description
The Interval at Long Now welcomes
Janos Veres and Mike Kuniavsky
of PARC (a Xerox company)

An Additive Electronics Revolution
Check-in begins 6:30pm; talk starts at 7:30pm
at The Interval at Long Now
An R&D update from PARC, the legendary research lab in Palo Alto. Janos Veres heads up PARC's Novel and Printed Electronics team. He will discuss the materials, processes, and vision that are enabling the printable electronics of the near future. PARC designer (and previous Interval speaker) Mike Kuniavsky will co-present with Janos.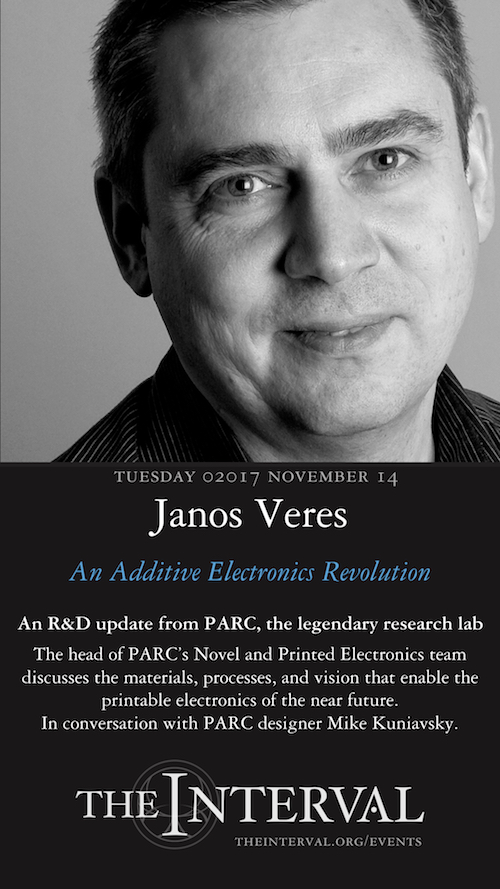 PARC, a Xerox company, is based in Palo Alto, CA. They provide custom R&D services, technology, expertise, best practices, and intellectual property to Fortune 500 and Global 1000 companies, startups, and government agencies and partners. Since its inception, PARC has pioneered many technology platforms – from the Ethernet and laser printing to the GUI and ubiquitous computing – and has enabled the creation of many industries. Incorporated as an independent, wholly owned subsidiary of Xerox in 02002, PARC today continues the physical, computer, and social sciences research that enables breakthroughs for their clients.
Join Long Now to support our programming and get free access to livestream video of this and other talks.

Janos Veres leads PARC's Novel and Printed Electronics Program, exploring the Future of Electronics. His primary interest is in radically new manufacturing concepts: merging micro and macro to create electronics in new form factors, thus "freeing electronics from the box." This includes large area, flexible, conformal image sensors and detector arrays for medical imaging or security applications; flexible, hybrid electronics using printing as a manufacturing technique for customized Internet of Things (IoT) devices; smart inks taking 2D and 3D printing beyond shapes and colors, adding electronics functionalities to automotive or wearable devices; and electronics that can configure themselves from microchip inks, dynamically change shape, or disintegrate on command.
Before joining PARC, Janos was CTO at PolyPhotonix, where he helped establish the company as a provider of OLED light therapy devices. Prior to that, he was at Eastman Kodak as Program Manager, creating new technology opportunities for displays and electronics manufacturing, such as atmospheric atomic layer deposition (ALD) tools, roll-coating and flexography. He also worked on specialty chemicals as a Business Research Associate at Merck, Avecia and Zeneca, where he managed joint development projects with major electronic and printing OEMs, leading to several world's-first demonstrators. Janos started his career at Gestetner Byfleet (GBL), where he was responsible for developing organic photoreceptors.

Janos holds a Ph.D. in Solid State Electronics from Imperial College, London. An author on over 30 patents and 50 publications, he published key findings in the physics of organic semiconductors and novel electronics devices.
Mike Kuniavsky is a user experience designer, researcher, and author. A twenty-year veteran of digital product development, his recent projects at PARC have included designing IoT devices and services for a variety of Fortune 100 companies, and reinventing paper money. He specializes in multi-device interactions, cloud-based service design, and design of hardware products connected to cloud-based services. His background includes design for social analytics, consumer electronics, appliances, image retrieval, RGB LEDs, and financial services.

Prior to PARC, Mike co-founded several successful companies, including ThingM, which designs and manufactures ubiquitous computing and Internet of Things products, and Adaptive Path, a well-known design consultancy. He is the author of Observing the User Experience: A Practitioner's Guide to User Research" and Smart Things: Ubiquitous Computing User Experience Design.
Long Now members hear about Interval events first: become a member today