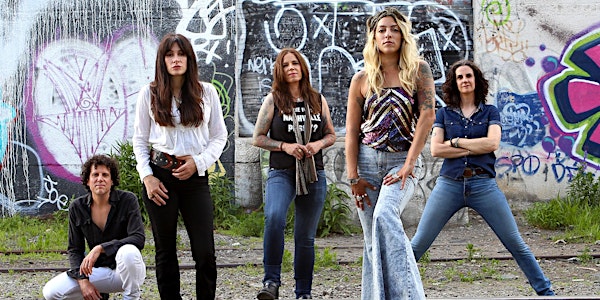 Jane Lee Hooker
UNDER 18 WITH PARENT OR LEGAL GUARDIAN
Jane Lee Hooker perform at the Colony in Woodstock NY
When and where
Location
Colony 22 Rock City Road Woodstock, NY 12498
Performers
Headliners
More Performers
About this event
Dana Athens – lead vocals, keyboards
Tracy Hightop – lead and rhythm guitar
Tina T-Bone Gorin – lead and rhythm guitar
Hail Mary Zadroga – bass guitar
Lightnin' Ron Salvo – drums On April 29th 2022, Jane Lee Hooker self-released their long-awaited new studio album Rollin' via Symphonic Distribution; eight songs that perfectly showcase the band's signature blend of rock 'n' roll, blues, punk, R&B and soul. Three tracks from the new collection were released last year as singles and videos: "Jericho," "Drive" and "All Good Things." The songs received glowing reviews from fans and press around the world, and found their way onto some influential radio stations, including WDST FM – Radio Woodstock. The tracks also secured radio play on Rock and Blues specialty shows across the US, UK, Europe and Australia – including Triple J.
Rollin' was written and recorded during the pandemic, which resulted in Jane Lee
With COVID-19 restrictions and social distancing requirements in effect in NYC, the band found themselves locked out of their Brooklyn rehearsal room - the creative space where they write and rehearse with amps cranked up at maximum volume. Says singer Dana Athens, "Aside from Jericho and Lucky, which were written before 2020, the rest of the songs on Rollin' were primarily written on acoustic instruments in my backyard while social distancing underneath the grapevines my Greek grandparents planted in 1968. We had this oasis to gather and make music and pass the time the pandemic had afforded us." She continues, " ...we recorded this record very differently than we have done with our other albums. Beginning with focusing on drums at one studio, then tracking vocals, guitars, and other things at two other locations. This process was very different from our "plug-and-play' attitude of yore."
The result of that process is an album filled with musical diversity, while still staying true to the band's hallmark combination of twin lead guitars, a heavy rhythm section and soul-scorching vocals. There are straightforward blues-rockers including first single "Jericho," album opener "Lucky" and the CD-Only bonus cover of Johnny Winters' "Mean Town Blues;" but those are balanced out by the soul-pop of "Drive," back-porch acoustic blues of "White Gold," the soul & gospel-tinged "Weary Bones"
Jane Lee Hooker toured extensively behind No B! and Spiritus, and played to packed houses across the U.S. and Europe, including Germany, Norway, Sweden, Switzerland, France, Luxembourg, Denmark, Belgium, the Netherlands, Austria and the Czech Republic. The band returned to Europe in May/June of 2022 for a run of dates in Germany, Netherlands, Austria, Denmark and Belgium. Jane Lee Hooker has shared stages with acts including Train, Sturgill Simpson, Samantha Fish, the Allman Betts Band, Jenny Lewis, Umphrey's McGee and Portugal. The Man.
In a world full of manufactured bands, and live shows backed up by hard-drives, Jane Lee Hooker play rock 'n' roll the way it's meant to be played – loud and with passion. JLH's fiery live performances
What they're saying about Jane Lee Hooker & Rollin':
"It's fiery, just the right level of grubby, and a righteous kick in the shins." - Classic Rock Magazine
"Jane Lee Hooker play a snarling, distinctive mix of gutter blues, retro soul music, psychedelia and 70s acid rock. Their latest album Rollin' is their most ambitious, soul-oriented and strongest release yet."
- New York Music Daily
"...we're expecting big things (from Jane Lee Hooker). This band is fast developing a reputation for hosting one of the wildest, most off-the-hook rock & roll shows on the circuit."
- LA Weekly