Happy Birthday Jane! Jane Austen was born on December 16, 1775. Come celebrate her birthday with tea! This afternoon of tea and conversation
About this event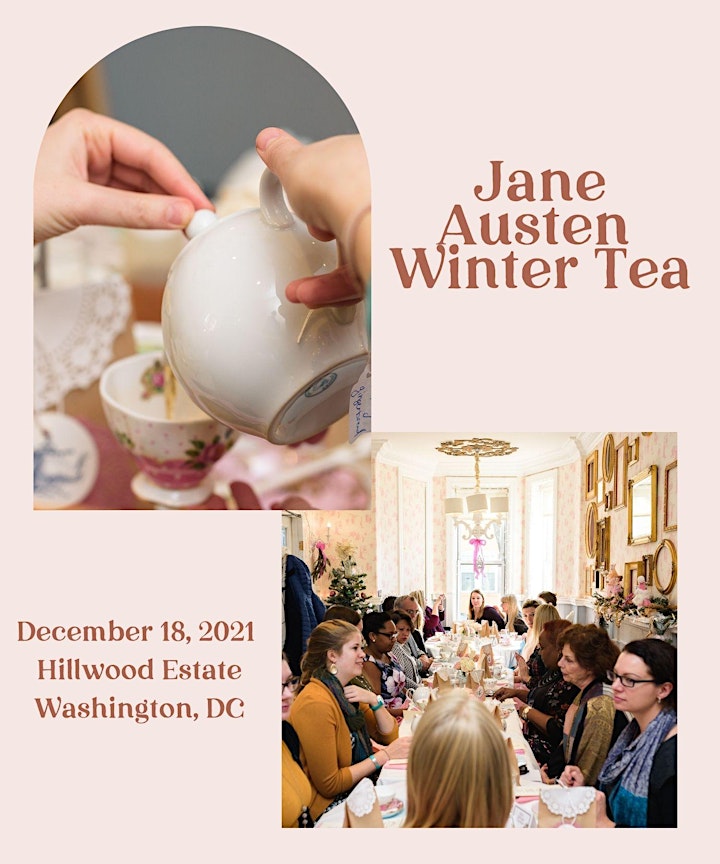 The Literary Tea Series is Back!
Jane Austen was born on December 16, 1775. Come celebrate her birthday with tea! This afternoon of tea and conversation will be hosted at Hillwood Estate in Washington, DC. In addition to a full afternoon tea, guests will also be given a takeaway box, and receive tickets to a self-guided tour of the estate.
For questions, please email Jessica Pinkston at jessica@secretdaydreams.com.
Cancellations are permitted until December 8, after which no registration fees will be refunded 
A note on the pandemic: I realize things are still up the air, and it might seem hard to imagine planning so far ahead. We want to make sure you feel comfortable as possible and are taking the following precautions. Since everything is in flux, we'll update this as information changes.
We're requiring that all guests are vaccinated, and upload their proof of vaccination once they register
Masks will be required when we're not enjoying tea
The CW Post dining room where we're hosting the tea is spacious, and will allow for some social distancing
We're going to be flexible on the cancellation policy. You will have until two weeks before the tea, December 4, to cancel and receive a refund (Eventbrite still keeps their fee, unfortunately).
If we cancel the tea within that time, you'll receive a refund
Organizer of Jane Austen Winter Tea | December 18
You know the way you feel after a good yoga class, massage, or a delicious meal with great conversation? We're often at peace and ready to take on the world. At the Secret Life of Daydreams we create that same feeling of contentment and ease at every event that we welcome our guests to. Bring your family, friends, or come by yourself, we'll always be ready to welcome you.