Celebrate Jane Austen with teas created to reflect literature's most romantic, endearing, best-loved, characters. Tea samples ship to home.
About this event
Back by popular demand! Another sell-out expected!
With well-known classic regency-era works like Sense and Sensibility, Pride and Prejudice, Mansfield Park, and Emma, Jane Austen has achieved success as a published writer…and Bingley's Tea has achieved success with their Jane Austen Tea Series.
A cup of tea and your favorite book, what an amazing combination! The artisans at Bingley's Tea have created ideal companion teas for those with taste buds as romantic and adventurous as their imagination. The Jane Austen Tea Series features premium custom-blended teas designed to reflect literature's most endearing and romantic figures.
In this 90-minute virtual event, we'll celebrate the works of Jane Austen through a guided tea talk and tasting led by tea sommelier, lifelong member of the Jane Austen Society, and owner of Bingley's Tea, Julia Matson. Fully immersed in the fashion and traditions of the Regency era, Julia will guide you through a tasting of four teas—each based on a character from a well-known Austen novel, each with a unique story.
We'll end the event with a toast to Jane Austen and the characters that inspired the Bingley's Tea Jane Austen Tea Series. You will receive the special tea for the toast (which will need to be brewed and chilled in advance) and a recipe for the cocktail/mocktail** in case you would like to make the cocktail/mocktail at home and join in for the group toast.
So, gather your friends, dress the part, set the table, sit back and relax as we celebrate the most-popular characters from the collective works of Jane Austen and the teas that were inspired by them.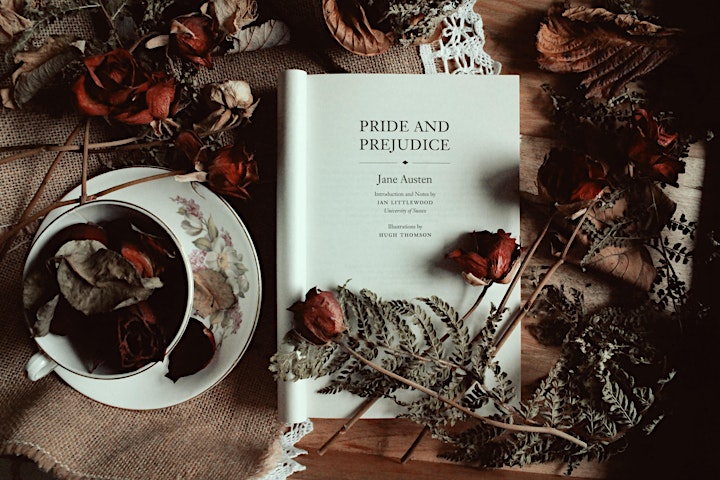 What's Included:
A ticket ($29, serves up to four) to this online event includes the following loose tea samples (20-30 grams each, enough to steep a small, personalized pot of tea):
Anne Elliot Tea: from Persuasion, considered perhaps the most romantic of Austen's novels. Our heroine wins the hero, (and our hearts) not through ribbons and maneuvers, but through the nature of her heart. We will explore this Mao Feng green tea, which is approachable, dependable, and without pretension.
Emma Tea: Youthful, naive and occasionally sharp-tongued Emma. This blend will include green tea, strawberries obligingly picked from Mr. Knightley's estate, roses for her match making efforts and a touch of hibiscus for that sharp tongue.
Fanny Price Tea: Mansfield Park. Not often chosen as a favorite of Austen's works but always a good book for debate. Many see Fanny as a weak and milquetoast heroine compared to Elizabeth Bennet. However, we will share why we've chosen a strong, comforting vanilla black tea to represent her. Let's see if you agree!
Lucy Steele Tea: Sense and Sensibility. She is categorized by most as an Austen villain! Let's discuss this character as we sip this charming country peach and apricot black tea that smoothly weaves over caramel and vanilla notes.
**Compassion for Mrs. Bennet's Nerves Tea to be brewed and chilled in advance of seminar for the "Mrs. Hill's Little Helper" cocktail/mocktail: Pride and Prejudice. We all know Mrs. Bennet needs to chill out! Now we can too. Join us in a group toast to Jane.
Direct shipping to your home
Access to the 90-minute virtual, interactive, tutored-tasting event conducted via video conference. Note: while the tea for this seminar serves up to four people, all must be present to view together at one location. One access code provided per ticket purchased.
Tickets are limited. This event sold out in record time when it was last offered. Don't delay, grab your tickets now. If maximum capacity is reached prior to the deadline date, no additional reservations will be available. Deadline to purchase is 5:00pm on November 1, 2021 or when maximum capacity is reached. Buy now to guarantee delivery and participation. Makes a great gift!
Although this virtual class is open to all tea enthusiasts nationwide, the class will be taking place at 12:00PM EST and will be conducted in English. International shipping is not available for this event. Please refer to the FAQs below for additional information.
This virtual class is sponsored by Bingley's Teas and the Coffee & Tea Newsletter.
About the Presenter:
Julia Matson, Bingley's Teas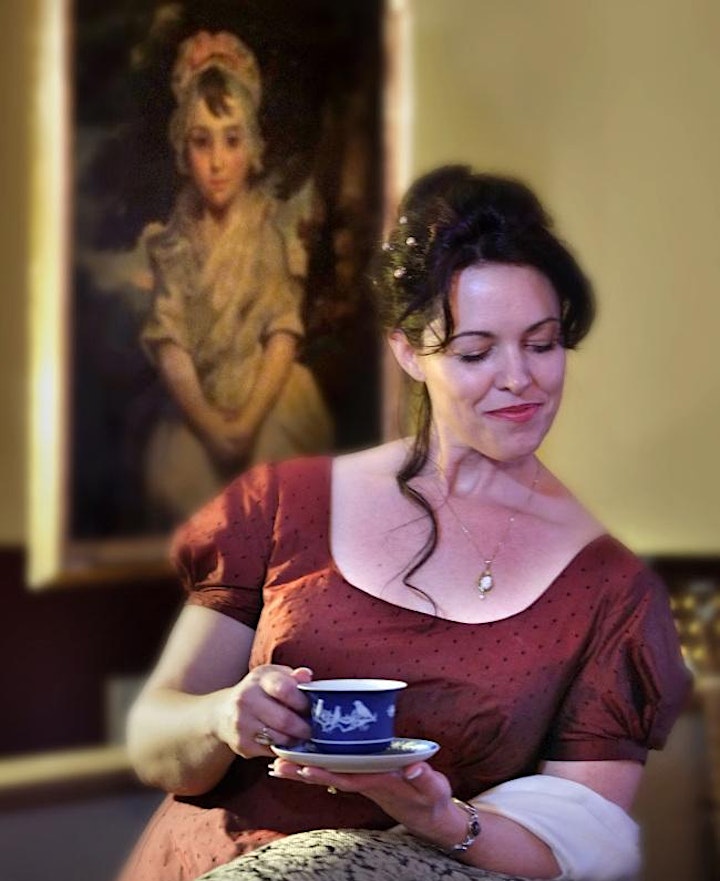 Julia Matson is the owner of Minnesota's Bingley's Teas, a woman-owned tea and gift shop. She has studied tea for over eleven years through the Specialty Tea Institute of NY, Shizouka University in Japan and Taiwan Certified courses in tea processing. She is a lifetime member of the Jane Austen society and first shared her Jane and Tea idea in Portland at a conference back in 2010, crossing her fingers that her fellow Janeites would see she tried to be respectful to Jane while creating a product with quality tea.
As a tea sommelier, she created Bingley's Jane Austen Tea Series to represent character personalities or story lines within the novels and occasionally a touch of inspiration from films. A public speaker and tea instructor, Ms. Matson has spoken to groups of fellow Janeites around the US and Australia who share interests in all-things tea and Jane! Known to cook and bake for friends with Julia Child-like verve, her pursuit of balance and flavor is put to use designing delicious blends for the characters we love in Jane Austen's novels.
About Bingley's Teas: Bingley's Teas is located near the Minneapolis Institute of Arts, above Light Grey Art Lab in the Eat Street area. In addition to over 100 teas from farmer direct to playful blends for you to choose from in a unique boutique setting, they provide tea workshops, events with local authors, tea talks as well as offer an extensive specialty line of teas created just for Jane Austen fans.
They work with some of the best, award winning bartenders and restaurants in the twin cities, and provide blends for businesses including The Guthrie Theater gift shop and Steven Be Knits, Cream and Amber book shop and tearooms and museums around the country. www.janeaustenteas.com

FAQs:
What is included in the ticket price? All tickets include access to the online event, the tea which you will be tasting and direct shipping to a single address.
How will the tea be shipped to me? The tea will be shipped to the mailing address provided at the time of purchase.
Do these teas contain caffeine? Yes, all the teas contain caffeine.
Where do you ship to? The tea kits for this seminar can ship nationwide (USA). No international shipping at this time.
Can you ship to a PO Box? Yes. Although it is recommended that you provide your home address as your shipping address.
When will I receive the tea that is included with my ticket? We will close ticket sales on November 1, 2021 to ensure delivery to you on time. Your tea will be delivered 2-3 days in advance of the seminar.
I missed the cut-off date. Can I still get a ticket for the virtual class? No, unfortunately to guarantee delivery of the tea in time for the seminar, we must adhere to the strict cutoff date for enrollment.
How will you ensure the tea gets to me in time? The seminar enrollment end date allows for ample processing time and ensures adequate shipping time to all participants.
I can't make the online event. Can I still purchase a ticket and get the tea? Yes. If you can no longer attend the online event or simply are not interested in doing so, you can still purchase a ticket to receive the tea shipped directly to the mailing address provided. Please note that all sales are final and there are no discounts, refunds or exchanges should you not join the online event portion.
Will the online event be recorded? Yes, the event will be recorded but it is best enjoyed live via participation link. The link to the recording will be forwarded to ticket purchasers only.
Can I buy more than one ticket? Yes, each ticket provides access to one individual buyer log-in and shipping to one physical address.
How do I join the online event? Prior to the online event taking place, you will receive a number of emails reminding you of the date and time. Within these emails will also be a link to the Online Event Page which has the video conferencing link to join.
Can I ask questions during the online event? Yes! We encourage you to ask questions but please do so using the chat feature. This will ensure we avoid people talking over each other and all questions can be answered.
How will you ensure the online event is a safe environment? We ask that all participants be polite and courteous. Starfish Junction and its sponsors/partners reserve the right to remove any participant from the video conference that is disruptive or behaving inappropriately with no refund.
Do I need to download special software or an app to participate in the video conference? The online event will be conducted via the video conferencing platform, ZOOM. You should be able to click the link provided and access the video conference in any web browser from a desktop computer or laptop. Before joining a Zoom meeting on a computer or mobile device, you can download the Zoom app. Otherwise, you will be prompted to download and install Zoom when you click a join link.
Can I take part in the online event by phone only? No. Attendees can participate with audio only.
What happens if I lose internet connection during the online event? If you lose internet connection and leave the video conference, simply click the link again to re-join.
Can you help me with my technical difficulties accessing the video conference? Yes, please email help@starfishjunction.com. It is important for you to try accessing the video conference before the day of the online event so we can fully assist you IN ADVANCE of the seminar.
Do I need anything besides the tea to participate? In addition to the tea that is being shipped to you for the tasting, you will need:
o a kettle filled with room temperature water, which will be boiled as needed during the class
o tea pot or brewing device (French press, tea ball, tea filter)
o a tea towel or any towel for drying
o tasting cups (one for each tea recommended per person)
o a spoon
o milk and/or sugar (optional, depending on your preference)
o **For COCKTAIL/MOCKTAIL: if you would like to make the cocktail/mocktail with Julia at the end of the tea talk and tasting, you will need to brew and chill the Compassion for Mrs. Bennet's Nerves Tea in advance of this seminar, and have the following on hand to make the cocktail/mocktail:
 Ice
 Honey syrup (1/4 cup of honey + 1/4 cup of water heated on low over the stove until honey is dissolved. Pour into a container and chill in advance of seminar.
 Robust botanical gin (Hendrick's Gin recommended)
 Fresh lime juice
 Cocktail glass (one per person)
Date and time
Location
Refund policy
Organizer of JANE AUSTEN TEAS: A Virtual Tasting Special Event