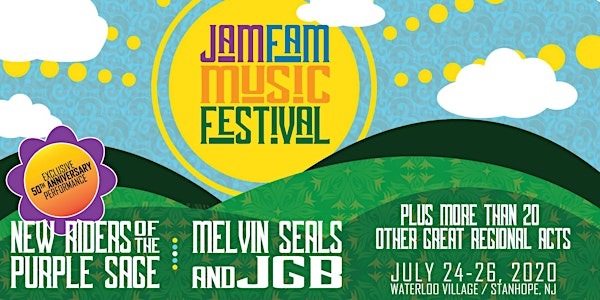 JamFam Music & Arts Festival
Performers
New Riders of the Purple Sage, Melvin Seals & JGB
Jazz Is Phish, Lespecial, Out of the Beardspace, The New Motif Band, This Old Engine, Soular Bone, Jeb Jones, Muscle Tough, Flux Capacitor, Jabbawaukee, Higher Education, Waiting on Mongo, Creamery Station, Cousin Earth, Uncle Ebenezer, Cosmic Jerry Band, Comfortably Floyd, Dogs In a pile
Location
Waterloo Village
2 Kinney Road
Stanhope, NJ 07874
JamFam is 2 Days of music on 2 stages! 2 nights of camping. New Jersey never seen anything like this! www.JamFamMusicFestival.com
About this event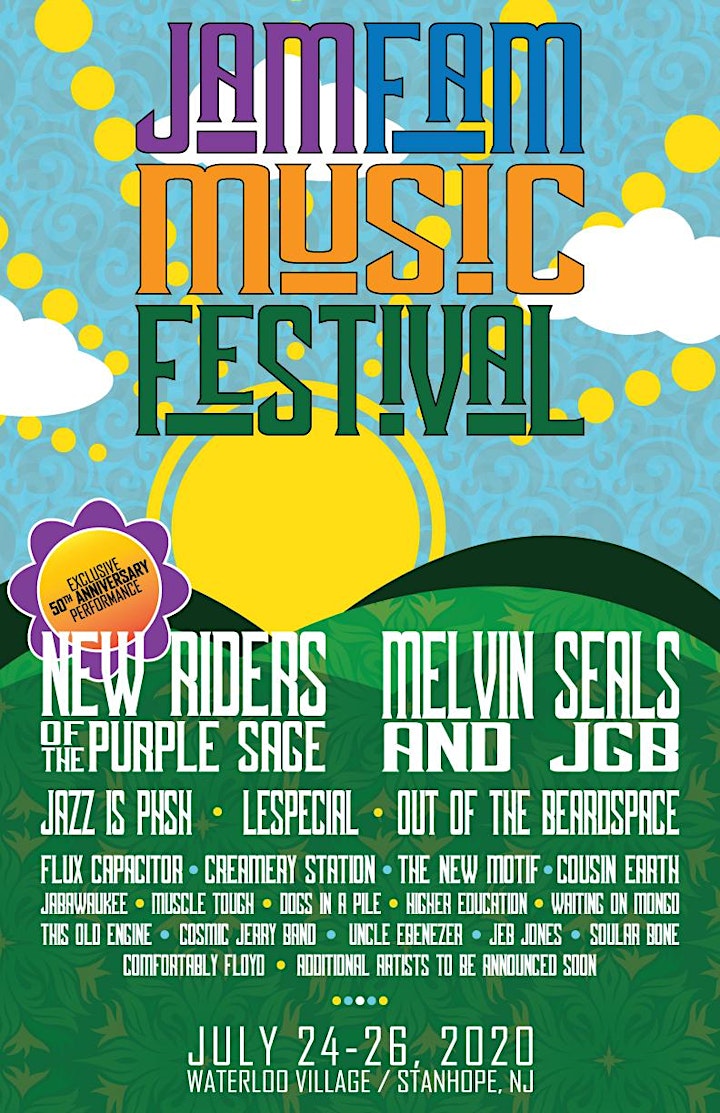 www.JamFamMusicFestival.com
JamFam is a two-day Jam Band music and car-camping festival. The festival will rekindle the grandeur and musical history of the picturesque mountains and valley of Stanhope, New Jersey. The JamFam music festival will be hosted at the 35-acre, restored, 19TH century canal town known as Waterloo Village.
The hallowed grounds of Waterloo, enhanced by a hand-selected group of national, regional and locally recognized bands and artists, will deliver an immersive memorable experience unlike anything New Jersey has experienced in over 20 years.
Waterloo Village Historic Site and the concert field have hosted numerous concerts mostly in the 1980's and '90s. The magic and mystique of Waterloo is revitalized with the JamFam Music and Arts Festival. The bands that have played this historic venue in the past include Phish, The H.O.R.D.E. Tour, Lollapalooza, Bob Dylan, Muddy Waters, The Gregg Allman Band, America, Arlo Guthrie and the 25th Anniversary of Woodstock… just to name a few.