About this Event
Join us for a Festive Meet & Greet Fundraiser for James Marter for Congress, Conservative Republican Candidate for Congress in the IL14th District in 2020
Event hosted by: Greg Tanacea
When: Thursday, December 5, 2019
Time: 5:30 - 8:30 pm
Where: Tap House Grill St. Charles, IL
3341 W Main Street St. Charles, IL 60175
P: 630-443-1664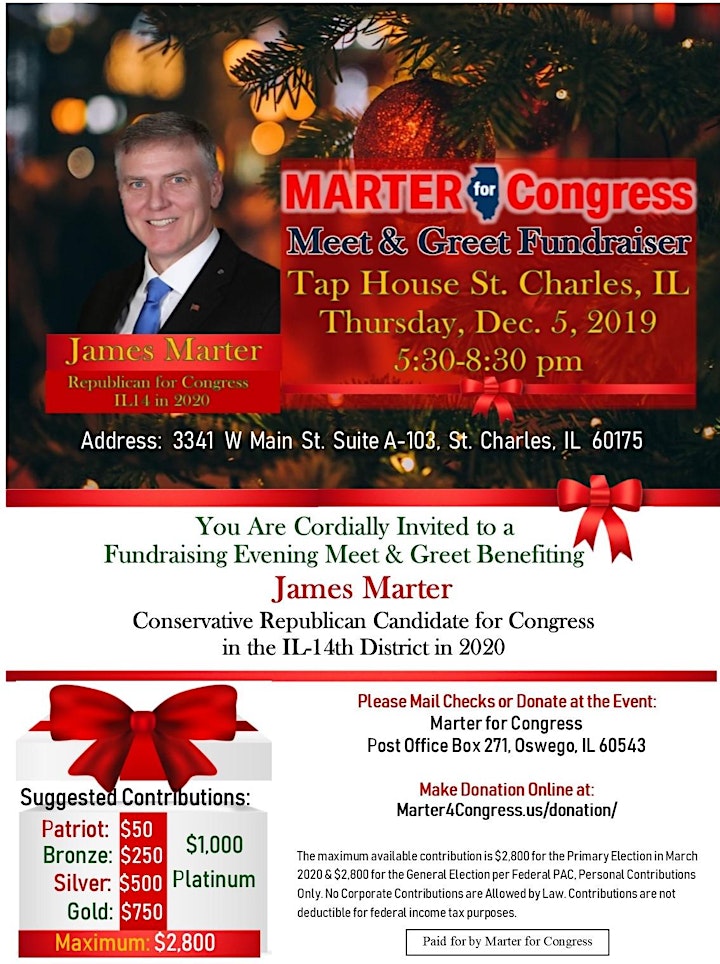 Can't attend? You can still donate to the campaign directly at https://marter4congress.us/donation/
James Marter is a conservative pro-Trump Republican running to unseat the radical leftist, Lauren Underwood in the IL14th district. She wants to impeach President Trump, open our borders, destroy our economy with socialism, and hurt American workers. Please contribute whatever you can before the end of the month deadline to help us win this election in 2020!
To Donate by Mail please click the link below.
Please complete the form below to mail with you check.
Please make checks payable to "Marter for Congress" and mail to:Marter for Congress, Post Office Box 271, Oswego, Illinois 60543
---
We know you work hard for your money, and when I'm in Washington D.C. I will work hard to give you back more of your hard earned money! If you are one of thousands of people supporting our victory, we'll be able to make waves and gain national support!
We need to send a LOUD & CLEAR message to the establishment politicians in Washington that real American patriots and conservatives are tired of being taken advantage of and want their representatives in Congress to actually "do what they said"! Like Repeal OBAMACARE or as we know it the "Unaffordable Care Act", Making Healthcare Affordable Again, while protecting pre-existing conditions, allowing competition across states lines, cutting Taxes and Spending, and downsize Washington D.C.! Finally, we need to tackle the problem of the national debt ($22 trillion) to secure our LIBERTIES for now and for the next generations of Americans!
We need you to let your family and friends know about this race and why you are supporting me in the race. We need their support too! Let's work together so you can keep doing what you do every day, Making America Great!
I'm counting on you so you can count on me as your Representative for Illinois 14 in Congress. God Bless you, God Bless President Trump, and God Bless AMERICA!
James Marter wants to be the First Illinois Congressman to Join the House Freedom Caucus. He was on the committee who invited Rep. Jim Jordan to Illinois in 2018 where Mr. Jordan spoke to the crowd...listen to this clip: