About this Event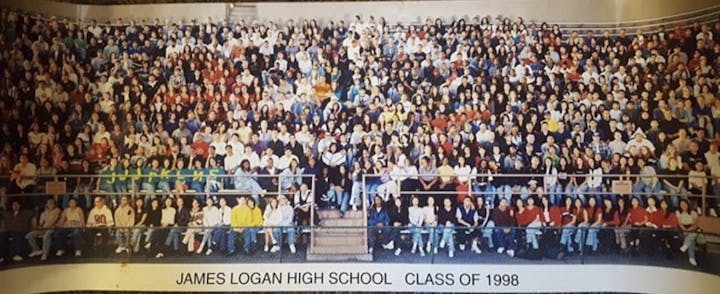 *********************************PLEASE READ ENTIRE MESSAGE****************************
WE ARE PROUD TO ANNOUNCE THAT THIS IS AN EXCLUSIVE CLASS OF 1998 EVENT!!!!!!
SAVE THE DATE: SATURDAY - AUG.10th, 2019
JLHS Class of 1998 20th + Reunion
"Back Down Memory Lane"
________________________________________
Additional Ticketing Info:
1. THE MAIN EVENTS
Event #1: CAMPUS CRAWL AT JLHS
MEETING LOCATION & TIME TBD
**Pre-registration required, see ticketing information. Additional details will be provided to registered attendees only
**Scavenger hunt/T-shirt pick-up/Refreshments
Event #2: BLACK & RED BALL
Level 13 Ultra Lounge
341 13th St., Oakland, Ca
Doors open @ 9:00PM
Early arrival suggested!
**Formal Attire
** Dinner/ Dancing/ Live Music/ Special Guests/ Roast !!!!!!!!
Take a screen shot of your ticket to present at the door.
2. BUSINESS SPOTLIGHT
THE CLASS OF 1998 IS PROUD OF THE ACCOMPLISHMENTS WE HAVE MADE.
IN HONOR AND CELEBRATION OF YOUR HARD WORK WE WOULD LIKE TO SPOTLIGHT ALL OF OUR ENTREPRENEURS/ BUSINESS OWNERS & COMMUNITY ORGANIZATIONS.
***IF YOU HAVE A BUSINESS OR ORGANIZATION, PLEASE PROVIDE US WITH A 15 SECOND ADVERTISEMENT/PROFILE/CLIP TO DISPLAY AT THE BALL***
3. ATTENDEE QUESTIONNAIRE
PLEASE TAKE THE TIME TO COMPLETE THE QUESTIONNAIRE AS THIS WILL ENSURE THAT THE REUNION IS MEMORABLE AND THAT DINNER OPTIONS MEET THE DIETARY PREFERENCES OF ALL ATTENDEES.
4. GET INVOLVED!!
We need everyone's help to make this a successful 20th reunion. Please join a committee!!
Sign-up and additional information included in the attendee questionnaire.
5. SPACE IS LIMITED!!
Please be advised that space is limited. You are encouraged to purchase tickets early.
LET'S SELL OUT OUR VENUE AND REALLY MAKE IT A NIGHT TO REMEMBER!!
Thank you!!!! We look forward to seeing you there!!!
For additional information email: jlhs98reunion20info@gmail.com