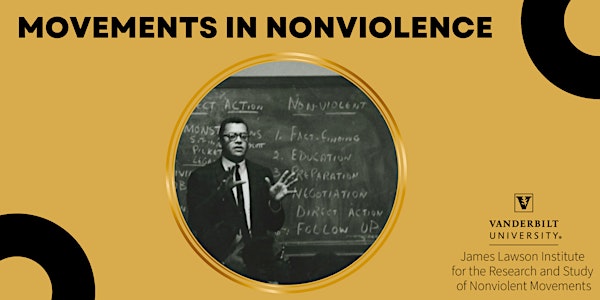 James Lawson Institute at Vanderbilt University: Movements in Nonviolence
James Lawson Institute for the Research and Study of Nonviolent Movements at Vanderbilt University: Movements in Nonviolence
About this event
Please join us for the James Lawson Institute for the Research and Study of Nonviolent Movements at Vanderbilt University for our inaugural fall series. In this series, we will explore Movements in Nonviolence through research, conversations, and practices to prepare the next generation to engage in nonviolent approaches to social change.
*All events will be held virtually.
October 6, 2021
Morning Meditation: Love, Solidarity, and Nonviolence
11:30 - 12:15 pm
We invite you to a morning meditation on the place of solidarity and love in living a life committed to nonviolence. We will reflect on voices of wisdom from poetry, music, and activists.
October 6, 2021
Screening of the film Love and Solidarity: James Lawson and Nonviolence in the Search for Worker Justice
4:00 - 5:30 pm
LOVE & SOLIDARITY is an exploration of nonviolence and organizing through the life and teachings of Rev. James Lawson. Lawson developed the nonviolent direction action strategy in southern freedom struggles and the Memphis sanitation strike of 1968, and continues to practice and teach it to activists today. Through interviews and historical documents, labor and civil rights historian Michael Honey and filmmaker Errol Webber trace Lawson's approach in today's struggles against economic inequality, racism and violence, and for human rights, peace, and economic justice. Following the viewing, there will be a Q & A panel discussion.
October 14, 2021
Youth Advisory Board: Cultivating the Nonviolent Heart
5:30 - 6:45 pm
This evening centers young people in its focus on developing nonviolence as a way of life and as an approach to bring needed change in their communities and schools.
The "youth advisory board" will gather once a month to discuss the issues around injustice directly affecting their lives and advise the James Lawson Institute at Vanderbilt on developing events that specifically help them address the change needed.
October 21, 2021
Research on Nonviolent Movements
5:30 - 6:45 pm
Three scholars gather to discuss their research on nonviolence in social movements and the implications for effective strategies for social transformation. Participants will be invited to consider the relevance of this scholarship for their contexts.
*All events will be held virtually.