Description
The Interval presents James Holland Jones: The Science of Climate Fiction
Check-in begins 6:30pm; talk starts at 7:30pm at The Interval

Storytelling fits the human brain. Beyond entertainment or distraction could climate fiction ("Cli-Fi") help us solve the climate dilemma? The warming planet is increasingly the subject of all kinds of fiction. Biological anthropologist and environmental scientist James Holland Jones explains what neuroscience has to say about our brains and narrative. Stories might be key to rallying popular attention on environmental issues.

In his talk Jones will discuss early precedents of climate fiction, including books by JG Ballard and Frank Herbert, dating as far back as 01949. He'll also look at recent Sci-Fi and other fiction dealing with climate and its potential impacts. Finally he'll ask about the climate fiction yet to come: how will it interact with what's happening in the real world? Bring your own thoughts about climate fiction for q&a and the post-talk conversation at what is sure to be a thought-provoking event.

Local independent bookstore Borderlands Books will have a wide selection of climate fiction for sale before and after the talk: a kind of pop-up Cli-Fi bookstore for the night. We hope you can join us!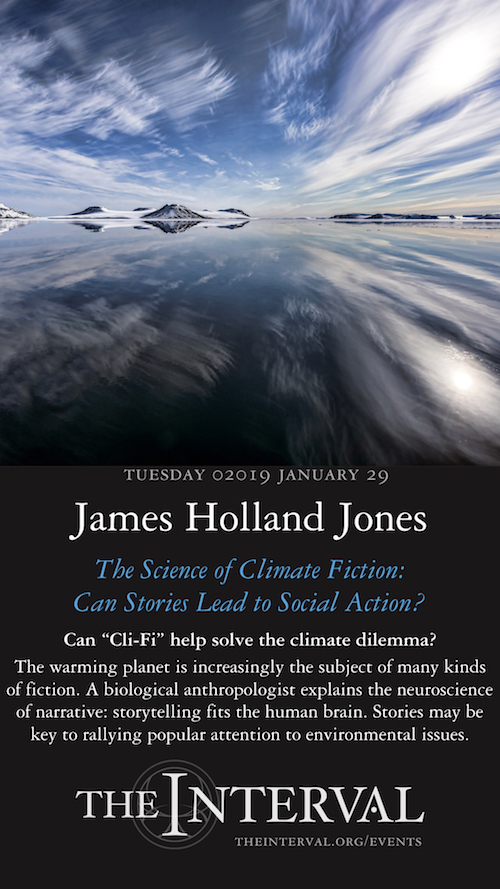 Join Long Now to support our programming and get access to livestream video of our talks.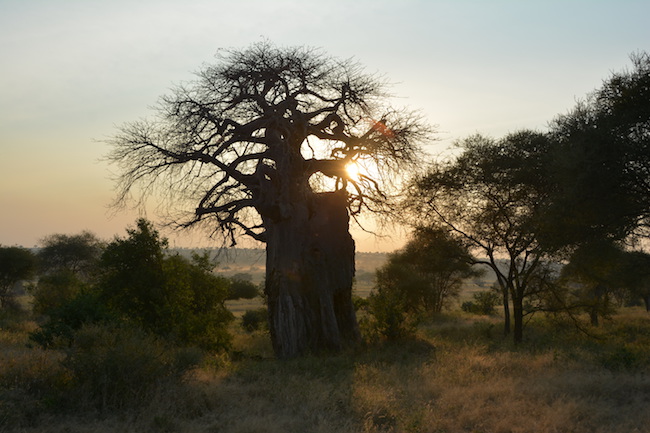 A 1000-year old baobab tree (probably Adansonia digitata) in Tarangire National Park, Tanzania. Baobabs all over southern Africa have been dying in droves with global warming and dehydration the likely cause. Photo by James Holland Jones.
James Holland Jones is an Associate Professor of Earth System Science and a Senior Fellow at the Woods Institute for the Environment. His research projects combine themes from human ecology, infectious disease dynamics, social network analysis, and biodemography. These projects include: Climate Change, Mobility, and Infectious Disease; Ecology of Poverty; The Evolution of Human Life Histories; Behavior, Social Structure, and Infectious Disease Transmission; Demography of Violence; and Disease Ecology. He holds a Ph.D. in biological anthropology from Harvard. In 02017 he spoke at The Interval about Evolutionary Perspective On Behavioral Economics after his fellowship year at the Center for Advanced Study in the Behavioral Sciences (CASBS).
For more of Jones' work, see his entry on Google Scholar.

Long Now members hear about Interval events first: become a member today