James Holland Jones: An Evolutionary Perspective On Behavioral Economics
Description
The Interval at Long Now welcomes
James Holland Jones
(anthropologist, Stanford / CASBS fellow)

Rationality Redeemed:
An Evolutionary Perspective On Behavioral Economics
Check-in begins 6:30pm; talk will start 7:30pm sharp at The Interval at Long Now

Rationality, a cornerstone of modern economic theory, is increasingly called into question by new behavioral research

. By looking at subsistence societies, this biological anthropologist reaffirms that humans can act in their own self-interest. Bringing an evolutionary perspective to formal decision theory, Dr. Jones will explain what we can learn from the most rational people in the world.

We are pleased to welcome Mary Kay Magistad, an award-winning journalist (formerly of PRI's The World and NPR, now host of the Whose Century Is It? podcast), as guest moderator. This event is co-presented by the Center for Advanced Study in the Behavioral Sciences (CASBS), where Jones was a 02015-16 fellow.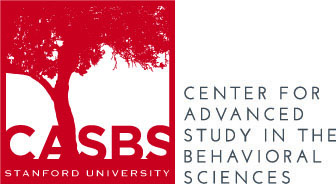 Since 01954 CASBS has been a preeminent national and international locus for cutting-edge, interdisciplinary, and transformative thinking and research on some of the most important challenges and issues. Its aim is discovery in the service of advancing social science methods, theories, and topics that address and answer socially significant questions. At the heart of the CASBS enterprise is its residential fellowship program, which attracts the finest minds from psychology, sociology, economics, political science, anthropology, history, philosophy, linguistics, and related disciplines.

Long Now members can view a free livestream of this event online.
Join Long Now for access to live streams of our Seminars and Interval events.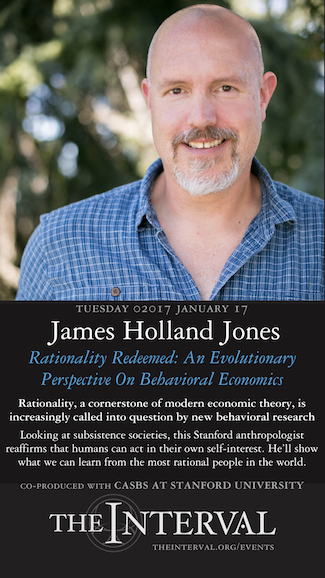 James Holland Jones is an Associate Professor of Earth Systems Science and a Senior Fellow at the Woods Institute for the Environment. His research projects combine themes from human ecology, infectious disease dynamics, social network analysis, and biodemography. These projects include: Climate Change, Mobility, and Infectious Disease; Ecology of Poverty; The Evolution of Human Life Histories; Behavior, Social Structure, and Infectious Disease Transmission; Demography of Violence; and Disease Ecology.

He holds a Ph.D. in biological anthropology from Harvard. He did a post-doctoral fellowship at the Center for Statistics and the Social Sciences, the Center for Studies in Demography and Ecology, and the Center for AIDS and STDs at the University of Washington. He is also a Research Scientist at Imperial College, London's Grand Challenges in Ecosystems and the Environment center.

Jones' interest in the evolution of rationality in humans was inspired in part by work on the evolution of human life histories. This project engages with a variety of disciplines including evolutionary biology, economics, operations research, psychology, philosophy, and anthropology.
For more of his work, see his entry on Google Scholar.
Long Now members hear about Interval events first: become a member today