Description
Come join us for a great day of music, food, drinks, games and more at on Saturday October 5, from 3:00 - 11:00 pm at the beautiful Confluence Nature Area. Come and bring your family and friends to frolic and have fun in the autumnal northern Orange County countryside and help us celebrate another great year of land protection and advocacy. Overnight camping is allowed for an additional $15 per group.
We'll have great music from the Tan & Sober Gentlemen, Secret Monkey Weekend, Blue Cactus, the Northgate Jammers and more, craft beverages from North Coast Brewing Co. and Bold Rock Cider, a bonfire with s'mores, hikes, a hayride, demonstrations and kids' games. BYO picnic and a musical instrument for jamming. Delicious food trucks will also be there if you're traveling light and come empty handed.
Tickets are $15 for adults (those under age 12 are free!) and include all activities, live music, and s'mores. Craft beer from North Coast Brewing Company, Ciders from Bold Rock Cider, non-alcoholic beverages will be available to purchase.
Note: the Herpetological and "Bug" hikes, while free, require registration.
We can't wait to see you!
Event schedule (visit our website for a full schedule of hikes, etc)
3:00 - 6:30 Hikes, games, hayrides, live music

3:15pm - 2 Forks Trail hike ("Long" Hike, 2.14 miles)

3:15pm - "Bug" Hike (Limit 15, all ages, reservation required)

3:15pm

- 4:30 Music by Northgate Jammers

4:00 pm - Confluence Hike

4:30pm - "Herp" Hike (

Limit 15, ages 6 and up, reservation required)

4:45pm Shepperds Mill Hike ("Short" Hike, @1 mile)

4:45 - 5:45 pm Music by Secret Monkey Weekend
5:00 - 8:00pm Food Trucks or BYO picnic
6:00 - 7:15pm Blue Cactus
7:45 - 9:45pm Music by the Tan and Sober Gentlemen

9:45 - 11:00pm Campfire Jam

9:50pm Last Call for Alcohol

9:00am Sunday - Check out for campers
PLUS- displays and activities from: NC State Parks, the NC Herpetological Society, and the Eno River Education Station!
*Schedule as of 9/29/19 - subject to change without notice!
Please leave your four-legged fur friends at home.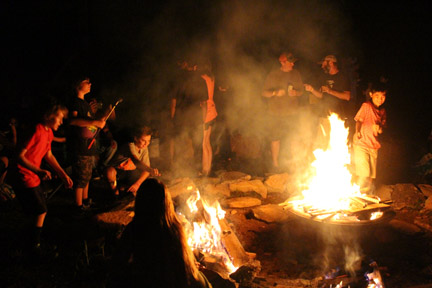 Directions to 4214 Highland Farm Road, Hillsborough, NC 27278