Jamaica's 59th Anniversary of independence Celebration Worship Service
The Jamaica Organization of New Jersey - Essex County Chapter virtual worship celebrating Jamaica's 59 Anniversary of Independence
About this event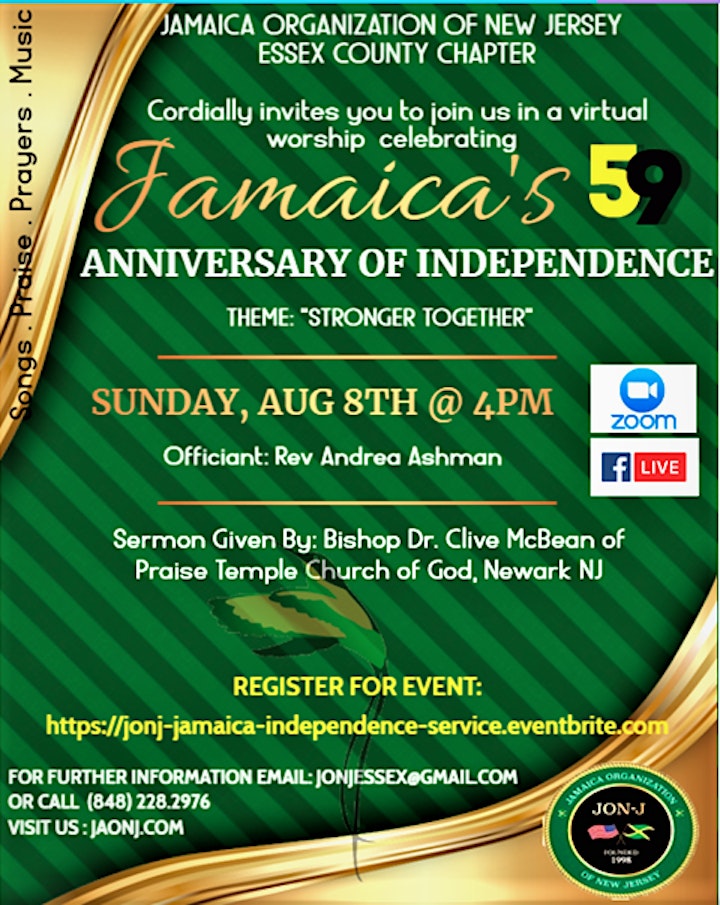 The Jamaica Organization of New Jersey - Essex County Chapter cordially invites you to join us in a virtual worship in celebrating Jamaica's 59th anniversary of Independence on Sunday August 8th, 2021 @4PM.
We ask everyone of the Jamaica Diaspora to come celebrate with us in joyous gospel music, prayers, songs, praises, scripture reading and a wonderful sermon by the Bishop Dr. Clive McBean of Praise Temple Church of God in Newark NJ.
The Jamaica Organization of New Jersey (JON-J), a 501(C) 3 nonprofit organization with dual purpose of building and strengthening ties among people of Jamaican heritage in communities across New Jersey and to serve as a resource to give back to our homeland. comprised of six chapters across the state. Although our membership primarily consists of Jamaican nationals, our events are opened to all regardless of race and ethnicity.
"DEDICATED TO THE ENHANCEMENT OF OUR COMMUNITIES"
Visit us at: JAONJ.COM
Follow us on Facebook:
Jamaica Organization of New Jersey and/or
Jamaica Organization of New Jersey Essex County Chapter
Organizer of Jamaica's 59th Anniversary of independence Celebration Worship Service