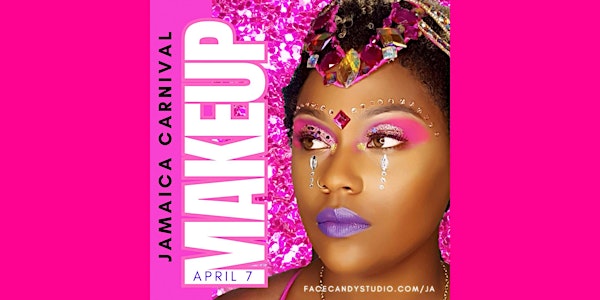 Jamaica Carnival Makeup Deposit with Face Candy Studio
Jamaica Carnival Makeup with lots of glitter and bling brought to you by the illustrious Face Candy Studio carnival makeup team.
By Face Candy Studio Team
Date and time
Sunday, April 7, 2024 · 5 - 11am EST
Location
Marriott Kingston Kingston Kingston, 99 Jamaica
About this event
CARNIVAL MAKEUP APPOINTMENT
JAMAICA CARNIVAL MAKEUP ($110 USD) INCLUDES:
Full face sweat-proof airbrush makeup application
Bright eye shadow, sculpted brows, lip color
Mink eyelash and eyelash application
Multi-colored bling jeweled rhinestones
Glitter body tattoo
Mini headshot photoshoot
Champagne and refreshments
Digital check-in
Note: If you would like eye makeup and eyelash service only (with no foundation or rhinestones) - Request a discount. Adding those omitted services on the day of your appointment will result in a surcharge. 
CARNIVAL MAKEUP TEAM
Our team of 15 makeup artists, led by Kanika, would service all Jamaica Carnival clients on location at our pop-up makeup studio in Kingston, 5 minutes from the carnival day parade.
CARNIVAL MAKEUP REVIEWS
Check out some of our latest reviews @facecandystudio on Instagram
CARNIVAL MAKEUP FAQS
How long are the appointments? 45-75 minutes
Do you offer walk-in appointments? No
Do you offer body glitter or body bronzer? Yes
Do you do hair or nails? No
Do you offer group discounts? Yes, DM @facecandystudio
How do I book for 2? Select '2' and place 2 deposits
Can you do both our faces at the same time? Yes
Can my friend stay with me in the studio? No extra friends allowed.
What happens if I'm late? You leave late.
What happens if I miss my appointment? You forfeit your payment.
How do I book? Leave a deposit.
Could I pay in full with one payment? Not at this time
What is your refund policy? No cash back. Store credits only.
CARNIVAL MAKEUP SPONSORS
If you would like to become a carnival makeup sponsor and gain lots of exposure for your Caribbean-inspired or black business brand, DM @facecandystudio.
Some Past Sponsors:
@eventsbyashe
@nakedvanity
@sipofteaamour
@fetequeen
About the organizer
Face Candy Studio is a makeup team that specializes in exotic carnival makeup. This , down-to-earth crew of professional west indian makeup artists travel to several Caribbean Carnivals, domestically and internationally, to transform masqueraders into beautiful, exotic eye candy.