JAM SESSION|The Rapid Spread of Collaboration: COVID's Impact on Journalism
JAM Sessions are conversations with MacArthur Journalism and Media grantees. On May 25th, we'll be joined by:
About this event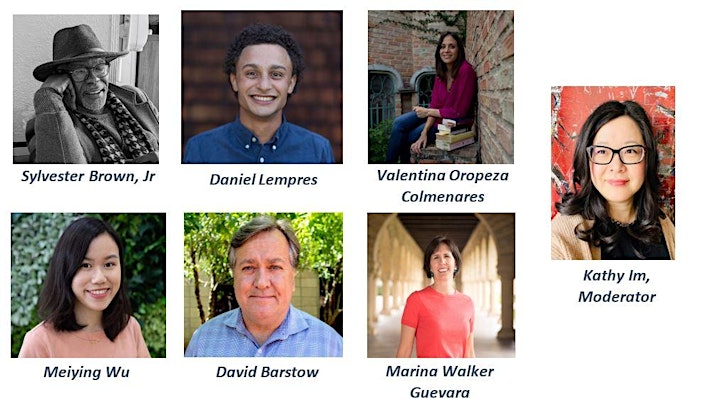 Panelists:
Sylvester Brown, Jr., Deaconess Fellow for the St. Louis American; Pulitzer Center grantee
Daniel Lempres, IRP Student Reporter
Valentina Oropeza Colmenares, Director of Investigations, Prodavinci; Pulitzer Center grantee
Meiying Wu, Former IRP Student Reporter
David Barstow, Reva and David Logan Distinguished Chair in Investigative Journalism, UC Berkeley Graduate School of Journalism
Marina Walker Guevara, Executive Editor, Pulitzer Center
Moderator:
Kathy Im, Director, Journalism and Media, MacArthur Foundation
Sylvester Brown, Jr.
Sylvester currently serves as the Deaconess Fellow for the St. Louis American newspaper focusing on COVID-19's impact on blacks in the St. Louis region. Previously, Sylvester was the former publisher of Take Five Magazine and former columnist for the St. Louis Post-Dispatch. After leaving the Post-Dispatch in 2009, Sylvester worked as a consultant and researcher for SmileyBooks, owned by public radio and TV commentator Tavis Smiley. In 2012, Sylvester founded the Sweet Potato Project, a program that taught urban youth entrepreneurism through agriculture. He is the author of two books: "When We Listen: Recognizing the Potential of Urban Youth" and "White Castles with Jesus & Uncle Ray at the used Tire Shop," a collection of his short stories and commentaries.
Daniel Lempres
Daniel Lempres is an investigative reporter focused on government accountability. Daniel has worked with Berkeley Journalism's Investigative Reporting Program for two years. He has contributed to investigations into child welfare, police misconduct, public corruption and juvenile justice. His work has appeared in The New York Times, the Los Angeles Times, USA Today and local news outlets such as the Redwood Times, Berkeleyside and the East Bay Express.
Valentina Oropeza Colmenares
Valentina Oropeza Colmenares is a Venezuelan journalist. She founded and leads the Investigation Unit of Prodavinci, a digital magazine that promotes journalism of ideas. Over 18 years of professional career, Valentina has covered stories about health, science, development, human rights and international politics. She created the investigation unit for the Venezuelan website Contrapunto. She has worked at the Agence France-Presse, the Mexican newspaper Reforma and the German Süddeutsche Zeitung. Her coverage on malaria in Venezuela has won recognition for journalistic excellence in the health category of the Inter-American Press Association and the Roche Award in the category of solutions journalism. She has also been recognized with investigative journalism awards from Ipys Venezuela.
Meiying Wu
Meiying Wu is a multimedia journalist fluent in Mandarin, Cantonese, Hokkien, and English who graduated from UC Berkeley's Graduate School of Journalism and the Missouri School of Journalism. She aims to amplify marginalized voices and produce stories about communities often hidden from the mainstream news narrative: from the lack of access to special education in Indian universities to San Francisco Chinatown's early actions to prevent a coronavirus outbreak. Her multimedia work has been published by the Los Angeles Times, The New York Times, CNN's Great Big Story, PBS NewsHour, and so on.
David Barstow
David Barstow is the head of Berkeley Journalism's Investigative Reporting Program, a former senior writer at The New York Times and the first reporter ever to win four Pulitzer Prizes. Named the Reva and David Logan Distinguished Chair in Investigative Journalism in July 2019, Barstow joined The Times in 1999 and was a member of the paper's investigative unit. He is the recipient of four Polk Awards, the Goldsmith Prize, the Alfred I. duPont Silver Baton, the Barlett and Steele Gold Medal, and the Loeb Award, among others. Since his arrival at Berkeley, Barstow has helped 92 students get their work published in 24 different news outlets
Marina Walker Guevara
Marina Walker Guevara is executive editor at the Pulitzer Center. Before, Walker Guevara was deputy director of the International Consortium of Investigative Journalists (ICIJ), a global network of reporters. She managed two of the largest collaborations of reporters in journalism history:The Panama Papers and the Paradise Papers. Her work as a journalist started in her native Argentina. Her stories on topics ranging from environmental degradation by multinational companies to the global offshore economy have appeared in leading international media, including The Washington Post, Miami Herald, Mother Jones, Le Monde, and the BBC. She has won or shared more than 50 national and international awards, including the 2017 Pulitzer Prize for Explanatory Reporting. Walker Guevara sits on the board of directors of the Global Investigative Journalism Network (GIJN) and is a co-founder of the Latin American Center for Investigative Journalism (CLIP).

Organizer of JAM SESSION|The Rapid Spread of Collaboration: COVID's Impact on Journalism