Jam for Japan Benefit Concert

Saturday, March 10, 2012 from 6:00 PM to 8:30 PM (PST)
Event Details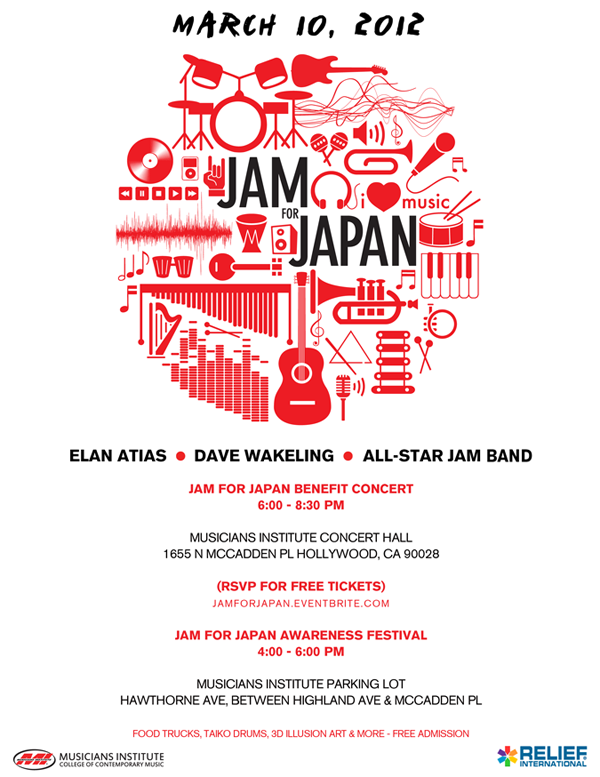 100% of proceeds raised will benefit Jam for Japan Education Grants.

**Join us before the concert for a our Jam for Japan Awareness Festival on Hawthorne Ave. Beginning at 4:00 PM, the event will host food trucks, art, Taiko drums, DJ sets, and a variety of activities FREE TO THE PUBLIC.**

-----------------------------------------------------------------------------------------------------------------------
Musicians Institute, College of Contemporary Music (MI) and non-profit humanitarian organization Relief International (RI) have partnered to provide music education grants to schools located in areas devastated by the tragic tsunami that occurred in March of 2011. In memoriam of the disaster's one year anniversary, the Jam for Japan initiative will award grants of up to $5,000 USD to eligible elementary, middle and high schools in the affected areas.
"Music has the capacity to heal. By sharing the gift of music, we hope to help the children that have witnessed this horrible disaster to recover from their trauma and begin to live again," says Mr. Hisatake Shibuya, President of Musicians Institute.

"Despite the tragic losses those in Japan have endured in the aftermath of this year's devastating earthquake and tsunami, we at Relief International believe that music – with its emphasis on both self-expression and collective harmony – can help pave the road to recovery," says Dr. Farshad Rastegar, President & CEO of Relief International. "By placing instruments in the hands of children who have lost everything to the Tsunami we aim to bring joy and hope and back to their lives through music."

Nearly one year after the disaster, residents of the affected areas are rebuilding their homes, their schools and their lives. The Jam for Japan initiative will contribute to this effort by ensuring that young people in Sendai City and Minamisanriku Town (Miyagi Prefecture), Kamaishi City and Otsuchi Town (Iwate Prefecture), and Minami-Soma City (Fukushima Prefecture) continue their music education and restore a sense of normalcy in their lives.
When & Where

Musicians Institute Concert Hall
1655 McCadden Place
Hollywood, CA 90028


Saturday, March 10, 2012 from 6:00 PM to 8:30 PM (PST)
Add to my calendar
Jam for Japan Benefit Concert