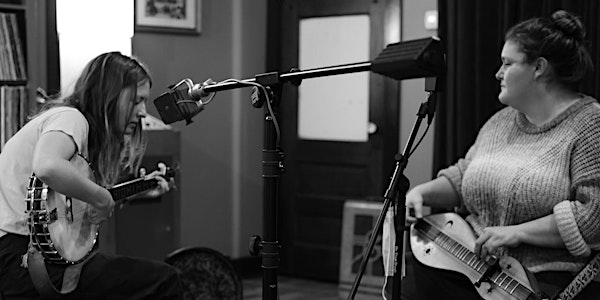 Jalopy Presents: Nora Brown, Sarah Kate Morgan, John Haywood
Jalopy Records presents: Nora Brown - with Sarah Kate Morgan - Record release show with John Haywood | Live at Cafe Wha? Friday, August 4th
Date and time
Starts on Friday, August 4 · 6pm EDT
Location
Cafe Wha? 115 MacDougal Street New York, NY 10012
Refund Policy
Contact the organizer to request a refund.
About this event
Jalopy Records presents: Nora Brown - with Sarah Kate Morgan - Record release show with John Haywood
Live at Cafe Wha? Friday, August 4th - 5:30PM Doors, 6PM Show
Nora Brown and Sarah Kate Morgan play with beauty and depth in the performances captured on their new single, "Live from Bristol". This single features Nora on banjo or guitar and Sarah Kate playing the mountain dulcimer.
Nora Brown
Nora plays traditional music with a focus on Southern Appalachian banjo and guitar playing. She has played numerous venues and festivals in the US, Europe and Japan including the Newport Folk Festival and has performed on NPR's Tiny Desk, TED Salon and WNYC's Dolly Parton's America Podcast. Since 2019 she has released 3 albums on Brooklyn's own Jalopy Records Label and all records have charted on the Billboard Bluegrass Charts during the first week of release.
The New Yorker called her most recent record Long Time To Be Gone - "A disarming collection of traditional laments and exquisite banjo instrumentals".
FOLK ALLEY said referring to the most recent collaboration with various artists record honoring Doc Watson at 100 - "Nora Brown delivers a haunting rendition of the Charles Wesley hymn "Am I Born to Die." Brown's high lonesome vocals convey the weariness, loneliness, and hope in the song. This version—one of the highlights on the album—captures the soul-heaviness and longing that accompany earthly life as it wends its way toward the promise of a new life after death."
Sarah Kate
Born of Appalachian soil in Sharps Chapel, Tennessee, Sarah Kate Morgan sings, plays, and writes like she's been in these hills since the dawn of time. Well-known and widely respected as one of the leading experts of the mountain dulcimer, Sarah Kate is also a first-rate singer and songwriter. Her crystal-clear but rootsy vocal style combines the best of country, old time, bluegrass, and gospel influences. She continues to build a unique personal style which honors mountain dulcimer giants such as Jean Ritchie while working across genres to build something new.Sarah Kate has performed and/or recorded with artists like Tyler Childers, Alice Gerrard, and Erynn Marshall & Carl Jones. Born in Tennessee and currently based in Hindman, Kentucky, she practices, cultivates, teaches, and preserves Appalachian folk traditions in her role as the Hindman Settlement School's Traditional Arts Education Director.
John Haywood
Kentucky mountain music was described by Pete Seeger in 1987: "I have no proof, but I suspect that the Kentucky mountain style (of singing a short verse in a high intense voice, and then playing for 20 or 30 seconds some lightning quick notes on the banjo) is descended from the West African style in some way." The music Seeger described came to east Kentucky from Virginia with the enslaved, mixed-race people (some known as Melungeon), and white musicians whose ancestors socialized with African Americans beginning in east Virginia. Banjo songsters, once common in the Kentucky mountains, are now scarce.
John Haywood is one of the last of the Kentucky mountain banjo songsters. When listening to Haywood's recording, "Upon My Word and Honor," one can hear echoes of West African music through his high, intense singing and his outstanding banjo playing. Haywood's selection of tunes are a tribute to songsters who are no longer with us: the Couch family of Harlan County, Lee Sexton, Dewey Shepherd, Morgan Sexton, Willy Chapman, Gran Hudson, Roscoe Holcomb, Reverend Buell Kazee, WL Gregory and Clyde Davenport, Jack and Henry Bunch, Rufus Crisp, Banjo Bill Cornett, and Coy Morton.
-- George Gibson, Knott County, Kentucky, Winter 2023
__
please note: all sales final, two item minimum per attendee
About the organizer
The home of the BEST LIVE MUSIC in NYC for 60 years and counting...