I'm moving to Greenville, SC!
About this event
Jake Manning's Farewell to the Queen City Comedy Show
Hello Charlotte Stand Up Comedy Friends,
I'm moving to Greenville, SC. Let's not pretend that "Greenville isn't that far way" and just come to the realization that we will never see each again. So, if you have been putting off catching a stand up show of mine in the greater Charlotte area well Sunday December 19th is your last opportunity.
Jake Manning is a pro wrestler, podcaster and a stand up comedian. On top of his busy pro wrestling, podcasting & comedy schedule Jake also produced 3 monthly comedy shows in the Charlotte Area, All Organic Comedy Show, Craft Comedy Series and Joke Sploitation. Manning has been a part of the 2018 North Carolina Comedy Festival and the 2018 Live Laugh Festival in Ohio. In addition to that, Jake's podcasts How Did This Get Booked & 10 Bell Pod have each been named to be one of the fastest growing wrestling podcasts of the year according to Square Circle.
Jake Manning is a pro wrestler, show producer, podcaster and a stand up comedian. Jake moved to Charlotte, NC for a 3 month internship that has now turned into a 10 plus year residency. During his time in North Carolina he has been living his dream of being a professional wrestling were he wrestles as an over grown boy scout known as the "Man Scout" Jake Manning. After doing comedic pro wrestling for over a decade Jake decide to start doing stand up comedy. To this day he still hasn't figured out which hurts more bombing on stage or taking a superplex off the top rope.
featuring: Jason Allen King, Gayle Murray and Shaine Laine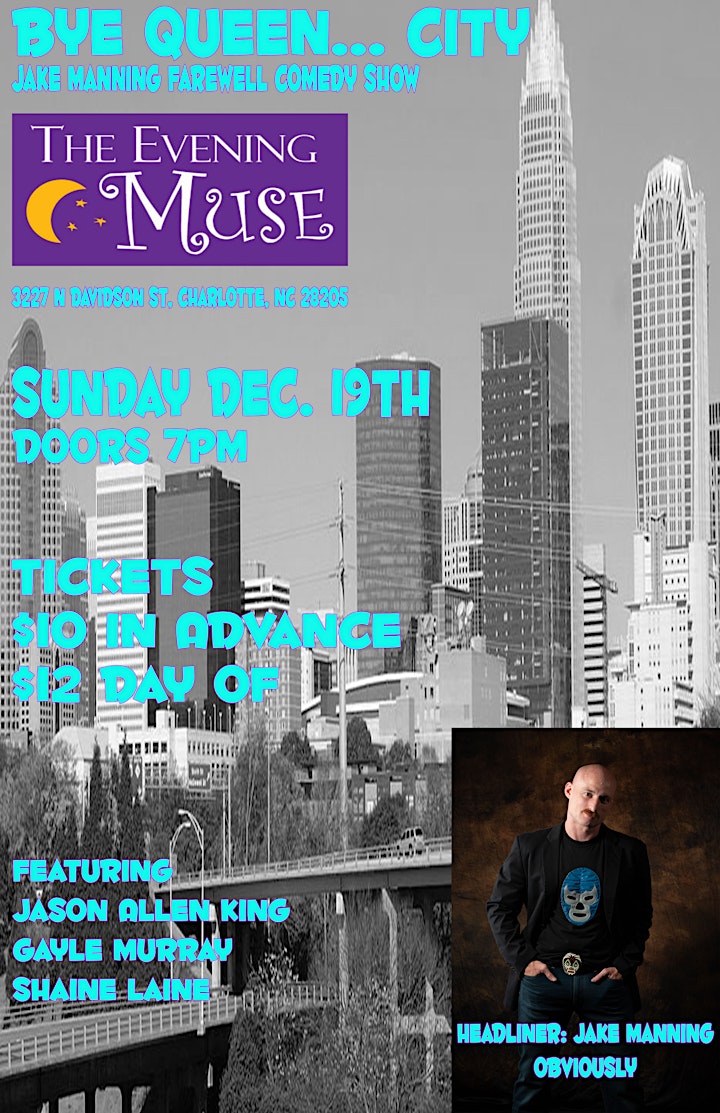 Organizer of Jake Manning Farewell Show
**IMPORTANT UPDATED COVID POLICY
AS OF AUGUST 20TH, EVERYONE ENTERING THE EVENING MUSE MUST SHOW THEIR PROOF OF VACCINE CARD (OR PHOTO OF VACCINE PASSPORT), OR HAVE PROOF OF A NEGATIVE COVID TEST AS OF THE LAST 72 HOURS. EVERYONE WILL STILL NEED TO WEAR A MASK, REGARDLESS OF WHETHER YOU HAVE BEEN VACCINATED OR NOT.
Everyone must have their State Issued ID scanned at the door. We are a private club selling liquor, which means you must become a member in order to purchase alcoholic beverages. New and renewing members pay $1 for an annual membership. If you do not have a legal ID, and you are over 21, we will not be able to serve you adult beverages. There is also a surcharge at the door of $2 if you are under 21.