About this Event
Ticket Options
Book w/Ticket: Includes admission and 1 copy of DISGRACELAND. Also includes priority seating and signing. (Seating and signing order determined by a first come, first serve basis.)
Free RSVP: Does not guarantee you a space in the store should the event reach capacity, but it will put you on a wait list to enter as space allows. Entry will be determined on a first come, first serve basis.
From the creator of the rock 'n' roll true crime podcast, DISGRACELAND, comes a hysterical, at times macabre book of stories from the underbelly of music history.
DISGRACELAND is a collection of the best of these stories about some of the music world's most beloved stars and their crimes. It will mix all-new, untold stories with expanded stories from the first two seasons of the Disgraceland podcast. Using figures we already recognize, DISGRACELAND shines a light into the dark corners of their fame revealing the fine line that separates heroes and villains as well as the danger Americans seek out in their news cycles, tabloids, reality shows and soap operas. At the center of this collection of stories is the ever-fascinating music industry—a glittery stage populated by gangsters, drug dealers, pimps, groupies with violence, scandal and pure unadulterated rock 'n' roll entertainment.
FAQ
How will seating work?
Seating is reserved only for attendees who purchased tickets via Eventbrite or at Chevalier's. Seating will be first come, first serve. Because of limited space, we sadly cannot guarantee a seat for all ticket holders. We expect chairs will be set up by 5:30PM so we don't recommend coming before that.
How will the signing queue be organized?
Signing spots will be reserved for attendees who purchase their tickets via Eventbrite or at Chevalier's. Signing numbers will be handed out in order of arrival. When you arrive at Chevalier's, please check in with an employee to pick up your book + signing number. If you have a free RSVP ticket you may still be eligible to have your book signed if the event has not reached capacity. Please check in with an employee when you arrive.
What happens if the event is over capacity?
Our Book w/Ticket cap is 100 tickets. Those ticket holders will get priority seating and signing. The remaining seats/standing room will be available to free RSVP holders on a first come, first serve basis. Please note that if the event is over capacity we cannot guarantee a spot in the store for free ticket holders.
Can I buy an extra book during the event?
Yes, we will have extra copies for purchase.
Will Karen Kilgariff & Georgia Hardstark's book Stay Sexy and Don't Get Murdered be available?
Yes, we will have copies of Stay Sexy and Don't Get Murdered available for purchase.
What's the parking situation?
There is metered street parking in front of the store. There is a parking garage next to the Rite Aid on Larchmont Blvd. There is also plenty of free street parking available south of 1st St.
Jake Brennan is a Boston based musician who launched, Disgraceland, "a rock 'n' roll true crime podcast" in February 2018 to great acclaim. Jake grew up in music. He saw the Ramones play live when he was ten years old and began recording and touring at a young age, first with his band Cast Iron Hike and then with his bands the Confidence Men and Bodega Girls. His songs have been featured in film and television, however Jake thinks his coolest musical accomplishment was opening for Fugazi "back in the day."
Photo Credit: Suzanne Kreiter/Boston Globe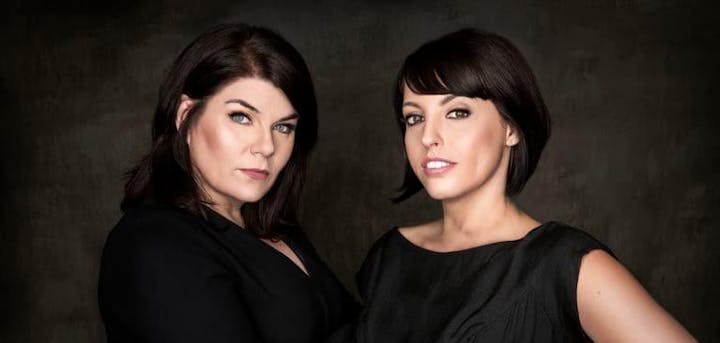 Karen Kilgariff and Georgia Hardstark are the creators and hosts of the podcast "My Favorite Murder" and the authors of "Stay Sexy & Don't Get Murdered."
Photo Credit: Robyn Von Swank / Washington Post