JAKARTA NIGHT TRAILS TO CHINATOWN: Jelajah Malam Pecinan Batavia IDR 75.000

Friday, January 31, 2014 from 3:00 PM to 8:00 PM (PST)
Event Details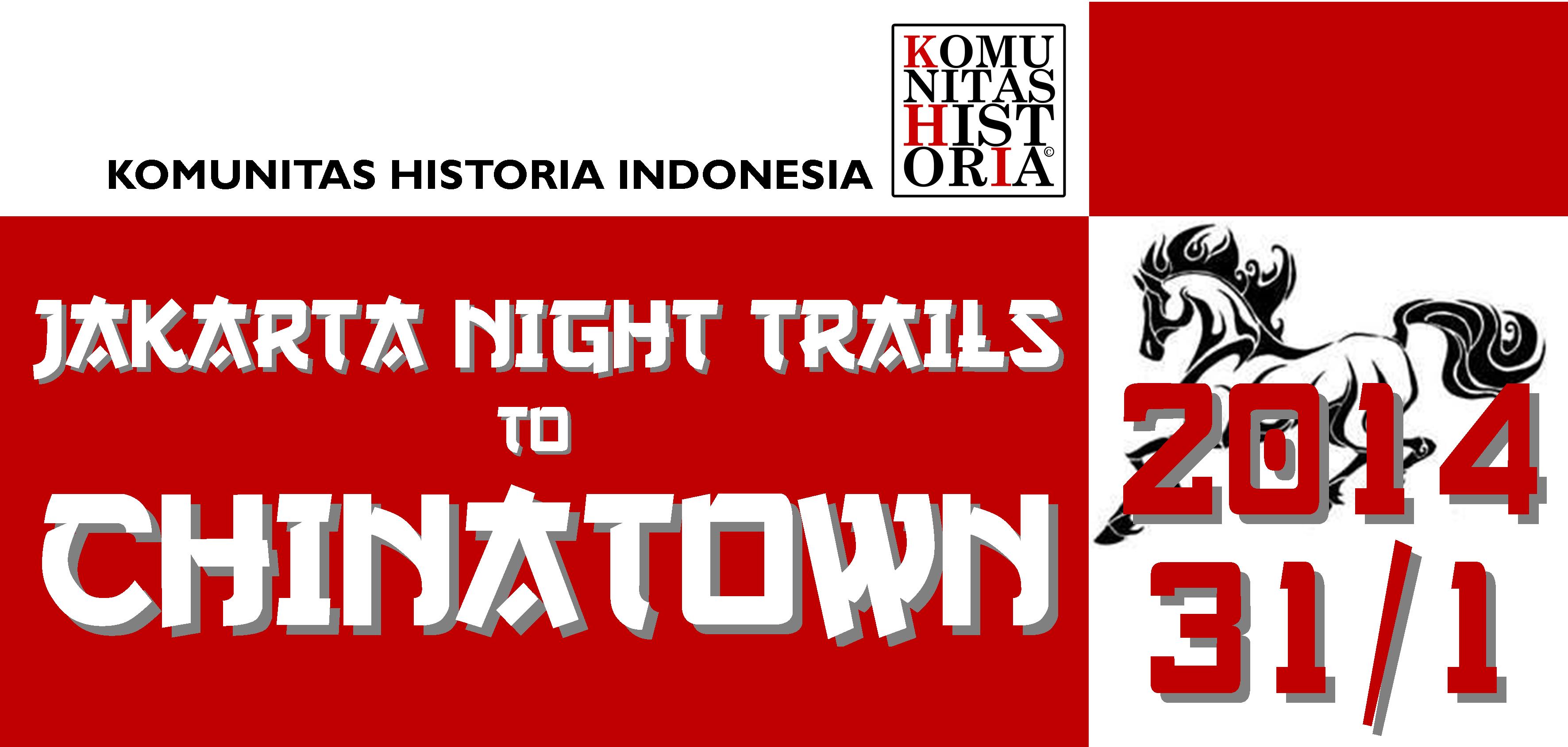 JAKARTA NIGHT TRAILS TO CHINATOWN
>>>  Jelajah Malam Perkampungan Tionghoa di Batavia!
Jum'at, 31 Januari 2014. Pkl. 14.00-19.30 wib.
MEETING POINT
Taman Fatahillah, Kota Tua Jakarta. Depan Museum Sejarah Jakarta (Museum Fatahillah)
RECOMMENDED AGES
07 – 11 (SD, harus didampingi orang tua)
12 – 18 (SMP/SMA Kelas 1-3)
19 – 70 (Umum)
BACKGROUND
Jejak masa lampau Jakarta sulit dilacak keberadaannya. Melalui beberapa situs sejarah yang lolos dari "kebiadaban" masa kini lah masa lampau itu dapat terungkap. Salah satu ciri khas yang umum terdapat di setiap sejarah suatu kota adalah terdapatnya pemukiman Tionghoa atau biasa disebut Pecinan (China Town) di kota itu. Kawasan Pecinan, dalam sejarahnya selalu menjadi penopang sekaligus jantung yang menggerakan detak perekonomian. Tak heran, jika Pecinan terdapat hampir di berbagai kota besar di Dunia, termasuk Jakarta. Kini, etnis Tionghoa telah menjadi ciri sekaligus jiwa yang mewarnai sejarah kebudayaan dari kota ini.
Jauh sebelum Belanda membangun Batavia (kini Jakarta) tahun 1619, orang-orang Cina sudah tinggal di sebelah Timur muara Ciliwung tidak jauh dari pelabuhan itu. Mereka menjual arak, beras dan kebutuhan lainnya termasuk air minum bagi para pendatang yang singgah di pelabuhan. Namun, ketika Belanda membangun loji di tempat itu mereka pun diusir. Baru, setelah terjadinya Pembantaian Orang Tionghoa di Batavia (9 Oktober 1740), orang-orang Tionghoa ditempatkan di kawasan Glodok yang tidak jauh dari 'Stadhuis' (kini Museum Fatahillah) dengan maksud agar mudah diawasi.
Di Pecinan Glodok dan sekitarnya tempo doeloe konglomerat Khouw pernah berjaya; ribuan orang China juga pernah dibantai; perayaan Imlek; semarak Cap Go Meh; nostalgia Peh Cun, panasnya perjudian dan madat, serta aktivitas perdagangan dan perekonomian yang terus bergelora. Jejak-jejak itu, kendati terus memudar, masih tetap terasa kental. Walau sempat di kekang puluhan tahun, kini etnis yang mendarah menjadi daging dari suku Betawi ini tengah merayakan Imlek dan Cap Go Meh. Aksara China, bahasa Mandarin, berbagai pertunjukan tradisi lama Tionghoa pun semakin semarak.
Sejak dulu, kawasan Glodok memiliki potensi dan letak yang strategis, maka tak aneh jika mendorong banyak orang mengadu nasib. Tak hanya orang China, orang Eropa, dan kaum pribumi pun banyak tumpah ruah di Glodok. Saat ini, orang Betawi (dari kata Batavia) yang belakangan muncul pada abad ke-19 sebagai suku tersendiri merupakan akulturasi dari banyak budaya itu.
Glodok kini, bukan hanya dikenal sebagai pusat perdagangan elektronik. Wilayah perekonomian yang tak henti berdenyut ini bukan pula sekedar kawasan yang identik sebagai Pecinan saja. Karena dalam sejarah kontemporer Jakarta, glodok memiliki banyak arti: perjuangan kaum imigran, kejayaan, keterpurukan dan perlawanan terhadap nasib dan penindasan. Ini berlaku bagi siapa saja yang tinggal di Glodok dan sekitarnya.
Nah, seru banget kan? Pasti penasaran cerita selengkapnya. Makanya ikut kita-kita ya... Dijamin, pasti ketagihan. Sekali jalan-jalan, pasti jalan lagi, terus, dan jalan lagi, hahahaha..... :P :D
O ya, acara ini merupakan tour jalan kaki (walking tour) di malam hari, sejauh kurang lebih 3km. Tujuan akhir dari tour ini adalah kawasan Glodok - Petak Sembilan, jantung perekonomian di masa Hindia Belanda. Kita juga akan menelusuri gedung-gedung tua, kota hunian dan pemukiman Tionghoa tertua di Indonesia, jalan dan gang-gang tua, pasar, sekolah-sekolah TIonghoa, dll., yang akan kita lewati sepanjang perjalanan.
NARASUMBER
@AsepKambali (sejarawan, pendiri Komunitas Historia Indonesia) akan dipandu juga oleh beberapa tour guide pemula dari KHI.
ITINERY
14.00 – 15.00
Registrasi ulang & networking sharing; Kumpul di Taman Fatahillah (Di depan Museum Sejarah Jakarta atau Museum Fatahillah, bertanda Spanduk KHI); Bagi yang akan melaksanakan ibadah sholat maghrib, dipersilahkan pararel sambil registrasi. Tempat sholatnya bisa di di gedung Jasindo samping kiri Kantor Pos, atau numpang ke Museum Sejarah Jakarta via pintu samping.
15.00 - 19.00
Pembukaan dan Ice Breaking bersama Kang Asep Kambali; Penjelajahan dimulai dengan route tour sebagai berikut: Stadhuisplein, Kerkstraat, The Groote Kanaal, Pintoe Ketjil, pasar pagi Asemka, Jl Perniagaan, Souw Family, SMA Cap Kau, Kelenteng Toasaibio, Kelenteng  Jin De Juan, Pasar Pantjoran, Gloria Bioskop, Glodok. 
19.00 - 19.30
Penutupan & Networking Sharing lagi.
Doa bersama, dan foto bersama.
HTM
Rp. 75.000,- (pin, air mineral, guide, nara sumber, handout, donasi untuk tempat ibadah)
>>> GRATIS untuk Anggota Aktif KHI-Terverifikasi* 
*Wajib registrasi keanggotaan sebelumnya, jika ingin ikut acara ini.
Sudah termasuk
- Handout
- Pin unik
- Air mineral
- Guide Pemula
Tidak termasuk
- Asuransi jiwa dan kecelakaan
- Makan siang
- Pengeluaran pribadi, dll
PENDAFTARAN
Silahkan registrasi melalui KLIK DISINI atau tekan tombol REGISTRASI di atas untuk mendapatkan nomor order/tiket anda. Kemudian catat nomor tersebut. Jika anda tidak melihatnya, cek email anda, download tiketnya. Kemudian cetak, lihat nomor tiket seperti contoh gambar di bawah. Simpah baik-baik karena anda harus membawanya pada hari H.
PEMBAYARAN
Pembayaran dilakukan melalui transfer via rekening 697.0109.160 BCA Cab. Kartini Jakarta Pusat An. Asep kambali, dengan menambahkan tiga digit angka yang terdapat di nomor order/tiket anda (lihat contoh pada gambar di bawah!). Kemudian masukan tiga digit angka tersebut pada saat anda akan melakukan pembayaran. Contoh tiga digit angka nomor order/tiket anda Order #: 242657963. Berarti anda melakukan transfer sebesar Rp.75.963,-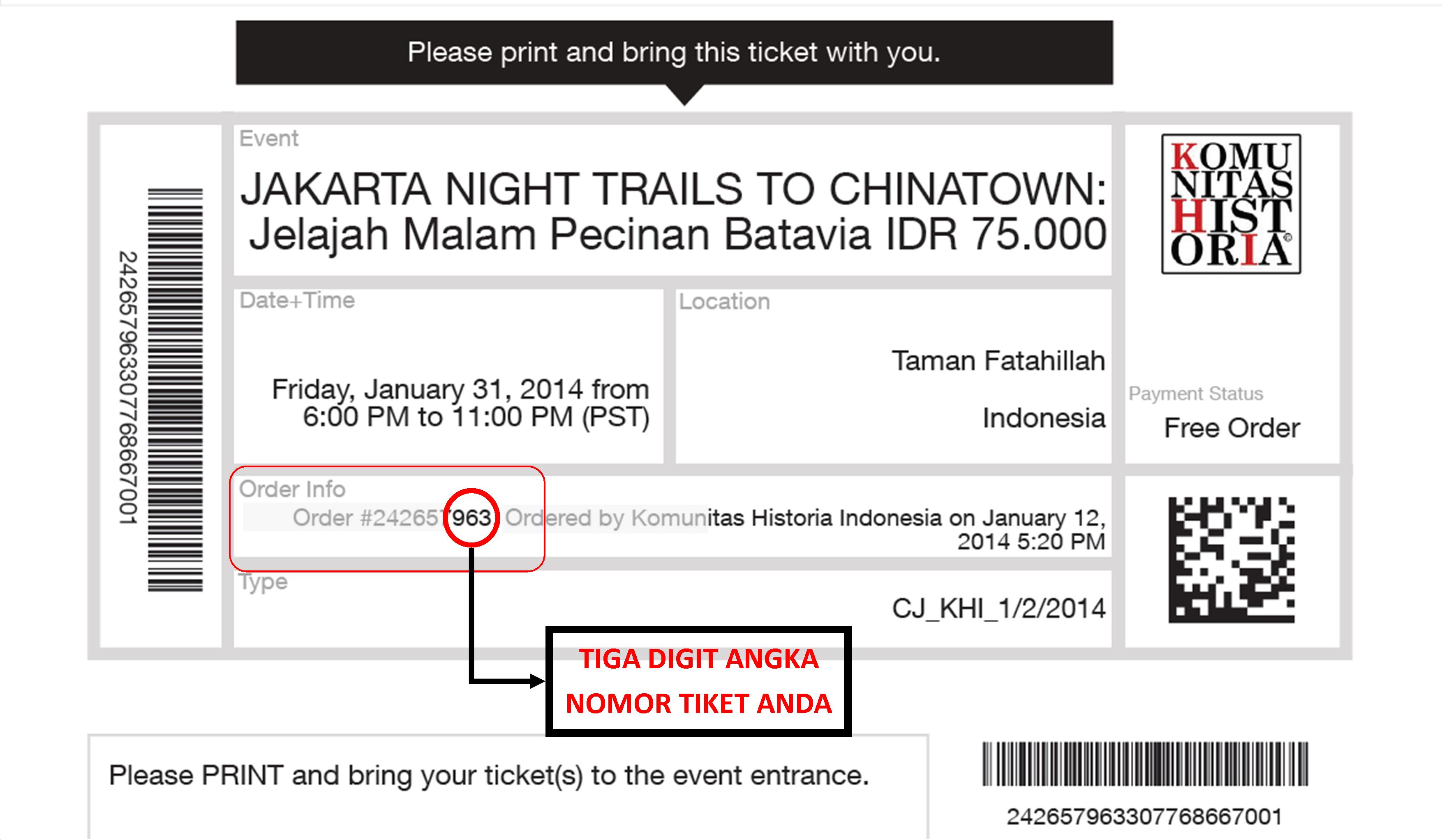 Jika sudah transfer mohon konfirmasi via SMS ke: 0818.0807.3636 dgn format:
[ Konfirmasi / JNT-CT/ nomor tiket anda / nama lengkap /]
PENDAFTARAN DITUTUP pada 30 Januari 2014 pukul 00.00 wib.
DRESSCODE
Perempuan & Laki-laki: memakai baju merah.
TIPS & CATATAN:
- Peserta disarankan makan malam terlebih dahulu (dipercepat). Membawa minuman favorite masing-masing.
- Ada tempat makan bervariasi di Glodok (mohon teliti sebelum membeli).Karena malam hari, mohon diperhatikan soal jenis makanan dan jam buka tutupnya.
- Jika ingin berbagi makanan/minuman dengan yang lain dipersilahkan
- Ini adalah tour jalan kaki, maka disarankan memakai pakaian bebas/ casual/ sepatu kets.
- Bawa juga handuk kecil, kamera/handycam/recorder, dan senter. Serta WAJIB membawa payung/ jas hujan.
- Karena kegiatan dilakukan keliling tempat umum, tempat ibadah yang padat merayap dan tempat bersejarah, jalan raya dan gang, maka perlu berhati-hati dalam beraktivitas, tidak berpisah dengan rombongan, dan tidak berkata-kata yang sombong.
- Semua peserta bertanggung jawab terhadap diri dan barangnya masing-masing.
- Mohon kerjasama untuk saling mengawasi dan melindungi sesama peserta. Peserta diharapkan membaur dengan peserta lain.
- Tidak membuang sampah sembarangan. Jika ingin melakukan sembahyang, mohon koordinasi dengan panitia/guide. Mohon menjaga sikap dan perilaku selama berada di tempat ibadah. 
- Semua peserta dilarang mengambil, memindahkan, merusak, mencorat-coret barang-barang / benda-benda bersejarah / koleksi yang ada di dalam kawasan / gedung bersejarah / kelenteng / museum (DIlindungi UU Cagar Budaya No.11 Tahun 2010).
When & Where

Taman Fatahillah

Jakarta 11720
Indonesia

Friday, January 31, 2014 from 3:00 PM to 8:00 PM (PST)
Add to my calendar
Organizer
Komunitas Historia Indonesia (KHI) is a non-profit organization which aims to promote Indonesia's history, education, culture and tourism throughout its entertaining yet educative and recreative activities. KHI's mission is to build awareness and appreciation of fellow Indonesians for its History and Culture in order to uphold our country's nationalism. Its members consist of students, young executives, housewives, expatriates, those who share interest in history and culture, academic members and other members of community both at home and abroad.
Contact Us:
Komunitas Historia Indonesia - KHI
P. 021.7072.3636 / M. 0818-0807-3636 | Follow Us: @IndoHistoria
E. komunitashistoria@yahoo.com, 
http://www.komunitashistoria.org/