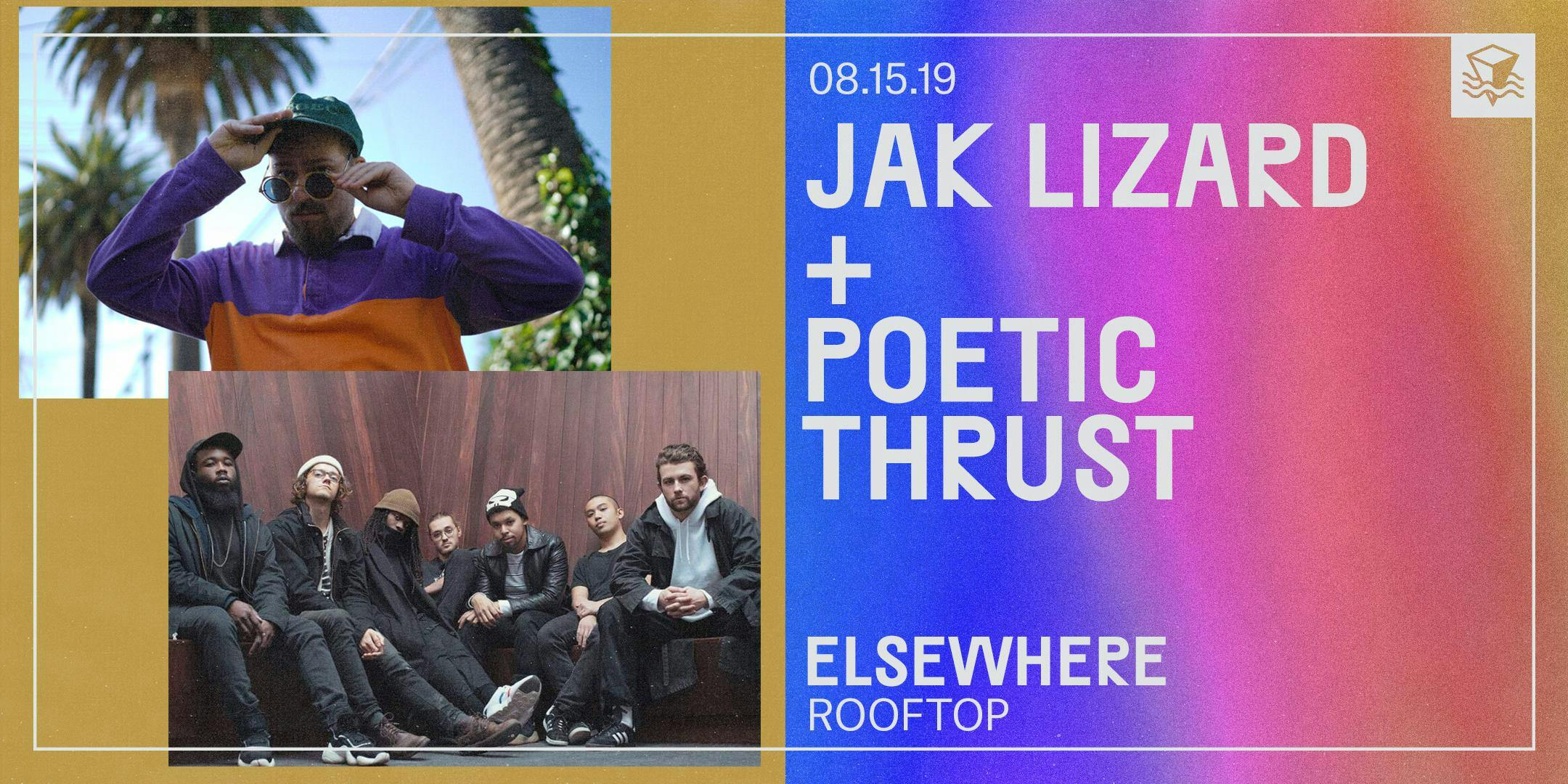 About this Event
☼ Performances
└ Jak Lizard + Poetic Thrust
Doors: 6PM
Performances: 6PM - 10PM
Roof deck closes at: 2AM
stick around for Hunx & His Punx etc... tickets will be available downstairs on the ground floor. there's always lots else to explore besides the rooftop! most nights are multi-room celebrations, featuring a dynamic lineup of local and international talent in the hall and zone one. if you haven't noticed already, our loft tucked into the 2nd floor now has its own dj booth and hosts free parties throughout the week. make sure to check our calendar at www.elsewherebrooklyn.com/events to see what else is happening at elsewhere the night of your visit!
soulful and vibrant, the refined sounds of jak lizard echo the decades of musical history that precede it. merging jazz, soul, and hip-hop, the new york singer/songwriter creates a timeless sound to accompany his sharp lyricism. 
poetic thrust are familiar faces in the brooklyn live hip-hop scene. pairing the raw energies of live jazz music and rap, poetic thrust can keep any room bouncing along. 
----
☼ About Elsewhere Rooftop
Elsewhere Rooftop is a seasonal large outdoor bar and events space, offering a signature frozen drink menu, shows & parties, sunset DJ sessions, food pop-ups, film screenings, art happenings, and much more all summer. Full calendar at https://bit.ly/2UMjRb3
☼ Hours
*The Rooftop usually opens at 6PM Monday through Friday and 2PM Saturday & Sunday, but is only open when the following events are happening: https://bit.ly/2UMjRb3 — please do make sure to check the rooftop calendar before stopping by!
☼ Rain or Shine Policy
All shows and events on the Rooftop are rain or shine! If the weather prevents us from carrying on, we will update customers via our website, Facebook, Instagram, Twitter, Eventbrite and Resident Advisor. 
☼ Safer Space Policy
ELSEWHERE MAINTAINS A STRICT ZERO TOLERANCE POLICY FOR HARASSMENT
Elsewhere is intended to be a safe space to enjoy music, art, expression, and free play. Our staff are trained to remove individuals engaging in any form of sexual harassment, acts of aggression (including leering), racism, misogyny, transphobia, homophobia, religious bigotry, or hatred and discrimination of any kind.
If you see or experience any unwanted attention, contact, bullying, harassment, or behavior of any kind that makes you uncomfortable, please speak out and notify our staff immediately.
Please read our full policy at: https://bit.ly/2VxByad