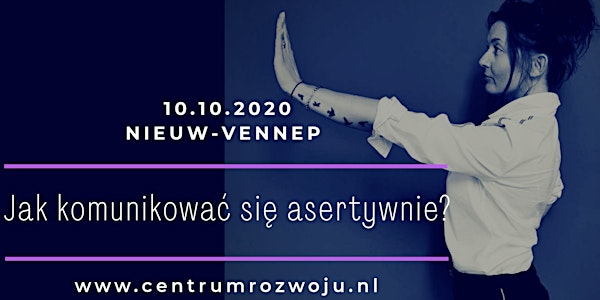 Jak komunikować się asertywnie?
Miarą asertywności jest to, czy potrafimy wytyczyć granice komunikacyjne i przedstawić swoje racje w sposób niepozostawiający wątpliwości.
When and where
Location
Nieuw-Vennep Boekweitstraat 66 GL Nieuw-Vennep Netherlands
Refund Policy
Contact the organizer to request a refund.
Eventbrite's fee is nonrefundable.
About this event
Program szkolenia
1. Komunikacja werbalna i niewerbalna
2. Komunikacja i emocje w asertywności, czyli na co możesz mieć więcej wpływu i jak to zrobić
3. Komunikat "Ja" skuteczne narzędzie porozumienia
4. Bariery komunikacyjne
5. Aktywne słuchanie
6. Parafrazowanie - komunikacja ze zrozumieniem
7. Sztuka zadawania pytań: otwarte czy zamknięte?
8. Asertywność od podszewki, czyli budowanie zdrowych relacji a nie tylko "sztuka odmawiania":
9. Ile prawdy a ile mitu jest w popularnych ujęciach asertywności
10. Czym się różni asertywność od agresji i manipulacji?
11. Prawa asertywności, czyli jak wyznaczać i dbać o swoje granice w relacji z innymi
12. Konstruktywna komunikacja w asertywności
13. Komunikacja bez przemocy - jak zachęcić innych do empatii?
14. Jak skutecznie chronić swoje prawa i interesy z poszanowaniem innych ludzi:
- różnice między ODMOWĄ nieasertywną a asertywną
- asertywność w wydawaniu i egzekwowaniu POLECEŃ
- jak asertywnie realizować swoje INTERESY
- możliwości wyboru zachowania w sytuacji otrzymania odmowy na prośbę
15. Sztuka zwiększania skuteczności osobistej w relacjach:
- określenie typu relacji, w jakiej się znajdujemy
- strategie skutecznego prezentowania swoich potrzeb, wartości, interesów, opinii i przekonań
Grupa docelowa
Szkolenie skierowane jest do wszystkich osób, które chcą zwiększyć swoje umiejętności komunikacyjne, interpersonalne, oraz asertywności.
Udział w treningu jest okazją do poznania i praktycznego zmierzenia się z bezpośrednim, uczciwym oraz stanowczym wyrażaniem swoich uczuć, postaw i opinii w sposób respektujący uczucia postawy, opinie i prawa drugiej osoby.
TERMIN: sobota 10 październik 2020
CZAS SZKOLENIA: 11:00 – 17:00
GRUPA: 15 uczestników.
PROWADZĄCY:
Magdalena Gruszka
psychologa, psychoterapeuta, pedagog.
Na co dzień zajmuje się terapią indywidualną, par i rodzin. Specjalizuje się w terapii zaburzeń lękowych i depresji oraz poradnictwie rodzinnym i wychowawczym.
Przyjmuje prywatnie oraz na ubezpieczenie.
CENA I ZAPIS:Koszt: € 85 incl. Btw
Early Bird (od 24.07.20 – 01.09.20) € 70 incl. Btw. Przy zakupie biletu należy podać PromoCode: WORKSHOP-LORE
kupując bilet bezpośrednio tutaj na event brite
Pytania można kierować na biuro@centrumrozwoju.nl , lub telefonicznie +31 616 145 245
MIEJSCE SZKOLENIA:
Sala naszego Centrum Rozwoju Osobistego – LORE w Nieuw-Vennep, Boekweitstrat 66