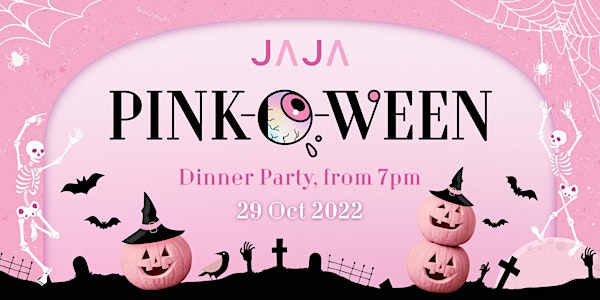 JAJA Presents: Pink-O-Ween Costume Dinner Party
Famed in decent vegetarian cuisine in the culture hub of Wan Chai, JAJA is transforming into a wickedly Pink Haunted Island this Halloween!
When and where
Location
JAJA 6/F, Hong Kong Arts Centre 2 Harbour Road Wan Chai, HKI 11249 Hong Kong
Refund Policy
Contact the organizer to request a refund.
About this event
JAJA Proudly Presents:
Pink-O-Ween 2022 粉紅萬聖節晚宴❗
One night only, on 29th October (Saturday), 7pm - 10pm ⏰!
Calling all Halloween-fun lovers! 👻 You are cordially invited to put on your favourite costumes and enjoy a pinky spooky dinner party at JAJA!
Come and enjoy a hearty festive 4-course vegetarian set dinner (Minimum 2 persons or above) with a sumptuous dessert bar and 3 hours free-flow booze & non-alcoholic drinks under thriller tunes! To spice up the black and pink party, the JAJA crew has prepared a series of surprise, fun treats and entertainment including:
- Colorful trick or treat candy corner 🍬
- Professional tarot card reading 🔮
- Shockingly beautiful face-painting 🎨 (Available from 6pm!)
- Wickedly cute photo-booths 🧸💀
Get ready of your cutest outfit or creepiest Halloween gear as the best dressed of the night will be prized a free night stay for 2 persons at the City Room of The Mira Hong Kong!
只此一晚,10月29日(星期六)晚上7時至10時⏰!
召喚所有萬聖節迷!👻 JAJA 誠邀大家一齊扮鬼扮馬,齊享粉紅怪誕晚宴!
齊來品嚐一頓豐盛4道菜主題素食晚餐(兩位或以上)、自助甜品區及3小時無限暢飲精選飲料!美食以外,當晚JAJA亦安排一系列狂歡活動,讓你與摯愛密友玩盡萬聖節週末晚。活動包括:
- Trick-or-Treat 大派糖果 🍬
- 專業塔羅牌占卜🔮
- 特色萬聖節臉部彩繪 🎨(由6時開始提供!)
- 怪異可愛影相區 🧸💀
各位謹記換上萬聖節服飾,盛裝出席!獲選「最佳服飾大奬」的一位優勝者將可獲贈香港美麗華酒店雙人城景客房住宿一晚!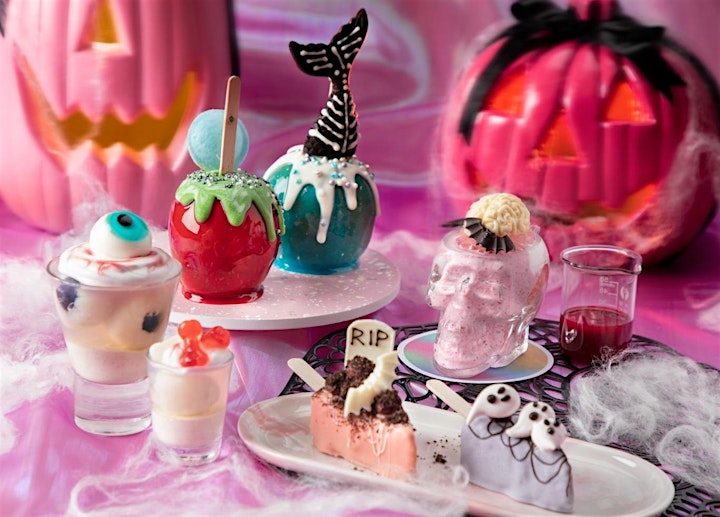 Ticket Details
** Limited tickets available only 門票名額有限,額滿即止 **
Now available for sale till 16 December 2022 (11:30pm)
以下門票將由即日起至202212月16日(下午11時半)期間發售
Adult Early-Bird Discount 早鳥優惠 - HK$628 + 10% per person / 位
**This discount applies to children aged 4 to 12. 早鳥優惠適用於4至12歲小童。
**Free admission for children aged 3 or under, please remark in your order for our seating arrangement, thank you! 3歲或以下小童免費入場,請於預訂時備註小童人數,以便餐廳安排座位。
Available for sale from 15 October 2022 (9am) to 29 October 2022 (2pm)
以下門票將於 2022年10月15日(上午9時)至 10月29日(下午2時)期間發售
Individual (Adult - 成人門票) - HK$680 + 10% per person / 位
Individual (Children aged 4-12 小童門票)- HK$510 + 10% per person / 位
** For any inquiries, please feel free to WhatsApp (852) 5418 2148 or inbox @jajahongkong. 如有任何查詢,歡迎 WhatsApp (852) 5418 2148 或 inbox @jajahongkong查詢。
Remarks:
Alcohol drinks are available to adults aged 18 or above only.
Photos are for reference only.
In case of any disputes, JAJA reserves the right of final decision.
酒精飲品只供應予18歲或以上之成人。
圖片只供參考。
如有任何爭議,JAJA 保留最終決定權。
Event Menu
🎀 💀 Pink-O-Ween 4-Course Vegetarian Set Dinner 粉紅萬聖節四道菜素食晚宴 💀🎀
SALAD 沙律
Brain Herb Salad 長生不「腦」沙律
APPETIZER 前菜 (CHOOSE 1 選一)
The Kingsland Meatballs 殺人狂肉丸
Evil Cheesy Fingers 惡魔手指
SOUP 湯 (CHOOSE 1 選一)
Baby Dumpling Soup 食腦湯
Pumpkin Soup 南瓜湯
MAIN COURSE 主菜 (CHOOSE 1 選一)
Skill Worm Pizza 失樂園薄餅
Scary Bolognese 瘋狂肉漿寬條麵
Jack-O'-Lantern Risotto 怪誕南瓜飯
Monster Burger 怪獸漢堡  
🎀 💀 Haunting Halloween Dessert Buffet 怪誕自助甜品區 💀🎀
🎀 💀 3 Hours Free Flow 3小時無限暢飲 💀🎀
Satan's Sangria, Prosecco, Red & White Wine, Beer and Selected Non-alcoholic Beverage (Coke/ Coke Zero/Sprite/Orange Juice/Apple Juice/Cranberry Juice)

萬聖撒旦水果酒、Prosecco氣泡酒、紅白餐酒、啤酒及無酒精飲品 (可樂/零系可樂/雪碧/橙汁/蘋果汁/紅莓汁)
**Please note all event attendees will be required to:
Scan the venue QR code with LeaveHomeSafe app; and
Provide Vaccine Pass for scanning and recording; and
Show proof of a negative RAT test result conducted without the preceding 24 hours before entry (with full name, test date and time)
所有顧客在進入餐廳時須用「安心出行」流動應用程式掃描場所二維碼;及
出示疫苗接種紀錄 / 豁免證明書 / 康復紀錄二維碼以供掃描;及
出示於24小時內進行快速抗原測試之陰性結果(相片證明需填上全名、測試日期及時間)
About JAJA
Driven by the passion for spreading happiness and wellness, JAJA is a restaurant where originative and innovative vegetarian delights are served to brighten your picture-perfect moments in life. Feast your eyes and palate on plenty of fashionable, healthy and delectable vegetarian options, meat-free dishes are JUST AS FUN!
JAJA旨在散播快樂能量和宣揚健康生活,以一系列原創素食,誘發味蕾衝擊。新穎時尚、健康而美味素食,帶來視覺及味覺上的無限滿足,為您的每個聚會締造難忘回憶,無肉菜式同樣趣味滿分!
Address: 6/F, Hong Kong Arts Centre, 2 Harbour Road, Wan Chai, HK
地址: 香港灣仔港灣道2號香港藝術中心6樓