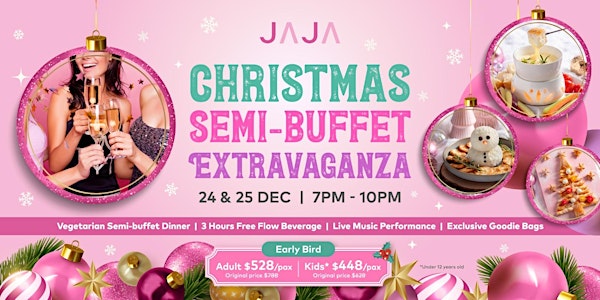 JAJA 冬日粉色聖誕半自助晚餐 Pink-Mas Semi-Buffet Dinner at JAJA!
Famed in decent vegetarian cuisine in the culture hub of Wan Chai, JAJA is transforming into a Pink Mansion this Christmas!
When and where
Location
JAJA 6/F, Hong Kong Arts Centre 2 Harbour Road Wan Chai, HKI 11249 Hong Kong
Refund Policy
Contact the organizer to request a refund.
About this event
Tis the season to eat, drink and be merry – and you can do all three at JAJA's Pink-Mas Dinner Party! On 24 & 25 December 2022, JAJA will be presenting a Christmas-themed semi-buffet vegetarian extravaganza, with bottomless appetizers and desserts, choice of main course and a 3-hour free-flow of selected beverages. It wouldn't be Christmas without festive songs! A live band performance will be also exclusively conducted for both nights, bringing together the music we all love at Christmas, conjuring the memories of all our best Christmases, creating the most enchanting Christmas in town!
以粉色聖誕莊園為主題的 JAJA 將於 12 月 24 及 25 日隆重舉行兩場令人雀躍亢奮的聖誕狂歡派對!首推半自助素食晚宴,包括自助鹹點及甜品區、自選主菜以及 3 小時無限暢飲精選飲料,JAJA 更邀請了樂隊現場表演增添歡騰氣氛。此外,每位賓客均可獲贈 JAJA 神秘聖誕小禮物一份,為佳節更添喜悅!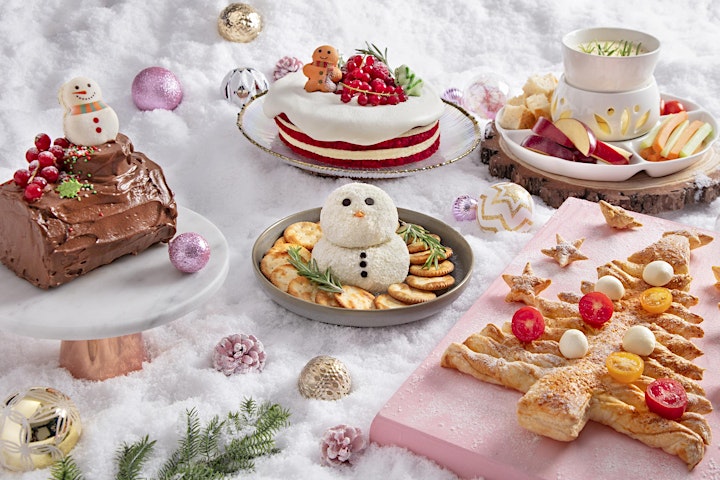 Ticket Details
** Limited tickets available only 門票名額有限,額滿即止 **
Below tickets are now on sale till 20 December 2022:
以下門票由即日起至12月20日發售 :
Early-Bird Discount 早鳥優惠(Adult 成人)- HK$528 + 10% per person / 位
Kids Ticket (Children aged 4-12 小童)- HK$448 + 10% per person / 位
**Free admission for children aged 3 or under, please remark in your order for our seating arrangement, thank you! 3歲或以下小童免費入場,請於預訂時備註小童人數,以便餐廳安排座位。
Below tickets are available for sale from 21 to 23 December 2022 :
以下門票將於 2022年12月21日至 23 :
Adult 成人門票 - HK$788 + 10% per person / 位
Children aged 4-12 小童門票 - HK$628 + 10% per person / 位
** For any inquiries, please feel free to WhatsApp (852) 5418 2148 or inbox @jajahongkong. 如有任何查詢,歡迎 WhatsApp (852) 5418 2148 或 inbox @jajahongkong查詢。
Event Menu
🎅 Pink-Mas Vegetarian Semi-Buffet Dinner 冬日粉色聖誕半自助晚餐🎄
🎀 Cold & Hot Appetizers and Dessert Buffet 自助鹹點及甜品區
🎀 Cheese Fondue 芝士火鍋
🎀 Main Course 主菜 (Choose 1 選一)
Lasagna Roll with Cheese and Spinach in Truffle Sauce
Christmas Breadstick Twists
Mac & Cheese with Morel
Risotto with Saffron and Asparagus
🎀 3 Hours Free Flow 3小時無限暢飲
Christmas Sangria, Prosecco, Red & White Wine, Beer and Selected Non-alcoholic Beverage (Coke/ Coke Zero/Sprite/Orange Juice/Apple Juice/Cranberry Juice)
聖誕水果酒、Prosecco 氣泡酒、紅白餐酒、啤酒及無酒精飲品 (可樂/零系可樂/雪碧/橙汁/蘋果汁/紅莓汁)
Remarks:
Alcohol drinks are available to adults aged 18 or above only.
Photos are for reference only.
In case of any disputes, JAJA reserves the right of final decision.
酒精飲品只供應予18歲或以上之成人。
圖片只供參考。
如有任何爭議,JAJA 保留最終決定權。
**Please note all event attendees will be required to:
Scan the venue QR code with LeaveHomeSafe app; and
Provide Vaccine Pass for scanning and recording; and
Show proof of a negative RAT test result conducted without the preceding 24 hours before entry (with full name, test date and time)
所有顧客在進入餐廳時須用「安心出行」流動應用程式掃描場所二維碼;及
出示疫苗接種紀錄 / 豁免證明書 / 康復紀錄二維碼以供掃描;及
出示於24小時內進行快速抗原測試之陰性結果(相片證明需填上全名、測試日期及時間)
Address: 6/F, Hong Kong Arts Centre, 2 Harbour Road, Wan Chai, HK
地址: 香港灣仔港灣道2號香港藝術中心6樓