With NEW mixtapes, dance classes, and Bollywood parties EVERY WEEK, staying home has never been so social.
About this event
FRIDAY, June 12th - BOLLYWOOD ARABIAN NIGHT!
Get ready for an Arabian Night with Bollywood fusion! DJ Prashant is playing all the Arabic & Desi hits from his living room to yours!
This party will be our last virtual event for June, as we begin transitioning back into LIVE, IN PERSON events! We have so enjoyed the last two months sharing music and dance with our friends & fans around the world, so we will be back on your screens in no time!
Sign up to receive Zoom, Twitch links at https://bit.ly/jaiho_TGIF
༺༻
With NEW mixtapes, dance classes, and Bollywood parties EVERY WEEK, staying home has never been so social.
༺༻
____________________________________________________________________________________
༺༻
"One of the hottest dance nights in town thanks to DJ Prashant's choice selection of Bollywood and world beat jams... A nationwide phenomenon with regular events in Seattle, New Orleans, San Diego, and beyond." - Portland Mercury, January 2020.
Visit http://JaiHoParty.com for the most updated information in case of any issues with Livestream link.
Wanna help me keep these classes FREE? Please consider donating at:
Thank you. 🌹
- Prashant
DJ Prashant is spinning the hottest Bollywood dance music every Friday night – and for the first time EVER, you can join him – from WHEREVER you are in the world! 🌎
That's right - Jai Ho! isn't just America's favorite Bollywood dance party anymore. We're taking it global with weekly events livestreaming across several platforms. Now is the time to come together, virtually, and experience new world music and dance. Spend your Mondays, Wednesdays, and Fr idays with Prashant! All events start at 8pm PST.
༺༻
TUNE IN ON TWITCH - https://twitch.tv/thedjprashant
WATCH ON YOUTUBE –https://www.youtube.com/dreamprashant
Or
BE THE FIRST TO KNOW! SIGN UP AT - http://bit.ly/PrashantGoesLive
We recommend you download the free app Twitch & give us a follow @ https://subs.twitch.tv/thedjprashant for the highest quality, uninterrupted streaming.
Make it a Bolly Good week with us!
MIXTAPE MONDAYS: DJ Prashant will be streaming new music mixtapes every Monday from 8pm – 9pm PST. Start your week in the groove with Prashant's latest favorite tracks. 🎶
DANCE CLASS WEDNESDAYS: Put on your best workout clothes and learn some sweet new dance moves! Every Wednesday from 8pm – 9pm PST, Prashant will teach Bollywood & Bhangra dance in a virtual class for All Ages and Levels. 🕺🏾
JAI HO! PARTY FRIDAYS: It's the weekend – time to celebrate! DJ Prashant will spin the hottest Bollywood music & give interactive dance lessons, turning your living room into a virtual Jai Ho! Party. Every Friday from 8pm – 10pm PST, wrap up your week with us! 🥳
You're more than welcome to sit back, relax, and watch - but these parties are BEST EXPERIENCED by GETTING UP AND DANCING WITH US! ❤
༺༻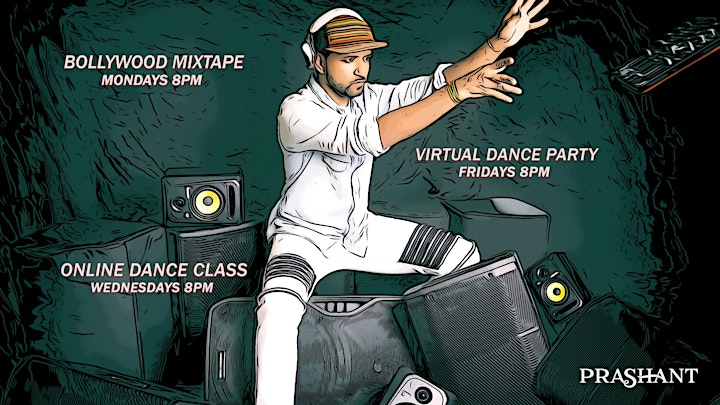 Organizer of Jai Ho! Virtual Party
Scroll down for our event listings. 
༺༻
BOLLYWOOD DANCE PARTY & WORKSHOPS
Regularly in Seattle || Portland || Eugene || SF || LA || Denver || San Diego & New Orleans!

༺༻
Founded & hosted by celebrated Bollywood entertainer DJ Prashant.
---------------------------------------------
FOR PRIVATE EVENT BOOKINGS & INQUIRIES:
Email: BollywoodDreamsOfficial@gmail.com or call 971.344.2022.