JADE Wellness Retreats for Women
Description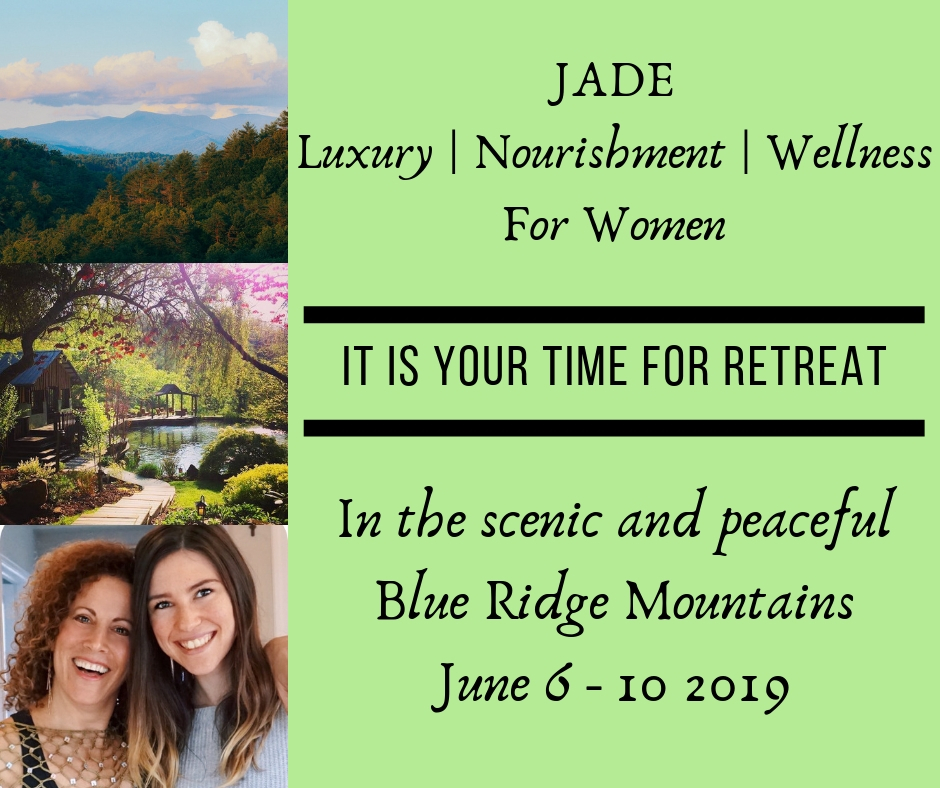 Are you stressed? Overworked? Under-nourished? If your answer is YES (like so many of us are!), chances are you're operating in overwhelm. This is detrimental to your physcial, mental, and emotional body, and calls for a time of r e t r e a t.
Jade Wellness Retreats For Women has created an extraordinary 5 day event tailored specifically to women needing time for nourishment and connection.
It's time to find your way home, to YOU, again.
You'll be pampering yourself with:
- Delicious, organic food and daily green juices, elixirs, and champagne
- Letting your hair down and having fun!

- Activating your body's relaxation response through:
- Walks and hikes in nature
- Intentional labyrinth walk
- Lazing by the river
- Insightful and life enhancing conversation
- Rhythmic dance
- Gentle and freeing yoga classes
- Massages and mini reflexology sessions
- Sound bath in Himalayan salt caves
- Hot mineral spring soak
& so many more nurturing surprises!
Check out some retreat highlights:
Salt Caves for Gong & Sound Bath Immersion: www.saltspaasheville.com
Gong & Sound Bath Specialist: http://www.joyyackley.com/
Hot Springs Resort & Spa for Mineral Soaks: www.nchotsprings.com
The Retreat Lodge: www.bendofivylodge.com
We are honored to begin the journey back home with you.
The Facilitators:
Jennifer Rose Lazinsk, CHC, OT/L
Contact: email at: sztheday@fastmail.fm
Or Text/call: 919-602-9706
Katelin Mora Ryan, ERYT, NLP/P
www.KRwell.net
Contact: email at: info@krwell.net
Or text/call: 845-800-3167
**Price is inclusive of ALL meals and drinks (including champagne, green juices, kombucha, coffee, tea, and high quality water), events, activities, classes, and reflexology. Massage is scheduled seperately with therapist on premises.
**Double room occupancy only.
**$300 non-refundable fee for any cancellations after payment. We understand that unforseen circumstances occasionally occur that are out of your control and can be discussed on an individual basis. Refunds not possible after April 1st.
**Should retreat be cancelled, full refund will be awarded less the eventbrite processing fee.