A free festival, designed to bring together the community in a celebration of homegrown creative talent taking place at Jameel Arts Centre.
About this event
Marking the first year of Jameel Arts Centre, Jaddaf Aloud! is a new festival, Dubai's first museum-led cultural festival, celebrating the city's creative talent, supported by leading cultural initiatives, artists and the community-at-large. This new, free festival, designed to bring together the community in a celebration of homegrown creative talent, takes place on Friday, December 13, 2019, with activities taking place in the museum, throughout the Jaddaf Waterfront Sculpture Park and along the Creekside corniche of Jaddaf Waterfront – Dubai Holding's latest creative destination.
Jaddaf Aloud's full day of multi-generational programming – including artist-led workshops and activities for all ages, live music and performances, plus a curated makers' market – is for everyone, including families, children, teens and youth. Jaddaf Aloud! is a multidisciplinary, collaborative event, bringing the community together with landmark cultural events – Art Dubai, Dubai Design Week and Emirates Airline Festival of Literature – and grassroots cultural partners such as Alserkal Avenue, Jamjar, The Poetryhood Movement and Gulf Photo Plus.
Committed to the power of storytelling, the Emirates Airline Festival of Literature is bringing UAE-based authors and poets to Jaddaf Aloud! to create and perform new stories inspired by the works on show at Jameel Arts Centre. These engaging, fun, bilingual story-telling sessions at Jaddaf Aloud! include young adult and children's authors. Outside the galleries, The Poetryhood Movement, a local platform dedicated to the creative expression of poetry, will present spoken word performances.
Activities and Workshops
Registration for Jaddaf Aloud! includes free access to a multitude of workshops and arts activities for all ages, running concurrently throughout the day, led by UAE-based artists and creatives.Jameel Arts Centre has commissioned artists Sarah Ahmad, May Ali, Bishoy Girgis, Asma Khoory, John Marsland, Khalid Mezaina, Malda Smadi, Rabab Tantawy and Afsheen Zoheb to develop special, drop-in family and teen workshops and activities in a range of craft, from painting and jewellery making to dream catchers and stamp-printing. Dubai's cultural district Alserkal Avenue is presenting jazz musings by DXBrass. Gulf Photo Plus, the centre for photography, leads a hands-on photo walk, providing a fun exploration of the surrounding area and best practices guided by expert photographers. Community-centred artists' space Jamjar is inviting visitors of all ages to contribute to a communal 10-metre-long mural, created during the day and showcased in the evening.
Meanwhile, for film lovers, Jameel Arts Centre's Gallery 9 features a rolling series of short films for all ages.
Evening Music FestivalHighlighting home-grown UAE-based talent, Jaddaf Aloud! culminates in a showcase of locally-based bands playing original music on the Sculpture Park amphitheatre main stage – including Pink Jaeger, Sail Into Night, WYWY, DXBrass and cult indie shoegaze band Flowershop – plus DJs specialising in Middle Eastern vinyl.
Artists' market
Jaddaf Aloud! also features a curated market, with stalls by artists, designers and specialists, offering – among other collectibles — handmade artist books, illustration, prints, design objects, crafts, wearables, plants, musical instruments and vintage books, plus a diverse range of eateries and pop-up cafes. Participants include House of Folly, The Marigold Story, andSuleimani, The Third Line, Lady Mauve, Rakate, Book Quarter, Howlin' Rooster & Such, TWELVElittleMiddleEast, Gulf Photo Plus, among others. In a special showcase, the Dubai Autism Center will present a sale of paintings by its students.Registration includes free access to all workshops, activities, concerts and screenings. The full schedule will be available here over the next few days.
Arriving to Jaddaf Aloud!
By Metro: Shuttle buses available from Jaddaf Metro Station every 15min, 2pm - 9:30pm.
By Car: Parking available at Dubai Wharf (see map below), 3min walk to Jameel Arts Centre.
By Careem: Drop off in front of Jameel Arts Centre, no parking available on-site.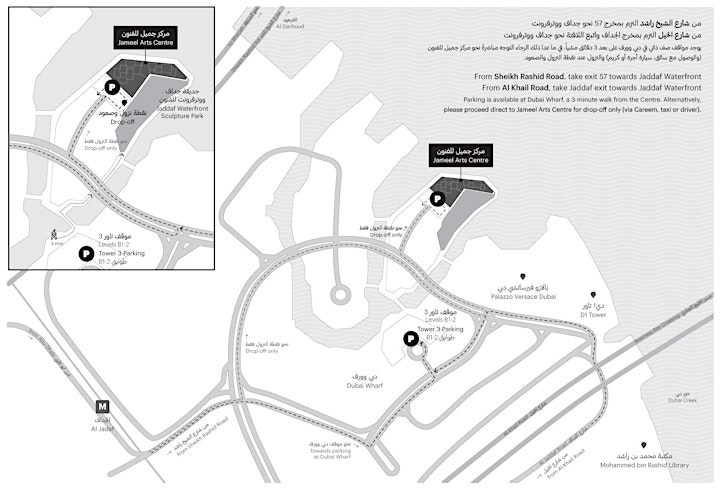 Organizer of Jaddaf Aloud!
Jameel Arts Centre is an independent institution dedicated to exhibiting contemporary art to the public and engaging communities through learning, research and commissions. Founded and supported by Art Jameel, the Centre is located in Jaddaf Waterfront, Dubai, United Arab Emirates.