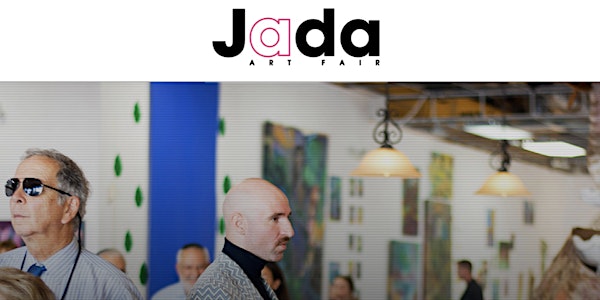 Jada Art Fair - Paid Workshop: Paint the Town: Street Art and Murals
Join us for this exciting art workshop during Miami Art Week at Jada Art Fair.
When and where
Location
1250 Normandy Dr 1250 Normandy Drive Miami Beach, FL 33141
About this event
JADA Art Fair presents:
Get in on a 5,000 sqft immersive art fair, art workshops, social distancing + art tours, and live art talks. JadaTalks (art + talks) seminar streamed live by Miami writer Samuel Loetscher. *virtual options available after registering
Fair Dates: December 3-6, 2020
The amount you pay for fair tickets is up to you!
Full instructions to join the program will be emailed directly to you upon registration and virtual options to watch live will be available.
Join us for our art programming scheduled throughout the day. Program listed below.
All are invited to come to experience contemporary art in-person for an immersive art fair experience.
Covid regulations will be followed.
Sponsored by:
Daniels - Rodriguez - Berkley - Daniels - Cruz Attorney at Law, Eastern Engineering Group, Urban Resource, NIAD, Reines & Straz, Wmas Art, iBoss Ventures, I AM Immersive, Miami Beach, The Shooting Gallery, International Inn Hotel, GG Roofers, Therabreath, BNA Cpas & Advisors, Ocean Terrace Holdings, provoke artspace, Collinsworth Insurance & Risk Management, Overland, Carlton Fields
---
Programming:
December 3 (Thursday)
10 AM - 6 PM EST: Fair Open for Exhibition for tours and guests [social distance and covid regulation will be followed]
1-2 PM EST: Paid Workshop: Collecting, Curating and Covid *Limited tickets and in-person seating
3-4 PM EST: OCCUPY MEANINGFUL SPACES
4-5 PM EST: Navigating Museums During Turbulent Times
7-9 PM EST: Art Show Opening Exhibition [art reception in-person social distance and covid regulations will followed]
Dec 4 (Friday)
10 AM - 6 PM EST: Fair Open for Exhibition for tours and guests [social distance and covid regulation will be followed]
1-2 PM EST: Paid Workshop: Intellectual Property and Art *Limited tickets and in-person seating
3-4 PM EST: The Art of Digital Landscaping
4-5 PM EST: Plugged into the Virtual World of Art
Dec 5 (Saturday)
10 AM - 6 PM EST: Fair Open for Exhibition for tours and guests [social distance and covid regulation will be followed]
7 - 8 PM EST: The Circuit of Culture: Art's Influence on Fashion
8 - 9 PM EST: The Courage to Create in a World of Mediocrity
9 - 10 PM EST: Taking The Pulse On Miami's Culture
6:30 -10 PM EST: Art Reception [art reception in-person social distance and covid regulations will followed]
Dec 6 (Sunday)
10 AM - 6 PM EST: Fair Open for Exhibition for tours and guests [social distance and covid regulation will be followed]
1-2 PM EST: Paid Workshop: Paint the Town: Street Art and Murals *Limited tickets and in-person seating
3-4 PM EST: Redefining Art & Social Influencing
4-5 PM EST: The End of Irony and the Birth of New Sincerity
4-6 PM EST: Closing Reception Talks with each artists [art reception in-person social distance and covid regulations will followed]
For more information visit JadaArtfair.com