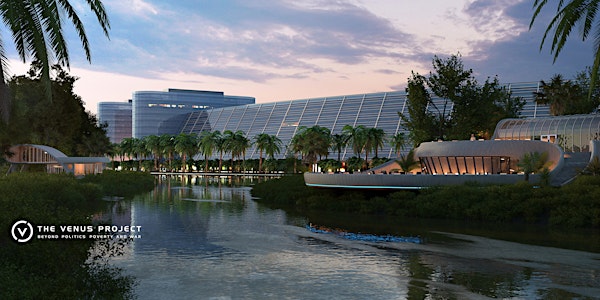 Jacque Fresco's Centennial Celebration
When and where
Location
Harborside Event Center 1375 Monroe Street Fort Myers, Florida 33901
Refund Policy
Contact the organizer to request a refund.
Description
Come join us in celebrating Jacque Fresco's 100th birthday!
Jacque Fresco is the co-founder, along with Roxanne Meadows, of The Venus Project, which represents the culmination of his life's work: the integration of the best of science and technology within a comprehensive plan for a global society based on human and environmental concern. He calls it a global Resource-Based Economy, in which all of the world's resources become the common heritage of all people. What is lacking today, and what Fresco provides, is a workable blueprint to harness the vast potential that science and technology offers for our social systems, values, and behavior. Fresco presents a humane and attainable direction for the coming age of cybernation, which could easily provide an abundance for everyone and overcome most of the limitations and unnecessary suffering of today.
---
S C H E D U L E O F E V E N T S
---
MORNING PRESENTATION
9:45 am to Noon EST
Screening of the film "The Choice is Ours"
INTERMISSION
Noon to 1:30 EST
MAIN EVENT
1:30 to 5:30 EST
Event Speakers
Henry Schlinger Jr. PhD BCBA-D
Stan Aizin, TVP CIS Volunteer Coordinator

Nate Dinwiddie, Head of TVP Transcription & Archiving Volunteer
Susan Everatt, TVP Activism Administrator, TVP Volunteer Point of Contact Spain
Julio Herrera, TVP Volunteer Point of Contact New York
Joel Holt, Co-Producer, Director and Editor of "The Choice is Ours"
Mike Ziaja, TVP Volunteer Point of Contact Florida
More to be announced!
---
F A Q
---
Do you recommend any hotels in the area?
There are many hotels in the area. We recommend any attendee requiring accommodation to make a reservation as soon as possible. The timing of this special event is considered the "season" for Florida and many people vacation there in March. The following sites may be helpful.
How close is the Harborside Convention Center to Southwest International Airport?
Harborside Event Center is about a 20 minute drive from the Southwest Florida International Airport.
Are there ID requirements or an age limit to enter the event?
None.
What are the directions to the event once in Fort Myers, Florida?
What are my parking options at the event?
Is my registration/ticket transferrable?
Yes.
Can I purchase tickets at the door?
No, tickets are only available online and seating is limited.
Can I update my registration information?
Yes. Click here for step by step instructions including videos.
Are the tickets refundable?
No.
Will you be holding a Tour Seminar at The Venus Project Research Center that weekend?
No. Due to this event, there is no Tour Seminar on March 12th at The Venus Project Research Center. However, we are holding a special, one-day-only, Tour Seminar on March 16th (Wednesday). The Tour Seminar will be $100 per person. We are very limited for space and unfortunately will have to turn people away after we reach our quota. Materials will not be provided, but will be made available to purchase onsite at the Research Center. Please send an email here if you would like to attend the Tour Seminar.
UPDATE: The Wednesday Tour Seminar is completely booked. We ask that those interested still write us here. We will add you to a waiting list and notify you of any openings.
---
SPECIAL NOTICE
There are additional activities being organized, separate from the Centennial Conference and the Wednesday Tour Seminar, by TVP Volunteers. Although these events are not official Venus Project activities, we encourage all guests to participate if interested. Questions regarding the additional activities and their updates can be recieved from Saso Luznar, the TVP Activism Administrator.

---