Description
About Jacobs Design Conversations
Each semester, the Jacobs Institute for Design Innovation invites leading designers and makers to Berkeley to speak as part of the Jacobs Design Conversations series. Connecting diverse perspectives under one roof, Jacobs Design Conversations are spaces for dialogue on a broad spectrum of innovations and ideas.
As part of this series, Stamen founder, CEO, and creative director Eric Rodenbeck will share his insights with Berkeley's design innovation community on Friday, September 22. The talk will take place at Jacobs Hall, the Jacobs Institute's hub for hands-on learning and making.
About Eric Rodenbeck
Eric Rodenbeck came to San Francisco in 1994, lured by a deep curiosity for the budding internet-based industry in the city. Twenty years later, Eric's passion for cities, design, and technology has made him a both a local and international leader at the intersection of all three.
Eric caught the bug of telling stories with data at early dot-com Quokka Sports, where he turned GPS tracks from round-the-world sailing races into early data-viz entertainment. Having tried (and failed!) to start two internet businesses, in 2001 Rodenbeck founded data visualization design studio Stamen, where he is Creative Director and CEO. The company's high bar for elegant, data-driven design has brought many brilliant data artists, designers and technologists through its doors. The studio's pioneering work in the field has inspired countless more. In 2017 Stamen was awarded the National Design Award for Interaction Design by the Cooper Hewitt Smithsonian Museum.
In 2007, Eric joined the Board of Directors of the Kenneth Rainin Foundation (KRF), an organization whose mission is to bring innovative thinking to medicine, education and the arts. Through this work, he founded and is on the Board of Directors of the Community Arts Stabilization Trust (CAST), which provides affordable space for artists in San Francisco's Central Market District by purchasing downtown buildings and helping arts groups buy them back.
Through connecting design with civic duty, people with place, and passion with data with delight, Eric fulfills his mission of being an ambassador of San Francisco values: openness, inclusiveness, experimentation, and a damn good party.
At the Jacobs Institute, Eric will discuss "Telling Stories with Data."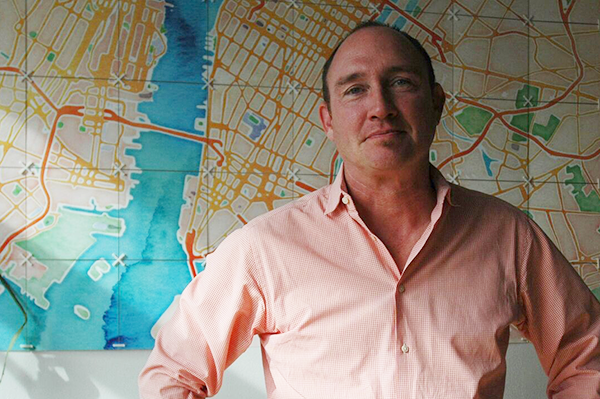 About this Conversation
Registration and day-of attendance: This lecture-style talk is free and open to the public. While all day-of attendance and seating is first-come, first-served, if you register by Wednesday, September 20, you'll have first priority for lunch on us (we'll buy food based on registrations, so please be considerate). If you miss advance registration, don't worry: day-of guests are more than welcome!
Getting here: Jacobs Hall, a space for design learning and making, is located at 2530 Ridge Road, on the northeast side of the UC Berkeley campus. For information on campus shuttles and links to public transit, please visit Bear Transit.
Questions? You can reach event organizers at jacobsinstitute@berkeley.edu or 510-664-7567.