Description
About Jacobs Design Conversations
Each semester, the Jacobs Institute for Design Innovation invites leading designers and makers to Berkeley to speak as part of the Jacobs Design Conversations series. Connecting diverse perspectives under one roof, Jacobs Design Conversations are spaces for dialogue on a broad spectrum of innovations and ideas.
As part of this series, Elisa Giaccardi will share her insights with Berkeley's design innovation community on Friday, April 7. The talk will take place at Jacobs Hall, the Jacobs Institute's hub for hands-on learning and making.
About Elisa Giaccardi
Elisa Giaccardi is Full Professor at Delft University of Technology, where she is one the recipients of the TU Delft Technology Fellowship for top female scientists and director of the Connected Everyday Lab (www.connectedeverydaylab.org). From pioneering work in metadesign and social media to the role of the non-human in the Internet of Things, her research work reflects an ongoing concern with design as a shared process of invention.
Her background brings together humanities, digital media, and interaction design. She obtained her PhD in 2003 from the University of Plymouth, UK (CAiiA-STAR) with a dissertation on metadesign. Prior to her position at TU Delft, she has been an Associate Professor at UC3M in Madrid, Spain (Digital Living Initiative) and a Senior Research Scientist at CU Boulder in the United States (Center for Lifelong Learning and Design). She regularly lectures and publishes in international journals and at leading conferences for interaction design and human-computer interaction, and has been the recipient of several scholarships and grants, including a NSF Science of Design grant on participative systems, a EU FP7 ICT on open interaction design, and recently a STW Research through Design grant on resourceful ageing.
She has served as an expert reviewer for the US National Science Foundation, the National Research Council Canada, and the Research Foundation Flanders (FWO) and the Dutch Technology Foundation (STW), and she is a member of several editorial boards, including ACM Interactions where she edits the Forum 'Connected Everyday.' She is the editor of Heritage and Social Media (Routledge, 2012), in which she uses heritage as a lens to understand the impact of social media and early Internet of Things on emerging cultures of participation. Her work on metadesign has been foundational, among other initiatives worldwide, to the Metadesigners Open Network.
In addition to academic research, she works with companies (e.g., Philips, Deloitte, Volkswagen) and consulting firms (e.g., Superflux, Frog Design, The Incredible Machine) to explore the role that design can play in the emerging socio-technical landscape, and to promote disruptive design approaches that can offer additional resources to human imagination and capabilities.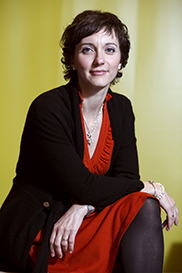 About this Conversation
Registration and day-of attendance: This lecture-style talk is free and open to the public. While all day-of attendance and seating is first-come, first-served, if you register by Wednesday, April 5, you'll have first priority for lunch on us (we'll buy food based on registrations, so please be considerate). Registration will open one month before the talk; sign up here to receive a reminder when registration opens. If you miss advance registration, don't worry: day-of guests are more than welcome!
Getting here: Jacobs Hall, a space for design learning and making, is located at 2530 Ridge Road, on the northeast side of the UC Berkeley campus. For information on campus shuttles and links to public transit, please visit Bear Transit.
Questions? You can reach event organizers at jacobsinstitute@berkeley.edu or 510-664-7567.