Description
About Jacobs Design Conversations
Each semester, the Jacobs Institute for Design Innovation invites leading designers and makers to Berkeley to speak as part of the Jacobs Design Conversations series. Connecting diverse perspectives under one roof, Jacobs Design Conversations are spaces for dialogue on a broad spectrum of innovations and ideas.
As part of this series, Alan Cooper will share his insights with Berkeley's design innovation community on Friday, January 27. The talk will take place at Jacobs Hall, the Jacobs Institute's hub for hands-on learning and making.
About Alan Cooper
Alan Cooper co-founded Cooper in 1992. He is widely known for his role in humanizing technology through his groundbreaking work in software design. He is also the author of the books About Face: The Essentials of Interaction Design (editions 1-4) and The Inmates Are Running the Asylum: Why High-Tech Products Drive Us Crazy and How to Restore the Sanity. Widely recognized as the "Father of Visual Basic," Alan also created the goal-directed design methodology and invented personas as practical interaction design tools to create high-tech products that delight users' sensibilities.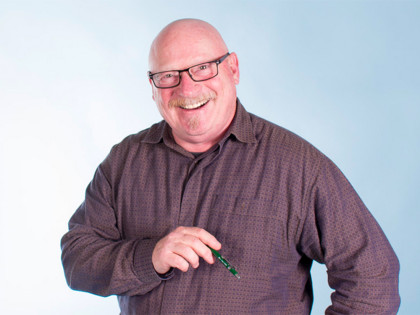 About this Conversation
Registration and day-of attendance: This lecture-style talk is free and open to the public. While all day-of attendance and seating is first-come, first-served, if you register by Monday, January 23, you'll have first priority for lunch on us (we'll buy food based on registrations, so please be considerate). Registration will open one month before the talk. If you miss advance registration, don't worry: day-of guests are more than welcome!
Getting here: Jacobs Hall, a space for design learning and making, is located at 2530 Ridge Road, on the northeast side of the UC Berkeley campus. For information on campus shuttles and links to public transit, please visit Bear Transit.
Questions? You can reach event organizers at jacobsinstitute@berkeley.edu or 510-664-7567.