30+ Jacksonville Companies Hiring for OVER 1,000 JOBS in a Variety of Industries at the Jacksonville Job Fair on October 14th
About this event
Jacksonville Hiring Event
Thursday October 14th at 10 am!!
** 30+ Companies will be hiring for OVER 1,000 JOBS in a variety of industries *
Job News USA, along with our SPONSORS - Cox Media Group, Johnson & Johnson Vision and US Auto Credit, will be hosting a Hiring Event from 10 am to 2 pm on Thursday October 14th, 2021 at DoubleTree Hotel - Riverfront, located in Downtown Jacksonville at 1201 Riverplace Blvd. Jacksonville, FL 32207
** Many companies will be Interviewing and Hiring On The Spot **
JOB SEEKERS CAN GET ADDITIONAL INFORMATION AND PRE-REGISTER AT: www.jobnewsusa.com/job_fairs
** Booth space is still available and employers can call District Manager Andrew Lemister at (904) 296-3006 for additional information.
This is a unique opportunity for job seekers to get guaranteed facetime and make personal connections with recruiters and hiring managers from some of Northeast Florida's best companies and organizations.
** Free Computer Lab to research companies, apply to jobs and customize your resume**
** Bilingual (Spanish) job seeker assistance will be available to help you and your new job **
** Free admission and Free parking is available in the parking garage underneath the hotel**
Companies and organizations will be looking to fill "Hundreds of Positions" including the following:
OUR SPONSOR:
Cox Media Group: Marketing, News Producer, Promotions, Technical Producer
Johnson & Johnson Vision: Engineering Technicians
US Auto Credit: Call Center Representatives, Clerical, Data Entry, Title Clerk, Inside Sales Representatives, Outside Sales Representatives
Partners:
ACI Learning: Customer Service – PM
Allied Universal - Now Hiring for OVER 300 Positions Including: Armed Security Officers, Unarmed Security Officers. Full and Part-Time Positions
Aramark - Now Hiring for OVER 30 Positions Including: Food Service Workers, Food Production Workers, Lead Supervisors, Cook Supervisors
Ashley HomeStores:  Warehouse Associates, Guest Services - Contact Center, Retail Sales Associates, Retail Warehouse Associates 
Brooks Rehabilitation: Registered Nurse (RN), Certified Nursing Assistant (CNA), Physical Therapist, Business Service Representatives, Licensed Practical Nurse (LPN), Front Desk Coordinator
CareerSource Northeast Florida: Career Services, Resume Assistance
Chartwells - Hiring for over 200 Positions Including: Food Service Workers
Citrus Contracting / Total Home Roofing: Permitting Specialists, Roofing Coordinators, Construction Managers
Colonial Life: Sales Manager, Entry Level Sales
Crawford Contractor Connection - Now Hiring Over 10 Positions Including: Customer Service Representatives, Call Center Representatives, Financial / Credit Analysts, Membership Services Coordinators
Elo Restoration: Site Manager, Project Managers, Repair Technician Apprentice, Canvassers, Sales Representatives
Enhanced Resource Centers (ERC) - Hiring For Over 20 Positions Including: Collection Agents, Bilingual Call Center Agents, Client Solution Coordinator, Compliance Auditor, Internal Audit Manager, Product Manager, IT positions, Project Managers, Supervisors, and more.
First Coast Security - Hiring For OVER 60 Full Time and Part Time Positions Including: Armed Security Officers, Unarmed Security Officers
Florida Mentor / Sevita - Now Hiring for Over 60 Positions Including: Caregivers (Referral Bonus Available), Licensed Practical Nurses (LPNs)(Referral Bonus Available), Registered Nurses (RNs)(Referral Bonus Available), Director of Nursing, Assistant Director of Nursing, Maintenance Associates, Direct Support Professionals, Dietary and Food Aide
Florida Troops to Teachers: Florida has a shortage of Teachers! Some districts hire over 800 teachers a year. Qualify for a Educators Temporary Certificate in possibly less than 30 days and start teaching. Qualify for a Educators Professional Certificate in 8-9 months while teaching. For more information, stop by our booth!
Florida Youth ChalleNGe Academy- Hiring For Almost 10 Positions Including: Residential Instructors, Admissions Specialist
GATE - Hiring For Over 50 Positions at Multiple Locations Including: Managers in Training, Assistant Store Managers in Training, Sales Associates, Food Service Associates
Numerous Corporate Positions Including: Training Coordinator, HR Specialist, Fuel Accounting
GC Services - Now Hiring For OVER 100 Positions - Customer Services Representatives
Guidewell (Florida Blue, Novitas, First Coast Service Options): Customer Service Representatives, Medical Assistants, Data Analysts, Data Scientists
Heavy Equipment Colleges of America: Admissions Representatives, Equipment Trainer, Career Services Representatives
Jacksonville Chrysler Jeep Dodge: BDC Service Representative, Building Maintenance Assistant, Café Associate, Cashier, Express Lube & Tire Technician, Express Service Advisor, FCA Level 2 & 3 Technician, General Line Service Advisor, General Line Technician, Parts Counter Personnel, Sales Greeter, Sales Porter Assistant, Sales Representative
JAX Federal Credit Union: Teller – Park Street, Lead Teller – Park Street, Branch Manager – Mandarin, Contact Center Representative, Contact Center Sales Representative, Lending Operations Specialist, Mortgage Originator, SQL Programmer/Analyst
Keiser University: Admissions Counselors, Financial Aid Advisors, Instructors to teach in the areas of Information Technology (PHD), A&P instructor, Microbiology/Biology (PhD), Biomedical instructor, Forensic Science and Economics.
Regionally accredited University providing educational opportunities in many career fields to include: Health Care, Business, Legal Studies, Information Technology, Nursing, Biomedical
LaborMax Staffing - Hiring For Over 100 Positions Including: Clerical, Warehouse Associates, Construction (All Trades), Various Hospitality Positions, Painters, Skilled Trades in HVAC, Plumbing, & Restoration
Massey Services - Hiring for Almost 20 Positions Including: General Manager in Training, Pest Control Technicians, Outside Sales Representatives, Lawn Technicians
Morrison Healthcare: Patient Delivery Assistants, Retail Cashier (AM / Overnight), Dining Room Cafe Attendants (AM / PM), Dining Room Cafe Servers (AM / PM), Starbucks Barista, Sous Chef (Overnight), Baker/Pastry Cook (Overnight), Retail Cafe Supervisor (Overnight), Registered Dietician (Weekend/PRN), Breakfast Cook, Lunch Grill Cook, Prep Cook, Utility Worker /Dishwasher (AM / PM), Call Center/Customer Service Representative
Saint Leo University: Hiring for Academic Advisor, Assistant Director of Admission, Assistant Director of Lake City Center; Associate, Bachelors, and Master's Program opportunities
Shipyard Staffing / Workrise - Hiring for over 100 Positions Including: General Laborers, Electricians, Electrician Apprentice, Welders, Welder Apprentice, Pipefitters, Pipefitter Apprentice, Shipfitters, Shipfitter Apprentice, Project Managers, Marine Painters, Painters, Outside Machinists, Insulators, Laggers, Riggers, Sheet Metal Mechanics, Sheet Metal Fitters
The Vistakon Research Clinic / PRA Health Sciences: Research Participants
Tulsa Welding School: Admissions Representatives (High School, Diversity, Military/Veterans), Student Services Financial Advisor, Business Office Collections Specialist, Pipe/Plate Cutter, Electrical Instructor, Welding Instructor, Solar Instructor, HVAC Instructor, Student Services Advisor
Essential Career Programs / Educational Opportunities - Refrigeration Technologies, Professional Welding and Pipefitting, Electro-Mechanical Technologies, Electrical Applications
US Army - Over 150 Opportunities Available at: www.goarmy.com
United States Postal Service (USPS) - Over 500 positions available: Mailer Handler Assistants, Mail Processing Clerks, City Carrier / Rural Carrier Assistants
VyStar Credit Union: Chief Financial Officer, Sr. Commercial Relationship Banker, Vice President Mortgage Servicing, Mortgage Servicing Supervisor, Contact Center Assistant. Manager, Financial Counselor, Collectors, Relationship Specialists
We are adding more and more Companies everyday so visit our website: www.jobnewsusa.com/job_fairs for our updated list of participants.
JOB SEEKERS CAN PRE-REGISTER AT: https://www.jobnewsusa.com/job_fairs
When you attend the Job Fair you can:
Meet one-on-one with recruiters and hiring managers who you might not normally have a chance to meet with.
Learn about upcoming job opportunities so new they haven't been advertised yet.
Possibly walk away with a job! Some employers offer on-the-spot interviews and job offers.
Visit EVERY employer at the event and tell them what type of career you are interested in. If they do not have it available now, they might have a future opportunity that is perfect for you.
How to GET HIRED:
1. Visit jobnewsusa.com before the event and pre-register (you can also do this at the door). On the site you will be able to view the event directory so you can see who is hiring and what jobs are available.
2. Get a game plan and research companies of interest from the directory. Develop tailored resumes for the companies you want to apply with.
3. Have a clear career focus. Be prepared with an answer to one of the first questions each recruiter is going to ask you: "So, why are you here today?"
4. Sharpen and rehearse your elevator speech. Your elevator speech can be a great response to the typical interview question, "tell me about yourself."
5. Prepare and practice responses to typical interview questions. "Tell me what you know about our organization?" "Why do you want to work here?" "What are you looking to do?" "What are your goals?"
6. Sketch out a few questions to ask each recruiter.
7. Dress professionally! Clean-cut, well-fitting, conservative.
8. Make a good first and lasting impression! Wait patiently in line for your chance to meet with the recruiter and make sure you ask for their contact information before leaving.
9. Jot down notes as soon as you are done with the recruiter and include these notes in your thank you email that you will send when you get home.
10. Follow up! It is critical to continue to express your interest in joining their team and restate the value you can provide them that no one else can provide.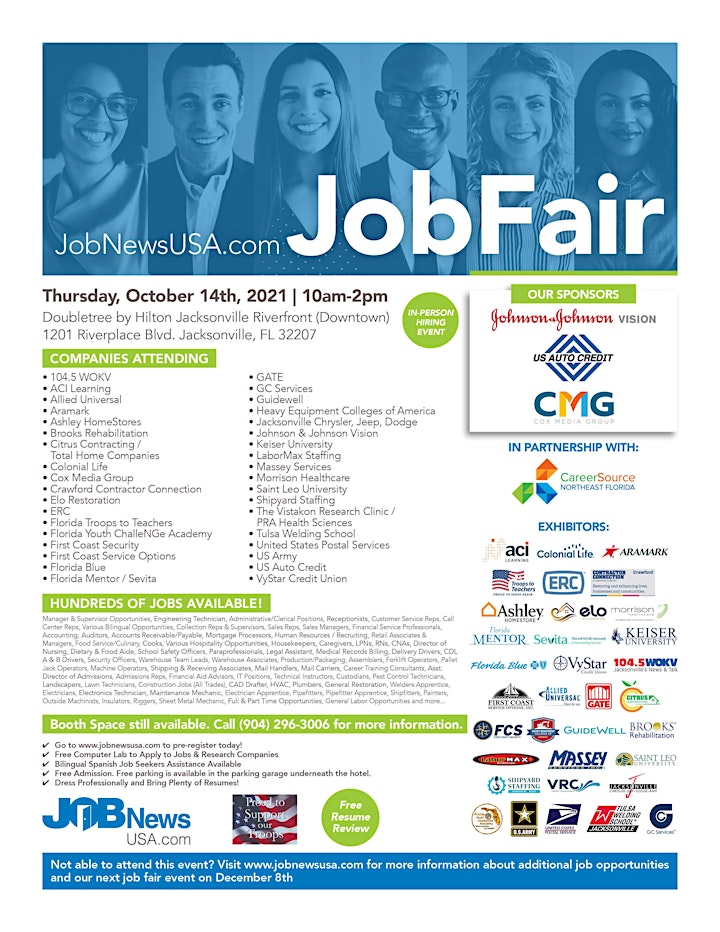 Organizer of Jacksonville Job Fair - 30+ Companies Hiring for OVER 1,000 JOBS