Custom Enclosed Wig Making Class with Sewing Machine
About this Event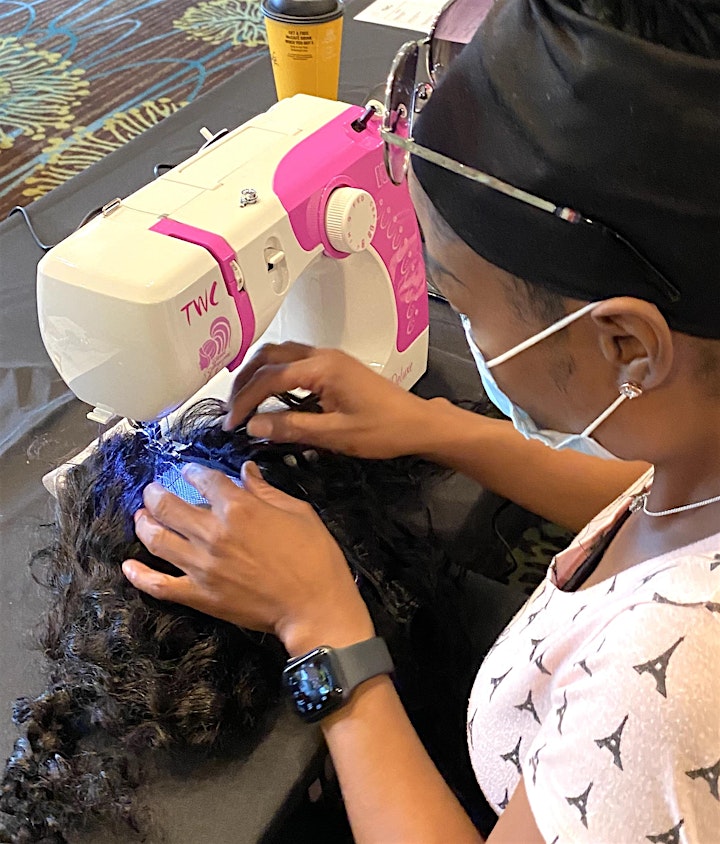 27 Piece or Custom Enclosed Wig Making with Sewing Machine.
Another great wig making class for beginners. Learn how to make no lace custom enclosed wefted wigs with the sewing machine or select to make a 27 Piece in this class. In this class all weft hair is used. The least expensive way to make wigs.
Hands On Class Description:
-Learn how to fit.
-Sewing machine tutorial.
-Learn how to use a sewing machine.
-Learn how to make a Custom Enclosed Wig
with Weft Hair Only (No Lace) or Make 27 Piece Wig.
-Add wig comb and band.
Items You Will Need:
-TWC DELUXE Sewing Machine. It can be purchased at www.TheWeaveCollege.com Machine can be purchased @ TheWeaveCollege.com Payment Plans Available. Threading Tutorial will be on the TWC Deluxe Sewing Machine. If you bring a different machine, you will need to know how to thread it for class.
-Bring 3 Bundles/Packs of Wefted Hair.
-or Bring 27 Piece Kit if making 27 Piece wig instead.
-Styrofoam or Canvas Block Wig Head
-Small Mannequin Stand, Comb, Scissors
-3 Foot Extension Cord.
(We bring everything else needed (caps, thread etc.,
we will have in a GIFT BAG for you.
Certificate Emailed after class.
Please sign up in advance to secure your seat. This is the only way we will know you are attending. We DO NOT collect monies at the door.
Website : www.WeaveCollege.com IG: @WeaveCollege
Online Classes Available.
QUESTIONS:
Email: WeaveCollege@yahoo.com
Call/Text 904-414-3998