One-On-One with Academy Award Winner, MATTHEW A.CHERRY, discussing the future of Black animators in the film industry.
About this event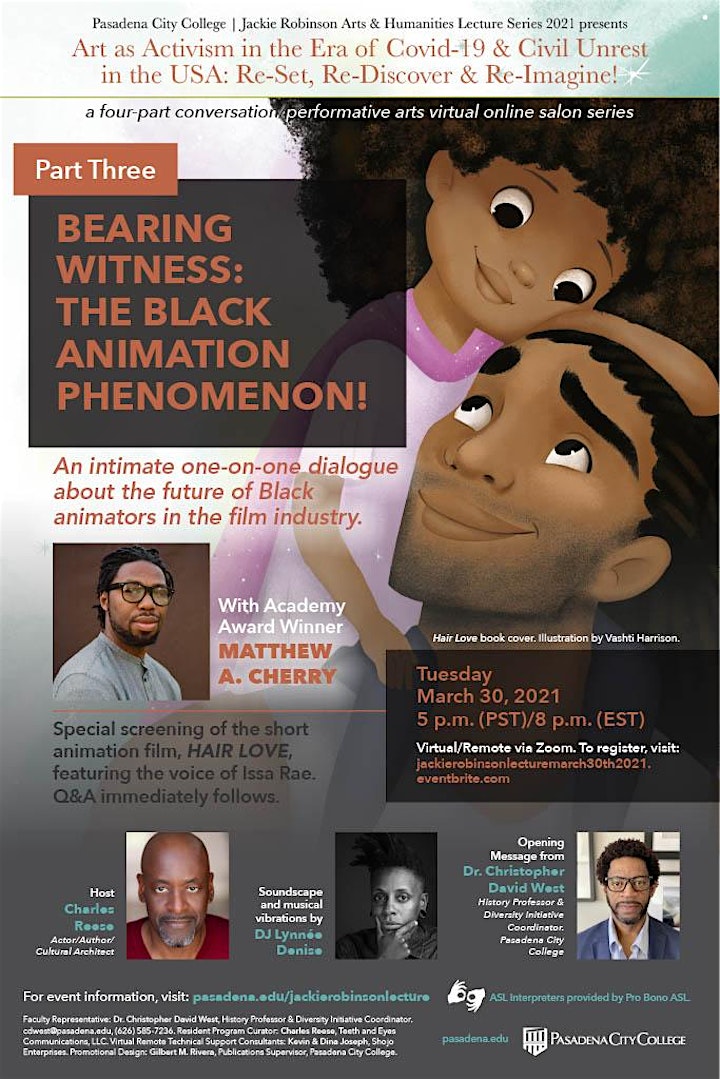 Join us as Pasadena City College presents Part Three of the Jackie Robinson Arts & Humanities Lecture (JRALS) Series 2021, entitled "Bearing Witness: The Black Animation Phenomenon".
On Tuesday, March 30, 2021, at 5 pm (PST) / 8 pm EST, the performative arts virtual salon series returns with special guest Writer, Director, Producer, and Academy Award-winning filmmaker, Matthew A. Cherry. Highlights of the evening include a special screening of his animated short-film "Hair Love" (featuring the voice of Actress, Producer, and Director, Issa Rae), followed by a one-on-one dialogue with Cherry, hosted by Actor, Author, and JRALS Program Curator, Charles Reese (Beauty & the Baller, CEO, Teeth and Eyes Communications, LLC).
A special opening address from Dr. Christopher David West, History Professor & Diversity Initiative Coordinator at Pasadena City College, will kick-off the evening, and guests will be treated to soundscapes and musical vibrations from DJ Lynnee Denise.
ASL Interpreters are provided by Pro Bono ASL and will be available throughout the series for the deaf and hard of hearing. For more information on the Jackie Robinson Arts & Humanities Lecture Series, contact Dr. Christopher David West via Email at cdwest@pasadena.edu or call (626) 585.7236.
Organizer of Jackie Robinson Arts & Humanities Lecture Series - Part 3