Description
Fun fact: the distance from Big Sur to New Zealand is 6,668 miles. That's farther than Moscow (5,954 miles) but closer than, say, Capetown, South Africa (10,169.)
The point is that New Zealand is — as we say on Long Island — a schlep, and if anyone from that fair, far-off land performed at the Henry Miller Library, we'd be thrilled.
But Jackie Bristow—the acclaimed singer-songwriter who has opened for Bonnie Raitt, Joe Ely (!), Art Garfunkel, Daniel Lanois, and Jimmy Webb (!!!)—isn't just any other performer.
And so we are quadruply thrilled and honored to announce the following:
Jackie Bristow and Mark Punch return to the Henry Miller Library (and California) for a summer tour!
Wednesday July 18, 2016 at 7:30 pm
After opening for Tommy Emmanuel's USA tour earlier this year Jackie headed down to New Zealand for successful 16-date solo tour which celebrated the release of her 4thstudio album Shot of Gold. (USA release date TBC)
Now back State Side Jackie Bristow and Mark Punch return to California for summer shows.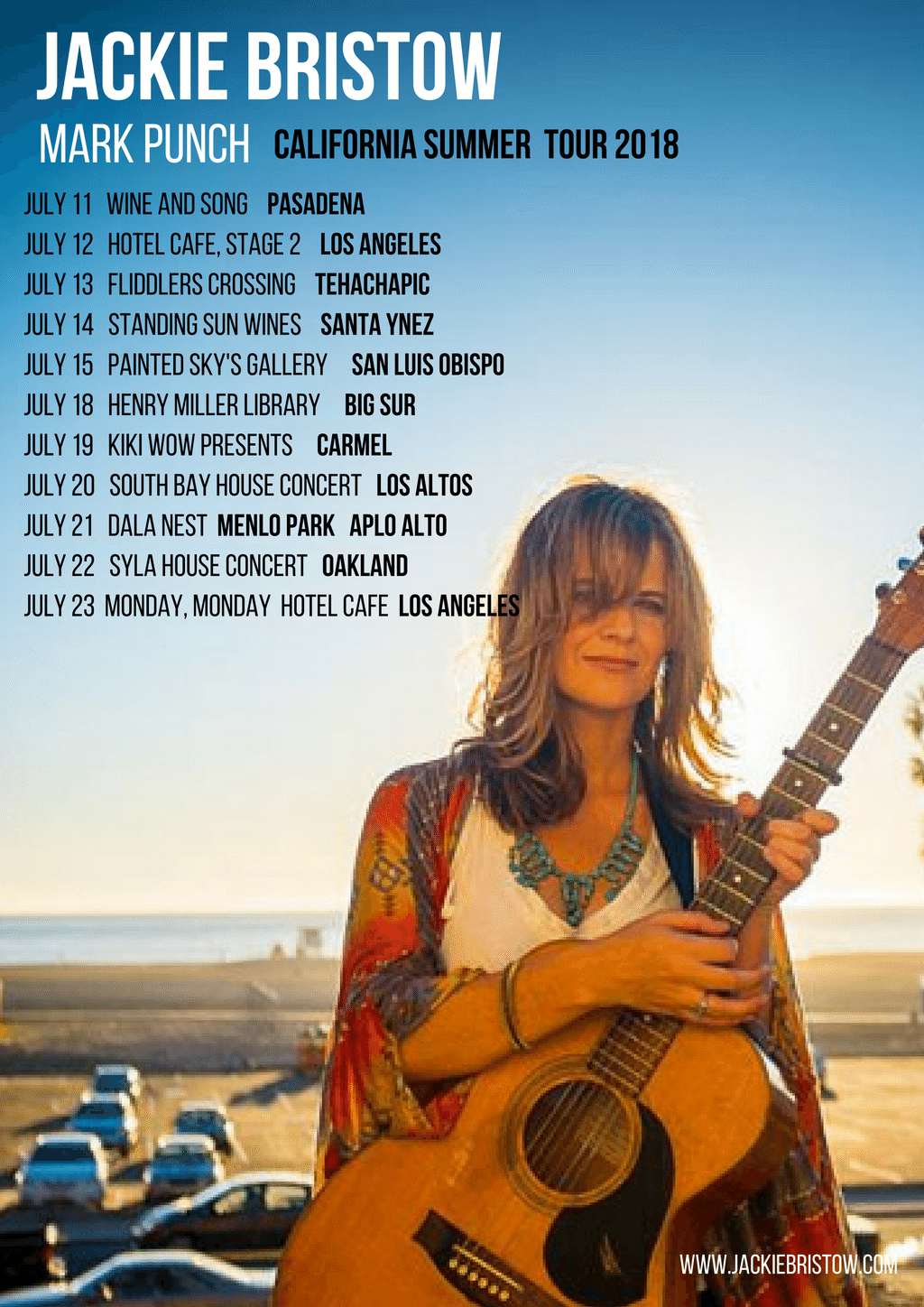 Listen - https://www.youtube.com/watch?v=YJHCC_azig0
New Zealand Herald 4 star review: Graham Reid
"And in the moving Fallen Youth she gives Emmylou Harris a real run for her money."
"Chances are that should you play this to somebody that listens to the crop of new/new-ish female country stars and they would scratch their heads and say in turn, "Gillian Welch…err no, Lucinda Williams…err no, Alison Krauss…o.k. I give up". Are they in for a pleasant surprise."
More about JACKIE BRISTOW
Bristow has opened for international stars Bonnie Raitt, Tommy Emmanuel, Marc Cohn, John Oates, John Waite, Bettye Lavette, B.J. Thomas, Joe Ely, Marcia Ball, Charlie Robison, Rick Springfield,
Bob Schneider, Jimmy Lafave, Euge Groove, Ruthie Foster, Art Garfunkel, Willy Porter, Herbert Gronemeyer, Madeline Peryoux, Phoebe Snow, Daniel Lanois, Jimmy Webb, Paul Williams and Howard Jones.
Jackie's songs are featured in New Zealand and Australian film and television shows: Go Girls, Nothing Trivial, The Secret Life Of Us, Blue Rose, Home And Away, Outrageous Fortune, Shortland Street, and Go Big.
Her song, 'This is Australia' won Tourism Australia song competition and was featured in a worldwide promotional campaign.
"Jackie Bristow, one of those "oughta' be more famous" artists, with an uncommon command of her craft and art." - Santa Barbara New Press.
Organizer of Jackie Bristow & Mark Punch in concert!
The Henry Miller Memorial Library is a public benefit, non-profit 501 (c) 3 organization championing the literary, artistic and cultural contributions of the late writer, artist, and Big Sur resident Henry Miller. The Library tries to do as little as possible since we are in Big Sur a place very well suited for doing nothing. It turns out to be difficult however because Henry Miller is egging us on to promote the things he believes make life worth living like good conversation, freedom of thought, good food, sex and art in all its forms; old, new, weird and varied! Welcome!