Jack Winn Pro Regional Event feat. Jack Winn & Kimberly Michelle

Monday, September 23, 2019 at 9:00 AM

-

Tuesday, September 24, 2019 at 1:00 PM (CDT)
Event Details
Your Instructors for this event
Jack Winn, renowned stylist, blonding educator, and CEO of Jack Winn Pro, is coming to Destin with his Creative Director, Kimberly Michelle, for a series of sessions!
Jack has both a degree in Chemistry and a Cosmetology license, which makes him a particularly unusual combination. He understands how the products you use behind the chair work, and he can easily combine that knowledge with unparallelled blonding and balayage technique that he honed at Vidal Sassoon and then in 15+ years as an educator for TIGI, as a high-end California stylists based out of Orange County, as a salon owner in Southern California, and most recently as the founder of a line of professional hair care products. You may recognize Jack from BTC Blonding sessions he's led in all sorts of different parts of the country.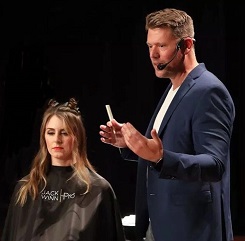 Kimberly Michelle is known nationally for her cut and style skills and technical education. She's worked New York fashion week for the last 17 seasons and has developed a considerable fan following based on her work in fashion week and as an internationally-recognizable platform artist. She has taught hundreds and thousands of stylists all over the country in her 16+ years as a National Educator for TIGI, an independent educator and as the Creative Director for Jack Winn Pro.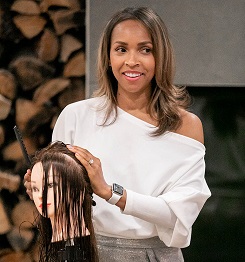 Jack and Kimberly Michelle are coming to town to offer some world-class education to Jack Winn Pro stylists in the area, but in line with the company mission of improving the lives of all stylists, almost all of the Regional Event components are open to stylists that do not use Jack Winn Pro behind the chair.
---
What to Expect
Covering two days, this regional event will include three components:
Monday 9/23 - Salon Trends: Transitioning looks from the Runway to the Real Way 
Look and learn class featuring live demonstrations of modern cut and color techniques your clients will love. Open to all stylists, this segment will feature both Jack and Kimberly Michelle. Jack and Kimberly Michelle will be working on a live model to show you lightening techniques and cut/styling techniques that they use to achieve the Seamless Balayage look from JWP's recently-launched Prima Collection. This look has a natural balayage element applied to a cut that feautures a seamless approach to long layers (as in the collection image below). 
Monday, September 23 | 9AM-12PM
$35
---
Monday 9/23 - Salon Trends Hands-On Class
The second session in this Destin event is also available to all stylists. In this session, you'll work on a dollhead with all natural hair (included) to apply what you've learned from Salon Trends in a hands-on fashion. Jack and Kimberly Michelle will lead this hands-on class to help you elevate your technical skills such that you can effectively execute the Seamless Balayage look we're featuring from the Prima Collection on clients sitting in your chair.
Monday, September 23 | 1PM-4PM
$350
($100 deposit + $250 due on day of class. Discounts are available for current and new JWP Associates. Call or email us to learn more.)
Provided for class participants: Dollhead, products to use during lightening and style, foils, brushes, gloves, bowls
Plan to bring these with you: Weaving comb, shears, brushes, cutting comb, clips, blow dryer and optinal curling wand or flat iron.
---
Tuesday 9/24 - Jack Winn Pro Toolkit (for JWP Associates only) 
This final session is hyper-focused on product knowledge when it comes to JWP products. These will include our color line, our three lighteners, our bond creator activators, Frost and more. Given that this content is product-focused rather than technique focused, this session is free but only open to JWP Associates. Jack and Kimberly Michelle will also be teaching this session. They're the brains behind the products that JWP offers, so you'll get special insight into how we formulate and why we approach product development so differently from other brands you may have worked with in the past. 
Tuesday, September 24 | 10AM-1PM
FREE for JWP Associates
To purchase tickets for some or all classes, click "Tickets" on this page.
---
About Jack Winn Pro

This class is sponsored by Jack Winn Pro. Jack Winn Pro is a professional hair color and hair care product company that sells products directly to stylists. Our mission is to improve the lives of stylists. We do this by focusing on four key areas:
Products - By selling directly to stylists, JWP saves a ton on skipping the middlemen (national distributors, regional distributors, beauty supply, sales reps, etc) that other brands have to pay for. A large portion of these savings are spent on the ingredients that go into your products. Our professional product lines use Level 4 Pharmaceutical-grade ingredients where most of our competitors use Level 2-3 Cosmetic grade ingredients. This translates into higher levels of efficacy. We pair these high-quality ingredients with botanicals that don't just tell a marketing story. They really have a tangible impact that your clients will be able to observe.
Business - We believe that stylists make the hair industry what it is. They're the most savvy when it comes to professional and consumer products. Hence, we rely on them to introduce Jack Winn Pro to other stylists. And, just like other brands pay their sales reps on an ongoing basis for introducing their brands to new stylists, we pay our Associates for this. Whether you're just buying your own products regularly from us or if you're introducing the brand to new stylists, you'll get paid commissions indefinitely on orders from .
Education - We believe that making education affordable, accessible and abundant helps improve the lives of stylists. We also believe that education should go beyond product. It should also go beyond technique. To truly make a difference in the lives of stylists, education needs to equip them to use products and techniques to get results and to make the right decisions to really grow their business. Hence, our education programs are incredibly robust and touch on every aspect of being a stylist. We deliver education to JWP Associates through a ton of different channels (weekly online sessions, semi-annual educator Summits, quarterly regional events, local hands-on options, local look-and-learn classes, etc). Join us for the class to learn more.
Community - Stylists share a ton of the same struggles and challenges. At JWP, we focus on fostering a community of stylists that are supportive and collaborative. You'll find a ready community of stylists that came from every line you can imagine that are eager and happy to support you in figuring out whether JWP is the right line for you and making sure your transition to JWP products is successful.
Have questions about Jack Winn Pro Regional Event feat. Jack Winn & Kimberly Michelle?
Contact Jack Winn Pro
Save This Event
When & Where

Embassy Suites
570 Scenic Gulf Drive
Destin, FL 32550


Monday, September 23, 2019 at 9:00 AM

-

Tuesday, September 24, 2019 at 1:00 PM (CDT)
Add to my calendar