Description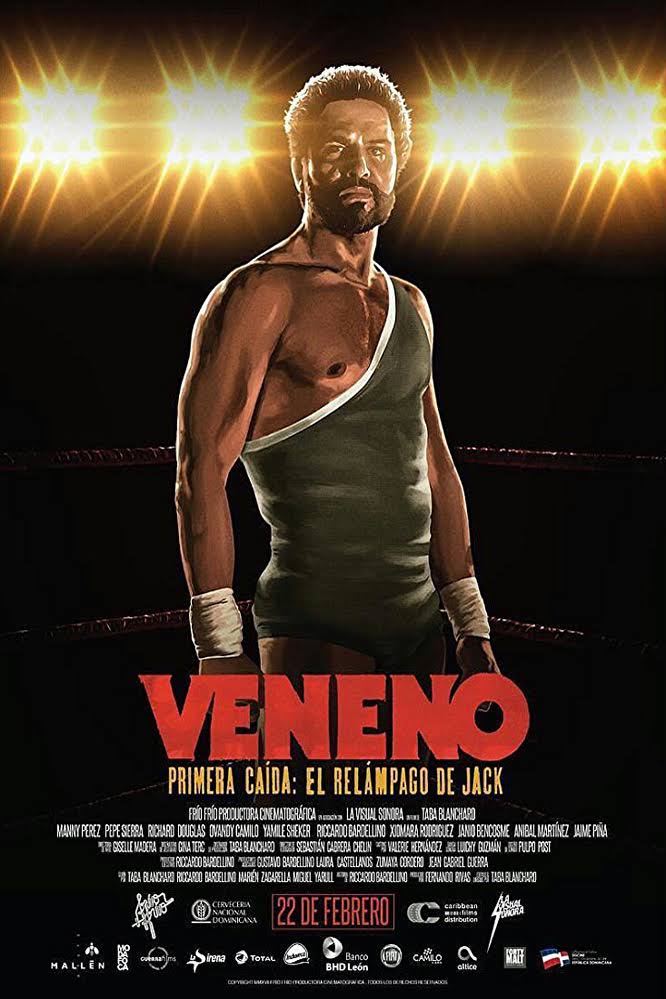 The origin and rise of the most famous Dominican wrestler of all time, Rafael Sánchez aka Jack Veneno, and his arch-nemesis, José Manuel Guzmán aka Relámpago Hernández.
Veneno es una historia sobre el más reconocido peleador de lucha libre de la República Dominicana Jack Veneno. Durante su vida, Veneno tenía un archirival ,José Manuel Guzmán, mejor conocido como Relámpago Hernández. En está película veremos acontecimientos vividos por los mismos.
Director / Director: Tabare Blanchard
Country / País: Dominican Republic, Spain
Producer / Productor: Riccardo Bardolino, Fernando Rivas,
Screenwriter / Guión: Riccardo Bardellino, Tabaré Blanchard, Miguel Yarull, Marien Zagarella
Director of Photography / Director de Fotografía: Sebastian Cabrera Chelin
Genre / Genero: Drama, Sport, Family
Manny Perez, Pepe Sierra, Richard Douglas, Ovandy Camilo, Riccardo Bardellino
Mario Nunez, Jaime Pina,Yamile Scheker, Xiomara Rodríguez, Héctor Aníbal
Language / Idioma:
Spanish with English subtitles
Year / Año:
2018
Running Time / Duración:
96 min.
VIEW TRAILER: https://www.youtube.com/watch?time_continue=19&v=NEPSY0aYISA
Director's Biography
Tabaré Blanchard, Musician, photographer and film director, Tabaré Blanchard is the founder and owner of La Visual Sonora Film Studio where they edit, make TV commercials, music videos and documentaries. He has been nominated five times for a Casandra Prize and was once a recipient. He was selected by the London International Advertising Awards (LIAA) and won a prize at the International Advertising Festival and Iberoamerican Ojo. He is the director of the well-known documentary "La Montaña".
Biografía del Director
Músico, post-productor, fotógrafo y director cinematográfico. Es fundador y propietario de La Visual Sonora, estudio de realización fílmica y de audio dirigida a comerciales de TV, videos musicales y documentales. Ha recibido por sus trabajos 5 nominaciones al Premio Casandra y ha resultado ganador de uno de estos galardones. Ha sido seleccionado en el London International Advertising Awards (LIAA) y premiado en el Festival Internacional de Anuncios Publicitarios (FIAP) y en el Ojo de Iberoamérica. Es director del aclamado documental "La Montaña"