Jack Ryan Fest

Saturday, September 5, 2015 from 7:30 PM to 10:30 PM (EDT)
Event Details
We are fundraising for our friends Jessica and Jack, It's a great cause. They belong to our South Florida Pagan Community and we MUST HELP. hope to see you at The Unitarian Universalist Church Of ft. Lauderdale on Saturday September 5th. for a full blown METAL ATTACK ON LEUKEMIA!!!!!
Featuring: 1000 POUNDS OF THRUST( Headlining )
and one of the BEST PAGAN BANDS in the country.
BLACK SUN PROPHETS!!!!!!!!
Hi my name is Jessica. On February 6, 2015 my son's father, Jack called me to tell me that our son, Joaquin Ryan has Childhood Acute Lymphocytic (lymphoblastic) Leukemia (ALL) Type T. ALL is a cancer of the blood and bone marrow. As a mom, this is the hardest news to hear. This is my first-born. How can this... be? I was crying for days and felt heart broken. My youngest son, Damion didn't understand why mommy was crying so much. I didn't know how to explain to a 4 year old his big brother was sick, much less explain what type of cancer Ryan has. Or the fact we couldn't go see him because of lack of funds to travel and not even having a car to possibly drive to see him.
In June 2012, I sent Ryan to live with his dad and step mom, Jennifer to Texas. We have always had a strong family bond and I love them deeply. I cried and it hurt to let Ryan go. Living here in Miami FL, I knew Ryan wasn't getting the best education and with his rebellious nature, I was losing control of him. I was very strict and he didn't like it. There were some kids from the neighborhood I didn't approve of he was hanging with and his grades were slipping also. I knew Ryan, soon to be a teenager, needed his dad around. I had to work late just to make sure we could pay our bills. I am a single mom living alone with just my two boys with no help. I realized Ryan needed his father as a role model and disciplinarian. I decided to take a leap of faith trusting Jack and Jennifer with my boy. Letting Ryan move to Houston was for his own good.

As the years went by, Ryan exceled as a student, got involved in sports, expanded his vocabulary and changed his ways. Moving to Houston was the best decision I did for my son. I couldn't have been prouder of my big boy. Ryan really had a better life in Houston with Jack and Jennifer. They travelled a lot on family vacations and Ryan experienced things I couldn't give him here in Miami. I was only able to fly Ryan down to Miami twice a year, by buying one-way tickets for him to spend time with us. Then Ryan would ride back with his father to Houston. Ryan and I became closer than ever before when he lived with me.
Our last vacation as a family unit was last summer in August 2014, for Ryan's 14th birthday. I was able to take the boys (Ryan and Damion) to Florida's LEGOLAND for the first time. In all actuality, this is the first park family adventure I managed to save up for to celebrate Ryan's birthday. Ever since Ryan was a young kid, he loved playing with Legos for hours on end building just about anything. He taught Damion how to play with Legos as well. The LEGOLAND trip is last best memory we have as a family.

Then in the middle of January 2015, my son called me and said "Mom, I haven't been feeling well." He told me his step mom was taking him to do some blood tests. Jennifer's been a nurse for 10 years; she knew there was something wrong with Ryan. He never gets sick. He started losing weight; he was sleeping too much after his football practice and everything happened so fast. Within two weeks they found out the bad news.

For the first time, I was going to fly to Texas to be next to my big boy. We were able to collect money and I quickly flew out to spend a week with Ryan. I had to be strong; I held my tears that whole week. I never broke down in front of him. After I came back to Miami, I cried for days. It was the hardest thing I had to do, to see my oldest sick and not being able to stay with him in Texas. I give thanks to Jennifer, his step mom for taking care of my boy. I love her so much for everything she has been doing for Ryan.

Doctors' diagnosis for Ryan needs to undergo three years of chemo treatment. Even if he's in remission, he has to keep doing his chemo for those three years. It's the only way to control "ALL" cancer on kids. Ryan had to stop going to school and has started home schooling. My son wasn't pleased about it. Everything had to change, no more football, no working out and no skateboarding. Ryan's been skateboarding since he was four years old and he loves it.

One day Ryan over heard the doctors talking to his step mom he wouldn't be able to have kids when he got older. He called me feeling a little bit depressed. Ryan told me he heard he wasn't going tobe able to give me grandkids when he became a man. As a mom, I told him not to worry about it; he is only 14 years old now. When the time comes, we could always adopt when he gets older. It's not a big deal. I am here for him.

In June 2015, I was able to fly to Houston again and spend a few days with him. Sadly, Damion hasn't been able to see Ryan since last year, only by Skype. Damion just turned five and he constantly asks when is his brother coming home? I would love to have Ryan close to us again, but the hospital where he gets his treatments is one of the top ALL centers in the country. Again, it's hard explaining this to Damion. On Skype last night Damion was telling Ryan, "Pupi, you have hair, you not sick, you come home." This made Ryan sad.
I myself would like to see Ryan more often but I have no funds to travel or transportation for the next three years of his chemo treatment. I have been without a car for the last three years as well. I haven't been able to save for a car with the way the economy and job market has been in flux. I do have a job and the last five months have been very hard for me. My job cut my hours to the point I started to be late on my bills and rent. I haven't given up. Just this past week, I have been blessed with a new job.

Ryan is turning 15 years old, next month. I won't be able to fly out to see him for his birthday, not until I'm able to catch up on my bills. Ryan wasn't too happy to hear the bad news. I really don't have the funds for Ryan's birthday trip, which Damion was going to accompany me. It will be a year now since they haven't been together and we had a family vacation. I would love to surprise Ryan for his birthday and enjoy some family quality time. We still have three years and this is just the beginning of his treatments. I am not the type to ask for help. For those who know me, I have always tried to do it on my own and give my kids what they need, the best I can. I have always been a hard worker. Any donation is not too small to help. I would love to spend more time with my son. See More
When & Where

Unitarian Universalist Church Of Ft. Lauderdale
3970 Northwest 21st Avenue
Oakland Park, FL 33309


Saturday, September 5, 2015 from 7:30 PM to 10:30 PM (EDT)
Add to my calendar
Organizer
Welcome to The Witch's Garden A Mom & Pop online shop and community organization Est. in 2004
We are available daily, by appointment for Oracle Consultations, Chakra Readings,
Reiki Sessions,
House & Business Blessings, Custom Ritual Preparations ,Wicca Classes , Psychic Development Courses ,Women's Empowerment ,Private Apprenticeships and
Training, Witchcraft Amulets & Jewelry ,Custom Creations & more locally in the comfort of your own home or worldwide online.
Together Armando and I along with our tribe are on a mission to unite people of all ages and religious backgrounds encouraging self expression and exploration as the key to awakening .We are eclectic witches and embrace who we are by crafting our products and gatherings with pure intentions and the specific energies needed for each person and time infusing the world with peace, tolerance and magic .Each Season we celebrate life and connect with the elements with a growing community of all ages ,paths and religions at Amelia Earhart Park were we gather ,share a dish ,drum then end with a release and recharge cleansing ceremony with an interactive spiritual discussion. It is a great opportunity to meet local mystics and spend a day outdoors in a beautiful park. time we gather outdoors and invite the public set an example as we grow and learn from one another creating a universal shift towards higher awareness
and acceptance one drumbeat and picnic at a time. We are wild creative souls who love living passionately and following our dreams.We share our art and do what we do so we can inspire others to follow their bliss and live life fully letting love lead the way.
It started with a tiny table at the Coral Castle Psychic Fair in Homestead Fl were we steadily grew while joining them monthly 7 years .After falling in love with the sacred grounds and the energies experienced while in sessions there we visualized and manifested MoonFaire A Magical Event in A Powerful Place for 5 years .Meanwhile we had an annual schedule were we met lots of great people who later joined us on our venture and many who have become family and we continue to support along their creative journey inspiring and motivating however possible.It was awesome doing the Miccosukee Arts Festival,Earth Day with Expand The Love,Pagan Pride with the UU ,Camelot Days,Full Moons at Tobacco Road with Spam Allstars and so many more .Finally with the support of the community and the clients who believed in us on the February full moon in 2010 we opened our first Brick & Mortar location in the heart of Hialeah inside The Celis Art Building unit 432. We spent 5 years hosting weekly events and offering our services to all in need of guidance and support. It was a haven a unique portal created with love and unity . We always were available personally without turning down anyone and we are grateful to have helped many during confusing times and unbelievable situations .Having our shop was fun and running it with the family was a lesson on its own with an abundance of memories that last a lifetime.Finally here we are 14 years later our family grew with a little miracle that is our son doing what we love and continuing this sacred journey.
We are Twin Souls,Artists,Musicians,Creatives,Spiritual Teachers,Mentors,Healers,Event Producers,Activist,Writers,Official Family Black Sheep,Loving Parents, Witchy Friends,Unique, Authentic,Inspiring,Clergy ,Life Coaches,Motivational Speakers,Compassionate ,Humanitarians on a Mission to promote love , Unity, Acceptance for all walks of life
Marizel & Armando are the Psychic and Healer at The Witch's Garden along with their tribe Zelie Rain, Zari Moon and Yaz. Together we create custom rituals and art as well as provide clergy services, spiritual consultations ,private classes and more.Our business is our path and we pour our heart and soul into it which can be felt in our gatherings, services and custom creations. Every time you support our mission you are directly contributing to the growth and well being of our family and our continued mission on our journey throughout life.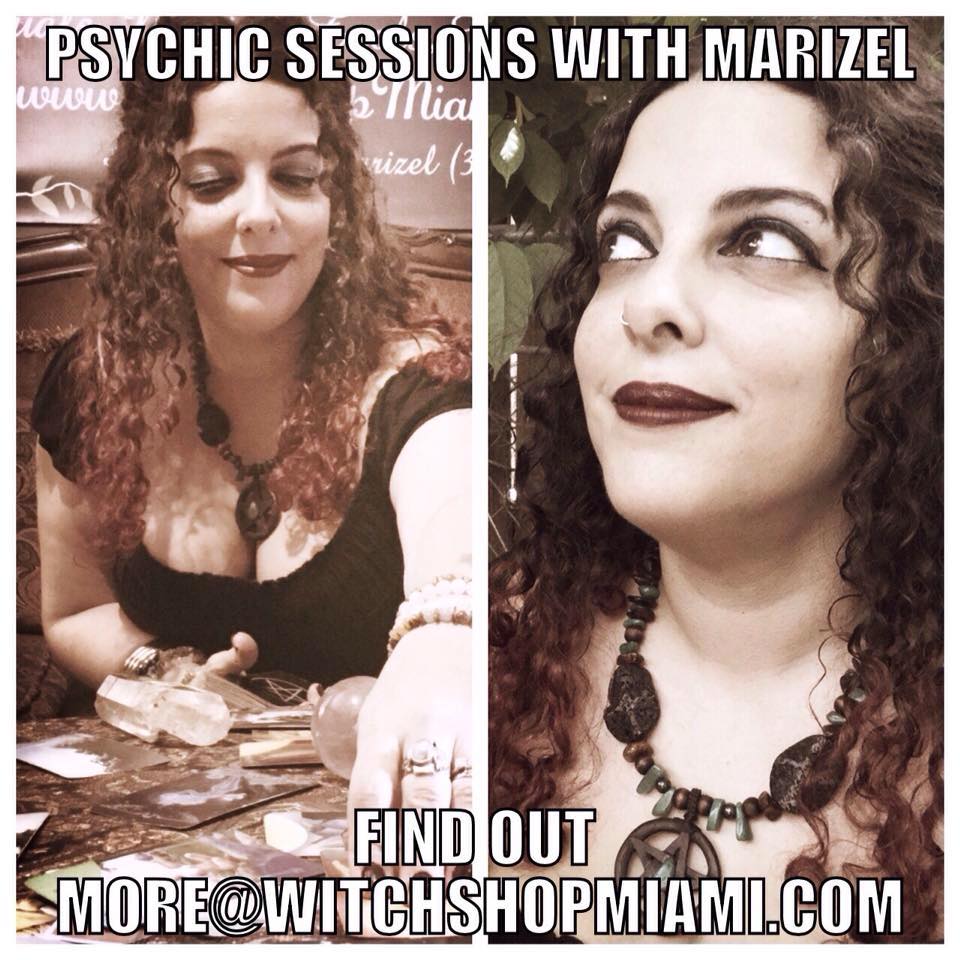 Marizel has been featured in CBS Miami ,New Times,Miami Herald and as the Fortuneteller for a photoshoot with super models Natasha Poly and Jorden Barret included in Fashion Weeks Act 1 shoot for Art Basel 2016 . Since childhood she has been aware of spirits and felt energies around herself and others. These gifts guided her to walk between worlds embracing the path of a medium channeling messages and recipes that have helped many along their path towards balance and self discovery. She is currently working on a series of books related to her life experiences and lessons as a Witch as well as constantly creating new brews and potions included in all spiritual services and custom creations.
Armando AkA The Witch Doctor is a Reiki Master and co creator of The Witch's Garden .He is a singer songwriter and frontman to Craft Metal Band Black Sun Prophets who headlined Caldera the first Pagan Music Festival in the foothills of GA in 2016 . He has created a variety of events through Witch Doctor Productions which was created to unite and showcase local talent. For over a decade he has taught private classes along with his well known Chakra Readings ,Healings and Alignments locally and worldwide .He makes custom ritual tools, chakra candles ,staffs ,altars and more. He is currently working on writing new music, sermons and his path in a book while working with students who wish to empower themselves through a series of customized workshops and exercises designed to target individual growth and overall spiritual development.
Currently we are raising our family and living a magical life creating daily and providing our classes and services for all in need. Sessions can be booked by appointments and custom rituals along with Monthly Moon Boxes ,classes and ceremonies are prepared to order. We create all by hand and with positive intentions bringing together the energy of our hearth and home to help align and harmonize your mind ,body and soul bringing forth good vibes and aiding you in spiritual awakening.
Remember 50% of all proceeds go directly towards our family and the mission of teaching tolerance,love and unity worldwide.