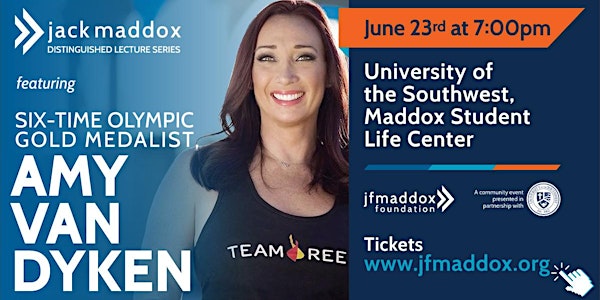 Jack Maddox Distinguished Lecture Series Presents Amy Van Dyken
Six-time Olympic gold medal swimmer Amy Van Dyken speaks about her experiences as a world-class athlete and overcoming limits and restraints
Date and time
Friday, June 23 · 7 - 8pm MDT
Location
University Of The Southwest - Student Life Center 6610 North Lovington Highway Hobbs, NM 88240
About this event
Six-time Olympic gold medal champion swimmer Amy Van Dyken made history as the most successful athlete at the '96 Summer Olympics in Atlanta, Georgia, becoming the first American female athlete to win four gold medals in a single Olympic games. But after a devastating ATV accident in 2014, Van Dyken was paralyzed from the waist down. Just months later, she defied doctors' expectations and achieved her goal when she walked again, with braces and a walker.
A frequent speaker to nonprofit organizations and businesses across the country, Van Dyken is an encouraging symbol of strength and tenacity, and a role model for individuals with debilitating injuries and ailments. Her talk at ESPN's Women + Sports Summit reflects on her experiences as a world-class athlete and paraplegic and inspires others to develop their own "will to win" to accomplish their goals.
Following a doctor's advice, Van Dyken began swimming at the age of six in an effort to relieve her asthma and developed a strong "will to win" that made her a star in the '96 Games, despite competing with about 65% of normal lung capacity. After the games in Atlanta, Van Dyken went on to win two more medals in Sydney, Australia in 2000, earning the distinction of being one of the few Olympians whose medals are all gold. She was the only American swimmer to be inducted into the International Swimming Hall of Fame in 2007 and was inducted into the Olympic Hall of Fame in 2008.
In addition to her Olympic accomplishments, Van Dyken won several world titles and set numerous American and world records. Her success in swimming made her an instant celebrity and earned her many awards and accolades, including her feature on a Wheaties cereal box and in the popular "Got Milk" ad campaign. She was named an Associated Press "Female Athlete of the Year," an ESPN "ESPY Female Athlete of the Year," and one of the "25 Most Influential Females in Sport" by Women's Sports and Fitness magazine.
She was also featured as one of Glamour magazine's Top 10 Women of the Year and has graced the cover of USA Today, Newsweek, TIME, Swimming World magazine, and Sports Illustrated, among many others.
Following her retirement from swimming in 2000, Van Dyken has been a disc jockey on a sports radio show, served as the sideline reporter for the Seattle Seahawks and Denver Broncos football teams, and played in the award-winning stage-play The Vagina Monologues. Her non-profit, the Amy Van Dyken Foundation, improves the lives of people with spinal cord injuries with initiatives such as wheels for kids and providing the latest news in spinal cord injury research.
Amy will be available after the presentation for a "Meet & Greet" and photos.
Since its inception in 1989, the Jack Maddox Distinguished Lecture Series has been hosted by University of the Southwest.  The purpose of the series is to contribute to the quality of life in Lea County, New Mexico and the surrounding area by providing nationally recognized speakers for intellectual stimulation and entertainment.  Admission to the lectures is free; however, you must have a ticket to attend.