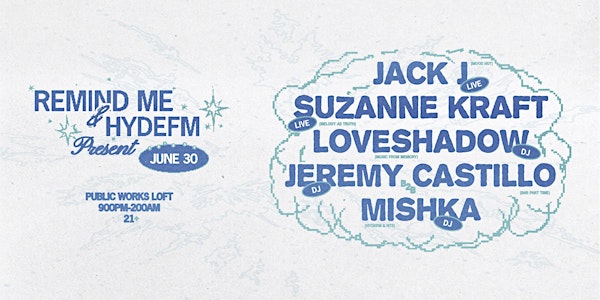 Jack J, Suzanne Kraft & Loveshadow presented by Remind Me x HydeFM
Jack J, Suzanne Kraft & Loveshadow presented by Remind Me x HydeFM
Date and time
June 30 · 9pm - July 1 · 2am PDT.
Location
Public Works Loft 161 Erie street San Francisco, CA 94103
About this event
5 hours

Ages 21+

Mobile eTicket
Friday, June 30th, 9pm - 2am
Loft / 21+ / Limited Capacity
Tickets will be available at the door night of.
Remind Me (Mishka of NTS/HydeFM + Jeremy Castillo of Bar Part Time) + SF local radio station HydeFM bring together multi-talented Vancouver based artist Jack J of Mood Hut/Pender Street Steppers and Los Angeles based / Melody of Truth affiliated artist Suzanne Kraft for a night of live dreamy pop rock, dub, and ambient dance. SF's favorite duo Loveshadow (Music From Memory) will join the evening for a late night DJ set along with Mishka and Jeremy Castillo.
LINEUP:
➩ Jack J (Live)
➩ Suzanne Kraft (Live)
➩ Loveshadow (DJ)
➩ Jeremy Castillo + Mishka (DJ)
━━━━━━━━━▲━━━━━━━━━
Jack J
Jack J (Jack Jutson) of Mood Hut and Pender Street Steppers fame and Suzanne Kraft (real name Diego Herrera) will tour the west coast of North America in late June and early July. Last year, Jack J expanded the scope of his artistry with Opening The Door, an album encompassing bittersweet and chilled pop rock, dub, ambient recalling '80s John Martyn, Arthur Russell, all the good stuff. A unique record in Jack's catalogue, Opening The Door represented new terrain for a beloved artist, known for underground hits like "Thirstin'" as well as DJ and studio exploits as one-half of Pender Street Steppers and a core member of the Mood Hut collective. Now, he'll perform those songs live with a three-piece band for the first time.\
Instagram: @jackj_____
Bandcamp: https://jackj.bandcamp.com/album/opening-the-door
Soundcloud: https://soundcloud.com/jackjutson
Spotify: https://open.spotify.com/artist/5AIM76YeoaHOzyUHbg4UKl
Resident Advisor: https://ra.co/dj/jackjutson
Suzanne Kraft
Suzanne Kraft has been on a parallel path over the past few years, following the release of his 2021 full-length About You, a record of exquisite shoegaze/dream pop song adding to a nuanced discograpy spanning from avant garde minimalism to club bangers. This new, guitar-driven direction flourished on a a 2022 nationwide tour with Cut Copy, as well as a live appearance at Dekmantel in Amsterdam. Now a seasoned live unit including guitarist John Jones (AV Moves, Geo Rip, Dope Body), bassist Scott Gilmore (a solo artist in his own right with released on International Feel and legendary Belgian label Crammed Discs) and drummer Colin Blanton (Brin, George Clanton), the band is out on the road again in support of a new 7-inch, Sometimes, with more recordings on the way.
Instagram: @suzannekraft
Bandcamp: https://suzannekraft.bandcamp.com/
Soundcloud: https://soundcloud.com/suzannekraft
Spotify: https://open.spotify.com/artist/1FTn5osUbCr8n7WgYmbK5m
Website: https://suzannekraft.com/
Resident Advisor: https://ra.co/dj/suzannekraft
Jack J and Suzanne Kraft are old friends, with a shared background in west coast experimental dance music, DJing and, now, novel song-based forms. The tour will start in the Pacific Northwest, with a live show and DJ sets planned for Jack's hometown Vancouver as well as Herrera's hometown in Los Angeles. As stated, Herrera and Jutson have shared the decks and similar philosophies over the years, a live tour being a natural step for two vital, likeminded artists.
Loveshadow
Loveshadow is Anya and Izaak from California, who have been recording
and DJing together since 2017. Their debut album was released on Music
from Memory in 2021. Instagram: @loveshadowmusic Soundcloud:
https://soundcloud.com/loveshadowdjs
━━━━━━━━━▲━━━━━━━━━
When you purchase tickets to this event you'll automatically be signed up for LOCAL 161, Public Works' SMS community where you'll get special invites + guestlist + other perks as a thank you for your support. You'll receive about 4 messages per month, message and data rates may apply, and you can text STOP to cancel at any time.