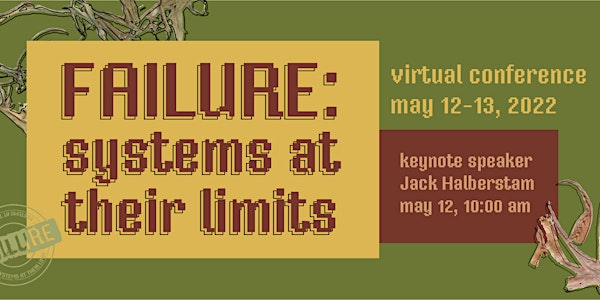 Jack Halberstam On Destitution, Dereliction, Depreciation and Dispossession
Jack Halberstam: "On Destitution, Dereliction, Depreciation and Dispossession" at Failure Conference 2022
About this event
ZOOM LINK: https://us06web.zoom.us/j/88035597994
On Destitution, Dereliction, Depreciation and Dispossession
In this talk, I want to work with you on producing a new vocabulary for transformative change in an era of stalemate, compromise and environmental decline. The old methods of voting and building, making and developing that have been sold to us as routes to happiness and freedom stand revealed as methods to consolidate the power of financial elites and white property owners. In this era of real estate capital, debt slavery and populist authoritarianism, we must surely be ready for new angles on power, change and what I will call world un-making. This new work builds on both my earlier work on failure and collapse and new work on wildness and anarchy.
Jack Halberstam is a Professor of Gender Studies and English at Columbia University. Halberstam is the author of seven books including: Skin Shows: Gothic Horror and the Technology of Monsters (Duke UP, 1995), Female Masculinity (Duke UP, 1998), In A Queer Time and Place (NYU Press, 2005), The Queer Art of Failure (Duke UP, 2011), Gaga Feminism: Sex, Gender, and the End of Normal (Beacon Press, 2012) and, a short book titled Trans*: A Quick and Quirky Account of Gender Variance (University of California Press). Halberstam's latest book, out in 2020, from Duke UP is titled Wild Things: The Disorder of Desire. Places Journal awarded Halberstam its Arcus/Places Prize in 2018 for innovative public scholarship on the relationship between gender, sexuality and the built environment. Halberstam was the subject of a short film, And So We Moved, by visual artist Adam Pendleton last year that screened at MOMA for 6 months. Halberstam is now finishing a second volume on wildness titled: An Aesthetics of Collapse: Art, Architecture and Anarchy.
Accessibility:
The event will be hosted on Zoom. An ASL translator will be present and live, automatic closed captioning will be provided. Please contact the committee (failureconference2022@gmail.com) if any other access needs arise.
For more information: failureconference.com